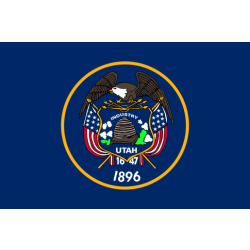 Utah's aspiring nurses can pursue one of four distinct nursing roles: certified nursing assistant (CNA), licensed practical nurse (LPN), registered nurse (RN), or advanced practice registered nurse (APRN). Each role carries a unique mix of job responsibilities, educational requirements, and compensation. Utah is home to over 30 accredited nursing schools, so regardless of role, students can select from a breadth of quality nursing programs.
CNAs fill the most junior nursing role. They are usually supervised by registered nurses in providing basic care to patients. CNA candidates must complete a brief eight- to ten-week certificate program and pass a state-administered examination to attain licensure.
LPNs are senior to nursing assistants. They perform a range of healthcare procedures independently, including dressing wounds, monitoring medical equipment, and recording vital signs. LPN candidates must complete a 12- to 18-month certificate program and pass the NCLEX-PN national examination to attain licensure.
Registered nurses can independently carry out a broad range of healthcare responsibilities, and they often supervise the work of nursing assistants and practical nurses. RNs must complete either a two-year associate degree in nursing (ADN) or a four-year bachelor of science in nursing (BSN). All candidates must also pass the NCLEX-RN national examination to attain licensure.
Advanced practice registered nurses are the most senior of nurses. They must hold a graduate degree, typically a master of science in nursing (MSN) or a doctor of nursing practice (DNP). APRNs frequently choose to focus on specialized roles like nurse practitioner, nurse midwife, or nurse anesthetist. These roles require two to three years of graduate study to attain licensure, depending on the field of specialization.
Regardless of nursing role, the compensation and career prospects in Utah are very compelling. According to the Bureau of Labor Statistics, the state's CNAs earn a median annual salary of $22,500, its LPNs earn about $40,000 per year, and RNs receive almost $60,000 in annual pay. APRN compensation varies by role, ranging from $80,000 for nurse midwives to $124,000 for nurse anesthetists.
2022 NURSING SCHOOL RANKINGS
For our 2022 rankings, the research team at Nursing Schools Almanac collected data on nearly 3,000 nursing schools and campuses throughout the United States. We evaluated each school on three dimensions:
The institution's academic prestige and perceived value
The breadth and depth of nursing programs offered
Student success, particularly on the NCLEX licensure examination
We then combined these assessments into an overall score and ranked the schools accordingly. For a detailed description of our assessment methodology and dimension weights, please see here.
#1:

University of Utah

The University of Utah College of Nursing produces 250-300 graduates annually across its many nursing programs. Prelicensure BSN students have achieved an impressive first-time NCLEX-RN exam pass rate of 93% over the past decade. The college also offers an online RN-to-BSN completion program for existing registered nurses; MSN focuses in care management, education, and informatics; and eight DNP specialty tracks, including seven nurse practitioner roles and nurse midwifery. The University of Utah's distance PhD program has both BSN-to-PhD and MSN-to-PhD tracks, and the College of Nursing consistently ranks among the top 25 nursing schools nationwide in NIH research funding.

#2:

Brigham Young University

BYU College of Nursing is home to nearly 400 nursing students from 38 states and four international countries. The college offers two degree pathways: a prelicensure BSN program for aspiring registered nurses and an MSN degree for aspiring family nurse practitioners. BYU awards approximately 100-125 baccalaureate degrees and a dozen master's degrees in each academic year, and these nursing students achieve stellar test scores. The college's BSN graduates have passed the NCLEX exam at a 94% rate or higher for an amazing eleven consecutive years, including a perfect 100% pass rate for the graduating class of 2018. Several recent MSN cohorts have also achieved a perfect 100% pass rate on the American Nurses Credentialing Center FNP certification exam.

#3:

Rocky Mountain University of Health Professions

In the twenty years since its founding, Rocky Mountain University of Health Professions has graduated approximately 2,200 students from its various master's and doctoral degree programs. The university offers several advanced practice nursing programs. Baccalaureate-prepared nurses can pursue a doctor of nursing practice degree with a family nurse practitioner emphasis. This is a limited-residency program conducted mostly online, with one week spent on-campus each semester. Every graduate of the post-baccalaureate DNP program has passed the FNP certification exam administered by the American Association of Nurse Practitioners. Master's-prepared nurses can complete a five-semester DNP curriculum offered entirely online. The university also offers post-master's certificates for aspiring family nurse practitioners and psychiatric-mental health nurse practitioners.

#4:

Westminster College

Westminster College's School of Nursing and Health Sciences accepts a class of 90 prelicensure BSN students each year. Over the past decade, these students have maintained an impressive NCLEX pass rate of 92%. The BSN curriculum covers important topics like community health, critical care, gerontology, leadership, medical / surgical care, obstetrics, pediatrics, and psychiatric care. The school also offers an RN-to-BSN completion program, a master's degree for aspiring family nurse practitioners, and two DNP tracks (post-master's and nurse anesthesia). Westminster's DNP program in nurse anesthesia is the only such curriculum in the Intermountain West region.

#5:

Western Governors University

Western Governors University is an independent nonprofit institution supported by 19 United States governors. The school serves nearly 150,000 students across four colleges. The College of Health Professions offers several nursing programs including a prelicensure BSN, an MSN degree with five specializations, and both RN-to-BSN and RN-to-MSN degree completion pathways. The prelicensure BSN program is conducted in a unique hybrid model – featuring online coursework and clinical rotations at facilities located close to home – for students who live in Florida, Indiana, Missouri, Nevada, New Mexico, Texas, and Utah. The MSN program offers two nurse practitioner specializations (family, psychiatric-mental health) and three non-clinical specializations (leadership and management, education, informatics). The nursing programs at Western Governors University are fully accredited by the Commission on Collegiate Nursing Education.

#6:

Roseman University of Health Sciences

Roseman University of Health Sciences has served the South Jordan community for more than twenty years. The College of Nursing has programs for individuals seeking a fast-track pathway at both the undergraduate and graduate levels. The college's accelerated BSN program offers on-campus and hybrid-online learning options, with a curriculum that requires just 18 months of study. Veteran students can follow the veteran-to-BSN admissions pathway, which grants credit for relevant military experience. The university also conducts two fully online nursing programs: a nine-month RN-to-BSN completion pathway and an accelerated 23-month MSN degree with a family nurse practitioner focus. All programs incorporate the Roseman Six-Point Mastery Learning Model: active and collaborative learning, assessment learning, block curriculum delivery, classrooms that promote learning, early experiential learning, and competency-based education. Both the BSN and MSN programs are accredited by the Commission on Collegiate Nursing Education.

#7:

Weber State University

Weber State's Annie Taylor Dee School of Nursing offers a breadth of nursing pathways including a traditional ADN program, an LPN-to-ADN bridge, an RN-to-BSN completion program, and several graduate degrees and certificates. ADN students take the NCLEX-RN licensure examination at the completion of their studies. The school produces 300-400 ADN graduates annually, who have averaged an 86% first-time NCLEX pass rate since 2015. Weber State's MSN program offers executive and educator concentrations, and the school also awards post-master's certificates in both fields. The university recently launched a new DNP program with family nurse practitioner and leadership tracks.

#8:

Utah Valley University

Utah Valley University emphasizes holistic nursing and collaborative care throughout its nursing curriculum. The UVU Department of Nursing enrolls approximately 250 students across its ADN, RN-to-BSN, and MSN programs. Prelicensure candidates must begin by completing the ADN program. Approximately eighty students do so annually, with a strong NCLEX pass rate of 90% over the past decade. Nurses may then progress to the RN-to-BSN program, which is offered entirely online to accommodate both full-time and part-time schedules. BSN-educated nurses can enroll in the university's MSN program, which prepares students for a nurse educator role in either an academic setting or a healthcare institution.

#9:

Nightingale College

The nursing curriculum at Nightingale College has diploma and degree pathways that allow students to complete most or all of their coursework online. This allows students in rural communities to attend school while staying close to home. Through Nightingale's partnership model, students are assigned to local facilities to complete clinical requirements. This provides a continuous flow of nurses to facilities that are in need of nursing help. The college's nursing pathways include an LPN diploma, an LPN-to-ASN bridge program, a prelicensure BSN, an online RN-to-BSN completion program, and an MSN degree with a nursing education focus. Nightingale College's baccalaureate and master's degree programs are accredited by the Commission on Collegiate Nursing Education.

#10:

Utah State University

Founded in 1888, Utah State University is Utah's only land-grant institution. The Department of Nursing and Health Professions is part of the Emma Eccles Jones College of Education and Human Services, one of nine academic colleges in the university. The department offers a full suite of undergraduate nursing programs including a five-credit-hour CNA program, a one-year practical nursing certificate, a two-year associate of science degree in nursing, and a four-year prelicensure baccalaureate degree. The LPN program graduates 30-45 students annually, while the ADN program graduates 40-60 students annually. Both programs have a track record of success on their respective nursing licensure examinations, including a 91% NCLEX-PN pass rate and an 85% NCLEX-RN pass rate over the past four years. The first graduating cohort from the BSN program scored a perfect 100% (21 out of 21) NCLEX-RN pass rate.