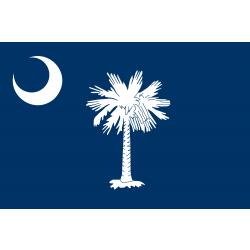 The job market for nurses is promising in the coming years, particularly in South Carolina which is projected to experience a 24% nursing staff shortage according to the U.S. Bureau of Labor Statistics (BLS). For those looking to capitalize on this shortage and pursue a fulfilling career in nursing, several potential roles are profiled below in order of increasing seniority, educational requirements, and compensation.
Certified nursing assistants (CNAs) provide basic care for patients under the supervision of a licensed practical nurse (LPN) or registered nurse (RN). The first step towards becoming a CNA is completion of a 100-hour state-approved nurse aide training program that includes 40 hours of clinical training. Approximately 150 such training programs are available across the state of South Carolina. Certification and inclusion on the South Carolina Nurse Aide Registry requires passing the National Nurse Aide Assessment Program (NNAAP) Examination within two years of completing the training program. The BLS estimates total employment of around 18,400 CNAs in South Carolina, with a median annual salary of $21,650.
South Carolina requires prospective LPNs to attend one of about 20 approved nursing programs within the state, which can be found at a variety of universities, vocational centers, and community colleges. Following at least one year of courses and hands-on practice, candidates must pass the NCLEX-PN examination to gain licensure. Some of the schools with the best NCLEX-PN pass rates include Trident, York, and Greenville Technical Colleges. The BLS estimates total employment of around 9,340 LPNs in South Carolina, with a median annual salary of $33,170.
With an average yearly salary of $58,220 and greater responsibilities and independence than CNAs and LPNs, the 41,950 employed RNs comprise well over half of South Carolina's nursing workforce. South Carolina offers more than 30 associate or baccalaureate degree prelicensure programs, one of which must be completed prior to taking the NCLEX-RN licensure examination.
2022 NURSING SCHOOL RANKINGS
For our 2022 rankings, the research team at Nursing Schools Almanac collected data on nearly 3,000 nursing schools and campuses throughout the United States. We evaluated each school on three dimensions:
The institution's academic prestige and perceived value
The breadth and depth of nursing programs offered
Student success, particularly on the NCLEX licensure examination
We then combined these assessments into an overall score and ranked the schools accordingly. For a detailed description of our assessment methodology and dimension weights, please see here.
#1:

Medical University of South Carolina

MUSC College of Nursing has been ranked #3 in the nation among online graduate nursing programs by U.S. News & World Report. The school offers MSN, DNP, and nursing science PhD programs, all of which can be completed predominantly online with just a few required visits to campus. MUSC also offers an online RN-to-BSN degree completion program and an on-campus, 16-month accelerated BSN. Nearly 600 students attend MUSC College of Nursing in total, and approximately 100-150 students graduate from the ABSN program in two cohorts annually. These graduates have enjoyed a stellar NCLEX exam pass rate of 94% over the past decade.

#2:

University of South Carolina

The USC College of Nursing has the #5 online graduate nursing program in the nation according to U.S. News & World Report. USC's graduate nursing curriculum includes several MSN, post-master's certificate, and DNP specializations – all delivered online – as well as an on-campus PhD program with flexible scheduling and tuition support. At the undergraduate level, the College of Nursing offers a traditional four-year nursing degree and an online RN-to-BSN pathway. USC produces the largest number of prelicensure BSN graduates in the state with approximately 200 annually, or roughly 10% of the statewide total. These students have passed the NCLEX exam at a rate of 92% or higher in each of the past nine years, including stellar pass rates of 99.5% in 2018 and 100% in 2019.

#3:

Clemson University

The College of Behavioral, Social, and Health Sciences is home to Clemson University's School of Nursing, which has twice earned the prestigious designation as an NLN Center of Excellence. Clemson offers three pathways at the undergraduate level: a traditional BSN, an accelerated BSN, and an RN-to-BSN completion program. Approximately 100 prelicensure students graduate annually, and they have consistently scored an NCLEX-RN pass rate of 90-96% for at least eleven consecutive years. The graduate nursing department offers four MSN tracks: family nurse practitioner, adult-gerontology nurse practitioner, nursing administration, and nursing education. Clemson recently launched an online post-master's DNP program, and it also teaches an innovative PhD in healthcare genetics.

#4:

Francis Marion University

Francis Marion University's nursing program was recognized as an NLN Center of Excellence in 2016 – and again in 2020 – for promoting the pedagogical expertise of faculty. The school offers a traditional prelicensure BSN program as well as two RN-to-BSN pathways (one generic, one for veterans). The traditional BSN program graduates 50-75 students annually who have scored a solid 88% NCLEX pass rate over the past decade. The RN-to-BSN for Veterans is an innovative degree program that recognizes military training and experience with course credits – a first in nursing education. Many veterans will earn their BSN degree in just 11 months of fulltime study. For BSN-educated nurses, Francis Marion offers an MSN degree with tracks in family nurse practitioner (hybrid format) and nurse educator (fully online). The university also recently launched a DNP program, a practice-oriented terminal degree that includes both MSN and BSN entry points.

#5:

Anderson University

The School of Nursing at Anderson University offers a flexible breadth of options across its BSN, MSN, and DNP degree programs. At the undergraduate level, the traditional BSN is available for first-time college students, while the accelerated BSN is designed for students with college credit or a degree in a non-nursing field. These prelicensure tracks have collectively scored a 92% first-time NCLEX pass rate since their launch, including a phenomenal 98% pass rate for the graduating classes of 2017 and 2018. At the graduate level, AU offers MSN concentrations in executive leadership, family nurse practitioner, nurse educator, and psychiatric mental health nurse practitioner. The DNP program also offers specializations in three of these areas (leadership, FNP, and PMHNP) plus advanced practice.

#6:

Bob Jones University

Over the past decade, Bob Jones University's School of Nursing has enjoyed a cumulative NCLEX-RN pass rate above 91%. The school, which produces approximately 40 BSN graduates annually, ensures success on the exam by offering a full-year NCLEX review program, including a live review course at the end of senior year. The nursing curriculum at Bob Jones University includes six semesters of clinical experience rather than the standard four. Throughout the BSN program, students have the opportunity to work at local healthcare employers like Greenville Health System, Spartanburg Regional Healthcare System, and Bon Secours St. Francis Health System.

#7:

Charleston Southern University

The College of Nursing at Charleston Southern University seeks to educate professional nurses who will integrate Christian values into their nursing practice. The college's flagship BSN program has a stellar 95% pass rate on the NCLEX-RN licensure exam over the past decade. This is currently the highest ten-year pass rate of all accredited BSN programs in South Carolina. The faith-based MSN program is offered fully online with two emphases: nurse educator or nursing leadership / healthcare administration. The curriculum adopts a cohort model, with an ADN-to-MSN pathway that students can complete in just 19 months and a BSN-to-MSN pathway that students can complete in just 16 months.

#8:

Lander University

Lander University is home to the William Preston Turner School of Nursing, one of the first institutions in South Carolina to deploy an online RN-to-BSN program. The university also offers a traditional prelicensure BSN pathway as well as an MSN degree with a clinical nurse leader specialization. The traditional BSN program is open to high school graduates, transfer students, and individuals who already hold a degree in another field. Approximately 35-50 prelicensure BSN students complete the program annually. They have achieved an excellent 94% NCLEX pass rate over the past decade, including a perfect 100% pass rate in both 2017 and 2018. The MSN program prepares students to sit for the CNL certification exam administered by the Commission on Nurse Certification.

#9:

University of South Carolina Upstate

The University of South Carolina Upstate is one of four institutions within the University of South Carolina System. The school serves more than 6,000 students through fifty undergraduate and graduate programs in business administration, education, liberal arts, and sciences. The Mary Black College of Nursing offers a prelicensure BSN program, an RN-to-BSN completion pathway, and an MSN degree. The prelicensure BSN is a traditional four-year program that includes a dual degree option in biology. The RN-to-BSN pathway allows students to complete the curriculum in a hybrid format, spending just one day per week on the Greenville campus. The MSN program features clinical nurse leader, nursing education, and nursing leadership concentrations. The baccalaureate and master's degree nursing programs at USC Upstate are accredited by the Commission on Collegiate Nursing Education.

#10:

The Citadel

Established in 1842, The Citadel serves 2,300 undergraduate cadets and 1,000 civilian students in The Citadel Graduate College. Programs are offered across five schools and the Department of Leadership Studies. The Swain Family School of Science and Mathematics houses the Swain Department of Nursing, which offers a BSN program for Corps of Cadets and veteran students. An evening program for civilians who have completed general education and prerequisite courses at another institution is also available. Nursing students complete coursework on a range of care environments including adult care, care of special populations, and care of the complex individual. They complete clinical rotations at area hospitals, clinics, and nursing homes. The Citadel BSN program is accredited by the Commission on Collegiate Nursing Education.