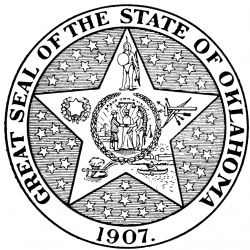 Oklahoma has three primary nursing roles. In order of increasing responsibility and pay, these roles are certified nursing assistant (CNA), licensed practical nurse (LPN), and registered nurse (RN). Each nursing role carries distinct educational requirements.
Certified nursing assistants must complete a brief certificate program. This CNA certificate can be earned in eight to ten weeks at a number of community colleges and technology centers throughout Oklahoma. The state's CNAs earn a median annual salary of $21,490.
Licensed practical nurses have two educational options. Most LPNs pursue a 12- to 18-month certificate program, available at over 40 technology center campuses across Oklahoma. A few LPNs opt instead for a two-year associate degree, offered at three Miller-Motte College campuses. LPNs must also pass the NCLEX-PN national licensure examination before they may practice in Oklahoma. The state's LPNs earn an average of $36,910 per year.
Registered nurses can choose from two educational pathways in Oklahoma: a two-year associate degree in nursing (ADN) or a four-year bachelor of science in nursing (BSN). The state has over 30 college campuses with an ADN program and over 20 university campuses with a prelicensure BSN program. Regardless of pathway, aspiring registered nurses must first pass the NCLEX-RN national licensure examination before practicing in Oklahoma. RNs are among the highest-paid nursing professionals in the state, taking home $56,870 per year on average.
Nurses of all stripes are in high demand at Oklahoma's healthcare providers. Major nursing employers like Tulsa Nursing Center, Amedisys, and Kenwood Manor are frequently hiring newly minted nursing assistants, practical nurses, and registered nurses.
2022 NURSING SCHOOL RANKINGS
For our 2022 rankings, the research team at Nursing Schools Almanac collected data on nearly 3,000 nursing schools and campuses throughout the United States. We evaluated each school on three dimensions:
The institution's academic prestige and perceived value
The breadth and depth of nursing programs offered
Student success, particularly on the NCLEX licensure examination
We then combined these assessments into an overall score and ranked the schools accordingly. For a detailed description of our assessment methodology and dimension weights, please see here.
#1:

University of Oklahoma Health Sciences Center

The University of Oklahoma is home to the state's largest nursing program. Managed by the Health Sciences Center, the Fran and Earl Ziegler College of Nursing spans three campuses in Oklahoma City, Tulsa, and Lawton. The college offers four BSN options: traditional, accelerated, LPN-to-BSN, and RN-to-BSN. Prelicensure students across all three campuses enjoy strong NCLEX pass rates: over the past decade, Oklahoma City has posted a 91% pass rate, Tulsa 94%, and Lawton 89%. At the graduate level, OU offers MSN tracks in administration management, clinical nurse specialist, education, and family nurse practitioner, as well as DNP and PhD degrees.

#2:

Oklahoma City University

Kramer School of Nursing has programs for traditional undergraduates, career changers, and existing nurses seeking advancement. Undergraduate options include traditional BSN, accelerated BSN, and RN-to-BSN pathways. KSN also offers a unique program at Duncan Regional Hospital that provides financial aid in exchange for a two-year work commitment following graduation. Prelicensure BSN students have passed the NCLEX exam at an 89% rate over the past decade. The university's MSN program has education, leadership, and CNL tracks, and its DNP program features an FNP specialization. In several recent years, 100% of KSN's FNP graduates passed the American Association of Nurse Practitioners certification exam on the first attempt.

#3:

University of Tulsa

The University of Tulsa's Oxley College of Health Sciences has forged close relationships with three major metropolitan medical centers and a number of community healthcare agencies. The School of Nursing's unique BSN program begins clinical experiences during the spring of sophomore year, which provides students five semesters to develop clinical skills instead of the usual four. The University of Tulsa has produced nearly 1,500 BSN graduates since 1973. The typical graduating class is small (perhaps two dozen students) and well-prepared for licensure, with a stellar 92% NCLEX pass rate over the past decade. Recently, the School of Nursing has added an RN-to-BSN track as well as a DNP program to better meet the healthcare needs of the Tulsa community.

#4:

Oklahoma Baptist University

Oklahoma Baptist University launched the state's first baccalaureate nursing program in 1952. The College of Nursing offers several BSN pathways today, including a traditional four-year curriculum and an LPN-to-BSN bridge program. The college graduates 30-40 BSN students annually with an impressive 93% NCLEX pass rate over the past five years, including a perfect 100% pass rate in 2017 and 2019. Undergraduates also have the unique option to pursue a minor in faith community nursing. At the graduate level, OBU offers MSN specializations in nursing education and global/public health. Post-master's students can pursue a graduate certificate in either specialization. All graduate coursework is completed entirely online.

#5:

Southern Nazarene University

Southern Nazarene University offers opportunities to specialize in many nursing areas, including community nursing, prenatal health, pediatric care, and gerontology. The School of Nursing conducts clinical experiences at a variety of local hospitals and agencies, and it boasts a 90% employment rate over the past five years. Nursing students can pursue a traditional BSN, an accelerated RN-to-BSN pathway, or an MSN degree with a major in either nursing education or nursing leadership. The traditional BSN program graduates a small class of approximately thirty students each year. These RN candidates have scored an 82% first-time NCLEX pass rate over the past decade.

#6:

University of Central Oklahoma

Since 1972, more than 3,000 men and women have graduated from the University of Central Oklahoma's nursing program. The Department of Nursing offers a robust BSN program and recently launched one of just three public MSN programs in Oklahoma. The MSN is designed for working professionals with early evening classes, part- and full-time options, and a centrally located campus. The BSN offers three pathways: traditional four-year (the core of the program), LPN-to-BSN, and RN-to-BSN. UCO graduates approximately 100 prelicensure BSN students annually, and they have passed the NCLEX exam at a very strong and consistent rate of 91% over the past decade.

#7:

Oklahoma Wesleyan University

The OKWU School of Nursing prepares nurse generalists with knowledge of biological, physical, social, and behavioral sciences, enhanced by a background in the humanities and the Christian faith. Nursing pathways include three BSN programs (traditional, LPN-to-BSN, RN-to-BSN) and an MSN program with concentrations in nursing administration and nursing education. Prelicensure BSN graduates have averaged an 86% first-time pass rate on the NCLEX licensure exam over the past decade. The postlicensure RN-to-BSN and MSN programs are offered both on campus and online. Students in all programs obtain hands-on training through the school's state-of-the-art simulation lab, a wide variety of clinical experiences, and mission trips to domestic and international destinations.

#8:

Oral Roberts University

Oral Roberts University is home to the Anna Vaughn College of Nursing. In addition to traditional BSN and RN-to-BSN programs, the school offers outstanding study abroad opportunities in Mexico, Nigeria, Ghana, and the Ivory Coast. Graduates are routinely hired at leading Tulsa-area hospitals, OSU Health Care Center, and the Tulsa Health Department. Students also enjoy consistent success on their licensure exams: the prelicensure BSN program's 40-60 annual graduates have averaged a 90% NCLEX pass rate over the past decade.

#9:

Oklahoma State University

Oklahoma State University is one of the top public institutions in the country. The university offers more than 300 undergraduate fields of study and 200 graduate programs to nearly 25,000 students. OSU's School of Community Health Sciences, Counseling and Counseling Psychology offers a 100% online BSN completion program for registered nurses. The curriculum prepares students to work in a variety of settings including veterans' hospitals, research centers, correctional facilities, educational institutions, and even law firms. Coursework covers a breadth of topics including global health, nursing leadership, healthcare management, epidemiology, gerontology, and community nursing. The Oklahoma State University RN-to-BSN program is fully accredited by the Commission on Collegiate Nursing Education.

#10:

Northwestern Oklahoma State University

Northwestern Oklahoma State University traces its roots back to 1897, when it was first established in Alva as a normal school. Today the university educates 2,000 students annually across more than forty areas of study. The Charles Morton Share Trust Division of Nursing provides several pathways to a baccalaureate nursing degree. A prelicensure BSN program is offered on the flagship Alva campus as well as satellite campuses in Enid, Ponca City, and Woodward. Across these four locations, Northwestern graduates between thirty and forty prelicensure BSN students annually. These graduates have achieved an 83% first-time pass rate on the NCLEX licensure exam over the past decade. Existing nurses can enroll in the school's RN-to-BSN program. The curriculum is delivered 100% online with flexible enrollment dates each fall, spring, and summer semester. In 2017, the Division of Nursing launched the university's first doctoral program, a BSN-to-DNP pathway for aspiring family nurse practitioners. The inaugural cohort of twenty students is currently completing their studies.