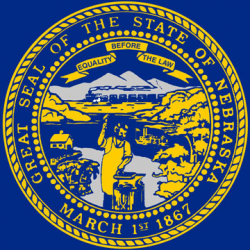 The Nebraska healthcare community recognizes nursing as a vital service. Nurses enjoy competitive salaries, numerous job openings, and outstanding opportunities for advancement. Fortunately, nursing programs are abundant in Nebraska, especially for students interested in becoming a certified nursing assistant (CNA), licensed practical nurse (LPN), or registered nurse (RN).
Most CNA programs can be completed in several weeks to several months. The course covers physiology, interpersonal skills, and medical terminology. Over fifty Nebraska institutions are approved to teach the 75-hour CNA certificate program, including Bryan College of Health Sciences in Lincoln and Clarkson College in Omaha. Nursing assistants perform basic healthcare tasks to provide patients with daily care, such as taking vital signs and assisting with eating, mobility, and dressing. There are approximately 13,350 CNAs in Nebraska who earn a median annual salary of $23,830.
A practical nursing program requires 12 to 18 months of fulltime study. The LPN certificate includes advanced coursework in biology and pharmacology. Nebraska has about 15 state-approved LPN certificate programs, including three campuses apiece of Central Community College and Western Nebraska Community College. Graduates will conduct a range of important medical tasks, from administering medications and injections to performing CPR. LPN employment opportunities are abundant in hospitals, private homes, extended care facilities, and doctor's offices. There are approximately 6,030 LPNs in Nebraska earning a median annual salary of $37,520.
Nebraska's aspiring RNs can pursue one of two prelicensure pathways: a two-year associate degree in nursing (ADN) or a four-year bachelor of science in nursing (BSN). All programs cover liberal arts, anatomy, chemistry, microbiology, nutrition, physiology, and psychology. BSN programs feature advanced studies in critical thinking, leadership, and communication. They also include more clinical experience in non-hospital settings. Over twenty Nebraska colleges and universities offer RN prelicensure training, including five campuses of the University of Nebraska Medical Center. There are approximately 19,550 RNs in Nebraska who earn a median annual salary of $55,820.
2022 NURSING SCHOOL RANKINGS
For our 2022 rankings, the research team at Nursing Schools Almanac collected data on nearly 3,000 nursing schools and campuses throughout the United States. We evaluated each school on three dimensions:
The institution's academic prestige and perceived value
The breadth and depth of nursing programs offered
Student success, particularly on the NCLEX licensure examination
We then combined these assessments into an overall score and ranked the schools accordingly. For a detailed description of our assessment methodology and dimension weights, please see here.
#1:

University of Nebraska Medical Center

The University of Nebraska Medical Center is a prominent and vast institution that enrolls more than 3,700 students. Nearly half of the state's bachelor-prepared nurses, physicians, dental professionals, pharmacists, and allied health professionals have graduated from UNMC. The school's College of Nursing offers traditional BSN, accelerated BSN, and RN-to-BSN programs for undergraduates, as well as MSN, DNP, and PhD degrees for graduate nurses. In addition, a post-master's certificate is offered in areas ranging from adult gerontology to women's health. Prelicensure BSN graduates have enjoyed an excellent 91% first-time pass rate on the NCLEX-RN examination over the past eight years.

#2:

Creighton University

The College of Nursing at Creighton University was the first nursing school in Nebraska to offer clinical nurse leader and doctor of nursing practice programs. The school also has MSN and post-graduate certificate programs, as well as both a four-year BSN and an accelerated BSN that can be completed in just one year. The college graduates between 150 and 200 BSN students annually, and they have achieved a 92% first-time NCLEX pass rate over the past decade. Just as impressively, Creighton's graduate students typically score a 100% first-time pass rate on their nurse practitioner certification exams.

#3:

Clarkson College

At more than 125 years old, Clarkson College was the very first nursing school in the state of Nebraska. It is also one of the few schools to provide a variety of in-demand bridge programs, including specific pathways like LPN-to-BSN, RN-to-BSN, and RN-to-MSN. In addition, Clarkson offers a traditional BSN degree, an MSN program with five specialty tracks – each of which is also available as a post-graduate certificate – and a DNP curriculum with four specialty tracks and a post-master's pathway. The college typically graduates 100-plus prelicensure BSN students each year, with a phenomenal 96% first-time NCLEX pass rate over the past five years.

#4:

Nebraska Methodist College

Nebraska Methodist College has just one focus: healthcare education. The school provides programs both for students who wish to study on campus and for those who prefer to study online. Because of its singular focus and multiple delivery options, Nebraska Methodist offers one of the largest collections of nursing programs in the region. Degree options include several BSN pathways (traditional, accelerated, LPN-to-BSN, RN-to-BSN), three MSN specializations (educator, executive, informatics), and a DNP program with two focuses (family nurse practitioner, clinical nurse specialist) and two entry points (post-BSN, APRN). The college graduates 100-150 prelicensure BSN students each year, with a strong 94% NCLEX-RN exam pass rate over the past decade.

#5:

Bryan College of Health Sciences

Bryan College of Health Sciences offers traditional BSN, RN-to-BSN, MSN, and DNAP programs. BSN students enjoy a low 6:1 clinical student-to-faculty ratio, more than 1,200 clinical hours (the highest in the state), and training experiences at Bryan Medical Center and 200+ other sites. BSN graduates have achieved an excellent 95% first-time NCLEX pass rate over the past decade, including a 99% pass rate in 2017, 2018, and 2020. The MSN program has two tracks (nurse educator and nurse leadership), a preceptor program with real-life situational learning, and a blended learning format that is conducted 75% online and 25% in-classroom. DNAP students also begin their clinical experiences very early in the program.

#6:

Nebraska Wesleyan University

The nursing curriculum at Nebraska Wesleyan University has several undergraduate and graduate tracks. At the undergraduate level, NWU offers both a traditional four-year BSN and an RN-to-BSN completion program. The traditional BSN graduated its first cohort in May 2018. Students in this program gain clinical experience at many facilities in and around Lincoln, including CHI Health St. Elizabeth Hospital which has held the prestigious Magnet designation since 2004. Graduate nursing students can select from two MSN entry points (BSN-to-MSN, RN-to-MSN) and two focal tracks (nurse educator, nurse leader). The school also offers an MSN/MBA joint degree, an MSN-to-MBA bridge, and a post-master's certificate in either nursing education or nursing leadership. With the exception of the traditional BSN, students can pursue all nursing programs at either the main university campus in Lincoln or a conveniently located learning site in Omaha.

#7:

Union College

Union College, a Seventh-day Adventist institution, offers several pathways to a BSN degree including a traditional undergraduate program, an LPN-to-BSN pathway, and an RN-to-BSN completion option. The LPN-to-BSN pathway is an advanced standing prelicensure program that includes 65 credit hours of nursing courses, 41 credit hours of general education courses, and 13 credit hours of electives. Students cover a broad collection of relevant topics, ranging from creative leadership to elementary statistics and probability. Union College graduates approximately forty prelicensure students each year, with a strong 95% NCLEX pass rate over the past decade. The RN-to-BSN program is designed for ADN- or diploma-holding nurses who wish to complete their baccalaureate education.

#8:

College of Saint Mary

College of Saint Mary is the region's only Catholic university for women. It is also the only school in Nebraska to offer a three-year prelicensure BSN program. College of Saint Mary actually offers two prelicensure BSN pathways (accelerated three-year, traditional four-year) as well as a one-year certificate in licensed practical nursing. The college is noted for its small class sizes, study abroad experiences, and intensive service learning opportunities. Indeed, CSM has provided more than 10,000 hours of service to more than fifty organizations in the surrounding community, and Campus Ministry offers two service learning opportunities each year. Over the past decade, LPN graduates have achieved a strong 93% pass rate on the NCLEX-PN licensure exam. BSN graduates have scored an 81% NCLEX-RN pass rate since the program's inception, including an 87% pass rate in 2018.

#9:

Doane University

Doane University traces its roots back nearly 150 years. In 2010, the school introduced an RN-to-BSN program that allows registered nurses with an associate degree or hospital diploma to complete their baccalaureate education. Students can earn up to 72 credit hours for previous education or work experience, and clinical requirements may be completed in the student's own community. The curriculum, which requires 123 total credit hours to graduate, may be completed online, on-campus, or a combination of the two. The entire program typically takes two years or less to complete.

#10:

Bellevue University

Bellevue University is a private, non-profit, regionally accredited institution with more than 50,000 alumni nationwide. The university's nursing program sits within the College of Arts and Sciences. It allows registered nurses with an ADN or hospital diploma to complete their baccalaureate nursing education. This RN-to-BSN program is offered online and requires 127 credit hours to graduate. The curriculum teaches the fundamentals of leadership and what makes an effective healthcare team. During their final year, students complete a hands-on practicum in their local area, allowing them to apply the concepts they have learned in realtime. Students will develop and execute an evidence-based plan, and then reflect on the outcomes.