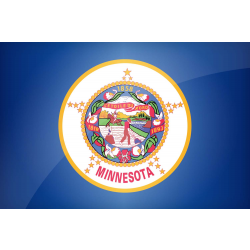 Home to a variety of programs, Minnesota offers prospective nursing students a wide array of options. In order to find the right educational path, it is important to understand the different roles available to candidates.
Nursing assistant positions are the second-most popular occupation in the healthcare industry, largely due to their short training period. Typically lasting only eight to ten weeks, nursing assistant programs are best suited for students who want to quickly pursue employment in the healthcare industry. Common tasks for nursing assistants include aiding elderly, chronically sick, and rehabilitating patients. Minnesota has many technical institutes and community colleges with nursing assistant training programs. Since nursing assistants are gaining prominence, graduates have very favorable career prospects. Predictions show employment growing by 21% over the next decade, making the nursing assistant role one of the occupations with the largest job growth.
For students who can afford a longer-term commitment to their education, licensed practical nursing is another great option. As the intermediary step between nursing assistant and registered nurse, the LPN role requires more intensive training, typically 12 to 18 months before a student can take the national licensure examination. An LPN can perform a wide range of tasks including basic bedside care, administering medication, and performing therapy under the supervision of experienced registered nurses. Prospective LPNs can earn their certificate or diploma at many community colleges in Minnesota. Over 17,000 licensed practical nurses are currently employed in Minnesota, earning an average annual salary of $41,000.
Dedicated nursing candidates can choose to become registered nurses, who comprise the largest group of healthcare workers. Minnesota's aspiring RNs have three degree options: associate degree in nursing, bachelor of science in nursing, and direct-entry master's degree. Typical training for registered nurses lasts two to four years with rigorous practice and extensive medical education, making registered nursing one of the most skilled and versatile nursing positions. Many of Minnesota's four-year universities and colleges offer degrees in registered nursing.
2022 NURSING SCHOOL RANKINGS
For our 2022 rankings, the research team at Nursing Schools Almanac collected data on nearly 3,000 nursing schools and campuses throughout the United States. We evaluated each school on three dimensions:
The institution's academic prestige and perceived value
The breadth and depth of nursing programs offered
Student success, particularly on the NCLEX licensure examination
We then combined these assessments into an overall score and ranked the schools accordingly. For a detailed description of our assessment methodology and dimension weights, please see here.
#1:

University of Minnesota

The University of Minnesota School of Nursing is one of the oldest and largest nursing schools in the region. It was the first nursing school in the nation to offer DNP programs in certified registered nurse anesthetist, nursing informatics, and health innovation and leadership. Indeed, the school's DNP program was recently ranked among the top 30 nationwide by U.S. News & World Report. The University of Minnesota also offers highly regarded BSN and MSN programs. The school produces 120-140 BSN and 60-65 MSN prelicensure graduates annually. These students have achieved NCLEX first-time pass rates of 87% and 92%, respectively, over the past decade.

#2:

Winona State University

The College of Nursing & Health Sciences at Winona State University focuses on both undergraduate and graduate nursing education. The undergraduate program produces approximately 150 BSN graduates annually, who have passed the NCLEX licensure exam at a solid 89% rate over the past decade. Similarly impressive is the number of graduate nursing offerings available. Graduate students may pursue an MSN, DNP, or graduate certificate, including specializations in family practice nursing and adult health nursing. Winona State also offers RN-to-BSN and RN-to-MSN degree completion programs for existing registered nurses.

#3:

College of St. Scholastica

The College of St. Scholastica's School of Nursing is one of the largest nursing schools in Minnesota. St. Scholastica offers three undergraduate nursing tracks: a traditional four-year undergraduate program, an accelerated pathway for students who have a non-nursing baccalaureate degree, and an RN-to-BS offering for registered nurses with associate degrees. The school graduates 140-180 students annually from its prelicensure BS tracks, and these students have achieved an 84% first-time pass rate on the NCLEX licensure exam over the past decade. St. Scholastica also offers DNP tracks for both APRNs and baccalaureate-prepared RNs.

#4:

Mayo Clinic School of Health Sciences

Mayo School of Health Sciences is part of the prestigious Mayo Clinic, which ranks number one in more specialties that any other hospital in the nation. The school enrolls nursing students across its three campuses in Jacksonville, Florida; Phoenix / Scottsdale, Arizona; and Rochester, Minnesota. The Rochester campus houses a wide breadth of clinical graduate nursing programs including nurse practitioner, nurse midwife, and nurse anesthetist offerings. Clinical experiences allow students to rotate through the entire hospital care setting, from pediatrics to critical care.

#5:

St. Catherine University

St. Catherine University, also known as St. Kate's, is home to the Henrietta Schmoll School of Health. The school offers 22 professional and pre-professional healthcare programs, including several options within nursing. At the undergraduate level, St. Kate's offers an associate degree program on its Minneapolis campus, a traditional BSN degree on its St. Paul campus, and an RN-to-BSN program for adult learners. Graduate offerings include three MSN tracks (entry-level, nurse educator, nurse practitioner) and a DNP program with several dual-degree options. Entry-level MSN students have passed the NCLEX licensure exam at a phenomenal 96% rate since the program's recent inception.

#6:

Minnesota State University, Mankato

The School of Nursing at Minnesota State Mankato is a thriving learning community with a versatile assortment of nursing programs. The school's prelicensure BSN program prepares students rigorously for the NCLEX-RN licensure examination, for public health certification, and/or for school nurse licensure. The program's 70-100 annual graduates have passed the NCLEX exam at an 85% rate over the past decade. The school also offers a BSN completion program for existing RNs. Minnesota State Mankato's graduate nursing programs include two MSN tracks (family nurse practitioner and nurse educator) and a DNP program with two entry options (post-BSN and post-MSN).

#7:

Metropolitan State University

The Metropolitan State University Department of Nursing is part of the College of Nursing and Health Sciences. For the past decade, the university has partnered with seven community colleges to lead the Minnesota Alliance for Nursing Education (MANE) BSN program. This innovative curriculum expands the BSN's reach by offering courses both at local community colleges and on the university's Saint Paul campus. Metro State also offers an RN-to-BSN pathway with both online and hybrid cohorts. Registered nurses with an associate degree or diploma can complete the part-time program in just five semesters of study. The university's graduate nursing students can pursue either an entry-level MSN (ELMSN) degree or a terminal DNP degree. The ELMSN program graduates 25-30 new nurses annually who have passed the NCLEX exam at an impressive 91% first-try rate over the past decade. The DNP curriculum offers post-baccalaureate tracks for aspiring family nurse practitioners and nurse anesthetists; the latter is conducted in partnership with the Minneapolis School of Anesthesia.

#8:

Bethel University

The Department of Nursing at Bethel University produces 70-80 prelicensure BSN graduates each year, who have passed the NCLEX-RN licensure exam at a solid 84% rate over the past decade. In addition to licensure exam prep, Bethel's BSN program enables students to enter a variety of graduate programs for APRN roles, ranging from certified registered nurse anesthetist to clinical nurse specialist. The university's nursing department also offers an RN-to-BSN program for existing registered nurses, MSN tracks for aspiring midwives and nurse educators, and an online nurse educator graduate certificate.

#9:

St. Olaf College

St. Olaf College takes a holistic approach to nursing that integrates development of the whole person, a commitment to lifelong learning, and service to others. The school's four-year BSN program includes unique courses such as Images of Wellness, Holistic Health Assessment & Promotion, and Complex Patient Care. Besides an innovative curriculum, the program incorporates clinical learning experiences across a variety of local and Twin Cities medical centers, long-term care facilities, and community agencies. After years of offering the BSN jointly with Gustavus Adolphus, St. Olaf College recently launched a separate program with a small class size of approximately 25 students per cohort. These BSN students have passed the NCLEX exam at an outstanding 96% first-time rate over the past several years.

#10:

Augsburg University

The nursing programs at Augsburg University are designed to address the specific needs of diverse populations, both in the U.S. and abroad. Immersion courses and study abroad experiences are integrated into all of the school's nursing programs. Many of these experiences take students to overseas locations ranging from England to Namibia. Classes for all of the school's nursing programs meet at both the Minneapolis and Rochester campuses. Augsburg University offers a BSN completion pathway, a master of arts in nursing, and a DNP degree with tracks in transcultural nursing leadership and family nurse practitioner.

#11:

University of Northwestern

University of Northwestern (UNW) offers a prelicensure BSN that provides a strong foundation in biblical studies, liberal arts, and the sciences. Two paths are available: the accelerated path and the traditional path. Both options provide small class sizes, transcultural learning opportunities, an engaged student-faculty community, and excellent support. Students can take courses that include Professional Nursing: Called to Serve, Foundational Adult Care Services, and Pharmacology & Therapeutic Services. Since the recent launch of the BSN program, UNW graduates have enjoyed a phenomenal 98% pass rate on the NCLEX-RN licensure exam. The university can also boast a perfect 100% job placement rate within six months of graduation.

#12:

Concordia College

The Concordia College nursing curriculum is approved by both the Minnesota and North Dakota Boards of Nursing. The school's traditional and accelerated BSN programs emphasize global health and cultural competence through immersion opportunities in countries like China, Vietnam, and Tanzania. Concordia students have access to laboratories with simulation manikins, as well as convenient clinicals and internships at renowned healthcare facilities throughout the Fargo-Moorhead metropolitan area. Each year, approximately 40 BSN graduates from Concordia take the NCLEX-RN national licensure exam, achieving a stellar 94% first-time pass rate over the past decade.

#13:

College of Saint Benedict & Saint John's University

The College of Saint Benedict & Saint John's University have jointly prepared nurse leaders for forty years. The schools offer an undergraduate BSN program with several unique components, including participation in the Minnesota Student Nurse Association and a study-abroad experience in South Africa or Belize. Student pass rates on the NCLEX licensure exam have frequently exceeded the national average for baccalaureate graduates, with an 88% cumulative pass rate over the past decade. Several graduating classes have achieved NCLEX pass rates in excess of 95%.

#14:

Walden University

Walden University offers more than thirty online degree and certificate pathways for registered nurses with a current, unencumbered license. Those who wish to complete their undergraduate education can pursue either an RN-to-BSN or RN-to-MSN pathway. The university's MSN curriculum provides nine in-demand specializations including nurse executive, nursing education, nursing informatics, public health nursing, and five nurse practitioner fields. Most MSN specializations are also offered as a post-master's certificate. Doctoral candidates can choose from six DNP specializations and five PhD specializations, including an innovative Doctor of Philosophy in Nursing Interdisciplinary Health. In fact, Walden University has awarded more doctoral degrees to African-American students than any other U.S. institution over the past five years.

#15:

Saint Mary's University of Minnesota

Saint Mary's University of Minnesota offers an undergraduate RN-to-BSN curriculum based on Lasallian principles, including concern for the poor and social justice. This degree completion program prepares existing RNs to improve their professional nursing practice and/or pursue graduate studies. In addition, the university's School of Health and Human Services offers a DNP program in nurse anesthesiology. This course of study prepares graduates to sit for the certification exam offered by the National Board of Certification and Recertification for Nurse Anesthetists, successful completion of which confers the CRNA title. Saint Mary's nurse anesthesiology program boasts a 99.4% graduation rate over the past five years and a 100% employment rate upon graduation for the past decade.

#16:

Gustavus Adolphus College

The Department of Nursing at Gustavus Adolphus College offers a BSN degree with many unique features. Students participate in hands-on work experiences at a broad range of clinical sites, including magnet hospitals in the Minneapolis / St. Paul area; specialty clinicals in Utqiaġvik (Barrow, Alaska); intensive pediatrics in Minneapolis; and summer internships in healthcare settings like the Centers for Disease Control (Atlanta, Georgia) and Karolinska University (Stockholm, Sweden). After years of offering the BSN jointly with St. Olaf College, Gustavus Adolphus recently launched a separate program with a small class size of approximately 30 students per cohort. These BSN students have passed the NCLEX exam at an 86% first-time rate over the past several years.

#17:

Capella University

Capella University launched in 1993 as The Graduate School of America. In 1997, 14 students graduated from TGSA, earning nine master of science (MS) and five doctor of philosophy (PhD) degrees. Today, Capella has more than 35,000 alumni, as well as 2,700 employees serving 36,000 current students. Capella University offers forty programs with 145 distinct specializations. The School of Nursing and Health Sciences provides a plethora of nursing degree options. Undergraduates with an active, unencumbered RN license can pursue either a traditional RN-to-BSN pathway or an accelerated master's pathway. Capella's MSN program offers concentrations in care coordination, nursing leadership and administration, nursing informatics, and nursing education. The first three specializations may also be pursued as a graduate certificate. Finally, the university conducts a post-master's DNP program with a professionally relevant curriculum that explores healthcare delivery, patient advocacy, and healthcare policy. All of Capella University's nursing degree programs are accredited by the Commission on Collegiate Nursing Education.

#18:

Minnesota State University Moorhead

The School of Nursing & Healthcare Leadership (SNHL) at Minnesota State University Moorhead has educated nurse leaders since 2007. SNHL offers several healthcare degree options including an RN-to-BSN completion program, a bachelor of science in health services administration, an MSN program, and a master of healthcare administration. The school also offers post-baccalaureate certificates in nurse educator (NED) and nursing administration & organizational systems leadership (NAOSL).

#19:

Rasmussen University

Rasmussen University opened in 1900 as Rasmussen Practical School of Business in St. Paul, Minnesota. Today, Rasmussen operates 23 campuses in six states as well as a thriving online division. The School of Nursing houses 600 faculty that serve 8,500 students across the full gamut of pre- and post-licensure programs. Prelicensure options include a practical nursing diploma, an associate degree in professional nursing, and a traditional BSN degree. These programs are delivered through the university's network of campus locations. Indeed, Rasmussen was the largest educator of ADN graduates in the country during 2020, as well as the largest educator of LPN graduates in both Florida and Minnesota. Post-licensure options include an RN-to-BSN completion program, an MSN degree with four advanced nursing specializations, and a DNP program with executive leadership and public health specializations. These programs are delivered through a combination of online courses and field experiences, making them more accessible to working nurses.

#20:

St. Cloud State University

St. Cloud State University offers an undergraduate nursing program that boasts a 92% first-time pass rate on the NCLEX-RN licensure exam over the past decade. The program, which leads to the BSN degree, features study abroad opportunities in Concepcion, Chile; a simulation lab that teaches students how to use the latest equipment in the field; and numerous volunteer and internship opportunities. The Department of Nursing at St. Cloud State also partners with agencies across the state to give students rich and diverse clinical learning experiences in their final one-month capstone experience.

#21:

Bethany Lutheran College

Bethany Lutheran College is a small, four-year, Christian liberal arts college that offers 24 distinct majors. The nursing major combines classroom instruction with hands-on learning in both the school's nursing laboratory and clinical settings. The lab houses manikins, equipment, and materials that help students to hone their nursing skills in a safe learning environment. Clinical settings include the Lutheran Home in Belle Plaine, the Mayo Clinic Health System, and Oaklawn Rehabilitation Center. Bethany's nursing program also features an international immersion experience. BSN graduates work in a variety of healthcare environments spanning hospitals, home care, acute care, and public health.

#22:

Bemidji State University

Bemidji State University offers its BSN program in a clinical setting that prepares students to address patient health needs in a changing and diverse environment. Two tracks are available to complete the baccalaureate degree. The four-year BSN track is designed for students just beginning their nursing education. The two-year RN-to-BSN track is for licensed RNs with an associate degree or diploma. Students in both programs receive an innovative curriculum that covers critical topics like technology, rural health, family health, cultural awareness, and palliative care. The four-year BSN program graduates 40-60 students annually, who have scored a solid 83% first-time NCLEX pass rate since the program's inception.

#23:

Concordia University, St. Paul

Concordia University, St. Paul (CSP) is a private liberal arts university with over eighty programs for students seeking traditional undergraduate, degree completion, graduate, or doctorate degrees. In 2017, CSP expanded its nursing offerings with the addition of a prelicensure BSN. Like the university's existing RN-to-BSN program, the prelicensure BSN provides a curriculum that is relevant to the current healthcare arena. The prelicensure program is offered year-round in a traditional academic setting, allowing students to complete their degree in just three years. The RN-to-BSN program is conducted online and may be completed in two years or less.

#24:

Crown College

Crown College provides Biblically based education for Christian leadership in a number of professional careers including healthcare. Program options for aspiring nurses include traditional BSN and RN-to-BSN pathways. The traditional BSN is a four-year program for undergraduate students, and the RN-to-BSN is an online program for existing RNs that takes just 18 to 20 months to complete. Crown College offers its students numerous opportunities to participate in off-campus clinical settings, access to the Nursing Intervention Lab, and web-based programs integrated across the curriculum to create real-world experiences. Traditional BSN graduates have achieved a solid 86% NCLEX pass rate over the past decade, including an excellent 95% pass rate in 2017.

#25:

Southwest Minnesota State University

Southwest Minnesota State University (SMSU) is one of seven state universities within the Minnesota State Colleges and Universities system. The SMSU Department of Nursing launched a CCNE-accredited RN-to-BSN degree completion program in the fall of 2013. The program allows RNs with a current, unencumbered license and a two-year degree or diploma to earn their baccalaureate degree in a streamlined manner. Coursework is conducted predominantly online. Students have the opportunity to visit campus up to five times throughout the program.