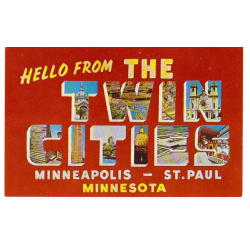 With a wide selection of educational options in the Minneapolis-Saint Paul metropolitan area, it is essential for prospective nurses to understand the differences among programs and the merits of each nursing career path.
One of the most popular training programs for assistive nursing personnel is the nursing assistant program. Only eight to ten weeks in length, nursing assistant programs enable immediate employment by not requiring the time commitment of lengthier nursing programs. Nursing assistants are core members of the healthcare team; they are the initial contact point with patients and are often in charge of direct patient care. American Indian OIC is a local Minneapolis school with a highly regarded nursing assistant program.
Licensed practical nursing programs require students to invest more time in their training but offer greater earnings potential in the long run. Lasting 12 to 18 months, these programs cover more in-depth training and applied skills that can prove helpful immediately upon graduation. LPNs assume a variety of tasks including basic bedside care, administering drugs, supervising less-experienced nursing assistants, and aiding registered nurses. Prospective LPNs can pursue a degree or certificate at several local schools including Minneapolis Community and Technical College. Nearly 9,000 licensed practical nurses are currently employed in the Twin Cities metro area, earning up to $47,000 per year.
Registered nurses constitute the largest number of healthcare workers. With solid training lasting two to four years, registered nurses are given extensive medical knowledge and professional skills, thus becoming valuable additions to any healthcare facility. RNs can work as helpful assistants to physicians or independently; in many cases, they are also qualified to give training and medical education. The Minneapolis-Saint Paul metropolitan area offers a wide array of registered nursing programs at the associate, bachelor's, and master's degree levels. Interested students can apply to programs at several local schools including the University of Minnesota, Bethel University, Metropolitan State University, and St. Catherine University.
2022 NURSING SCHOOL RANKINGS
For our 2022 rankings, the research team at Nursing Schools Almanac collected data on nearly 3,000 nursing schools and campuses throughout the United States. We evaluated each school on three dimensions:
The institution's academic prestige and perceived value
The breadth and depth of nursing programs offered
Student success, particularly on the NCLEX licensure examination
We then combined these assessments into an overall score and ranked the schools accordingly. For a detailed description of our assessment methodology and dimension weights, please see here.
#1:

University of Minnesota

The University of Minnesota School of Nursing is one of the oldest and largest nursing schools in the region. It was the first nursing school in the nation to offer DNP programs in certified registered nurse anesthetist, nursing informatics, and health innovation and leadership. Indeed, the school's DNP program was recently ranked among the top 30 nationwide by U.S. News & World Report. The University of Minnesota also offers highly regarded BSN and MSN programs. The school produces 120-140 BSN and 60-65 MSN prelicensure graduates annually. These students have achieved NCLEX first-time pass rates of 87% and 92%, respectively, over the past decade.

#2:

St. Catherine University

St. Catherine University, also known as St. Kate's, is home to the Henrietta Schmoll School of Health. The school offers 22 professional and pre-professional healthcare programs, including several options within nursing. At the undergraduate level, St. Kate's offers an associate degree program on its Minneapolis campus, a traditional BSN degree on its St. Paul campus, and an RN-to-BSN program for adult learners. Graduate offerings include three MSN tracks (entry-level, nurse educator, nurse practitioner) and a DNP program with several dual-degree options. Entry-level MSN students have passed the NCLEX licensure exam at a phenomenal 96% rate since the program's recent inception.

#3:

Metropolitan State University

The Metropolitan State University Department of Nursing is part of the College of Nursing and Health Sciences. For the past decade, the university has partnered with seven community colleges to lead the Minnesota Alliance for Nursing Education (MANE) BSN program. This innovative curriculum expands the BSN's reach by offering courses both at local community colleges and on the university's Saint Paul campus. Metro State also offers an RN-to-BSN pathway with both online and hybrid cohorts. Registered nurses with an associate degree or diploma can complete the part-time program in just five semesters of study. The university's graduate nursing students can pursue either an entry-level MSN (ELMSN) degree or a terminal DNP degree. The ELMSN program graduates 25-30 new nurses annually who have passed the NCLEX exam at an impressive 91% first-try rate over the past decade. The DNP curriculum offers post-baccalaureate tracks for aspiring family nurse practitioners and nurse anesthetists; the latter is conducted in partnership with the Minneapolis School of Anesthesia.

#4:

Bethel University

The Department of Nursing at Bethel University produces 70-80 prelicensure BSN graduates each year, who have passed the NCLEX-RN licensure exam at a solid 84% rate over the past decade. In addition to licensure exam prep, Bethel's BSN program enables students to enter a variety of graduate programs for APRN roles, ranging from certified registered nurse anesthetist to clinical nurse specialist. The university's nursing department also offers an RN-to-BSN program for existing registered nurses, MSN tracks for aspiring midwives and nurse educators, and an online nurse educator graduate certificate.

#5:

Augsburg University

The nursing programs at Augsburg University are designed to address the specific needs of diverse populations, both in the U.S. and abroad. Immersion courses and study abroad experiences are integrated into all of the school's nursing programs. Many of these experiences take students to overseas locations ranging from England to Namibia. Classes for all of the school's nursing programs meet at both the Minneapolis and Rochester campuses. Augsburg University offers a BSN completion pathway, a master of arts in nursing, and a DNP degree with tracks in transcultural nursing leadership and family nurse practitioner.

#6:

University of Northwestern

University of Northwestern (UNW) offers a prelicensure BSN that provides a strong foundation in biblical studies, liberal arts, and the sciences. Two paths are available: the accelerated path and the traditional path. Both options provide small class sizes, transcultural learning opportunities, an engaged student-faculty community, and excellent support. Students can take courses that include Professional Nursing: Called to Serve, Foundational Adult Care Services, and Pharmacology & Therapeutic Services. Since the recent launch of the BSN program, UNW graduates have enjoyed a phenomenal 98% pass rate on the NCLEX-RN licensure exam. The university can also boast a perfect 100% job placement rate within six months of graduation.

#7:

Walden University

Walden University offers more than thirty online degree and certificate pathways for registered nurses with a current, unencumbered license. Those who wish to complete their undergraduate education can pursue either an RN-to-BSN or RN-to-MSN pathway. The university's MSN curriculum provides nine in-demand specializations including nurse executive, nursing education, nursing informatics, public health nursing, and five nurse practitioner fields. Most MSN specializations are also offered as a post-master's certificate. Doctoral candidates can choose from six DNP specializations and five PhD specializations, including an innovative Doctor of Philosophy in Nursing Interdisciplinary Health. In fact, Walden University has awarded more doctoral degrees to African-American students than any other U.S. institution over the past five years.

#8:

Capella University

Capella University launched in 1993 as The Graduate School of America. In 1997, 14 students graduated from TGSA, earning nine master of science (MS) and five doctor of philosophy (PhD) degrees. Today, Capella has more than 35,000 alumni, as well as 2,700 employees serving 36,000 current students. Capella University offers forty programs with 145 distinct specializations. The School of Nursing and Health Sciences provides a plethora of nursing degree options. Undergraduates with an active, unencumbered RN license can pursue either a traditional RN-to-BSN pathway or an accelerated master's pathway. Capella's MSN program offers concentrations in care coordination, nursing leadership and administration, nursing informatics, and nursing education. The first three specializations may also be pursued as a graduate certificate. Finally, the university conducts a post-master's DNP program with a professionally relevant curriculum that explores healthcare delivery, patient advocacy, and healthcare policy. All of Capella University's nursing degree programs are accredited by the Commission on Collegiate Nursing Education.

#9:

Rasmussen University

Rasmussen University opened in 1900 as Rasmussen Practical School of Business in St. Paul, Minnesota. Today, Rasmussen operates 23 campuses in six states as well as a thriving online division. The School of Nursing houses 600 faculty that serve 8,500 students across the full gamut of pre- and post-licensure programs. Prelicensure options include a practical nursing diploma, an associate degree in professional nursing, and a traditional BSN degree. These programs are delivered through the university's network of campus locations. Indeed, Rasmussen was the largest educator of ADN graduates in the country during 2020, as well as the largest educator of LPN graduates in both Florida and Minnesota. Post-licensure options include an RN-to-BSN completion program, an MSN degree with four advanced nursing specializations, and a DNP program with executive leadership and public health specializations. These programs are delivered through a combination of online courses and field experiences, making them more accessible to working nurses.

#10:

Concordia University, St. Paul

Concordia University, St. Paul (CSP) is a private liberal arts university with over eighty programs for students seeking traditional undergraduate, degree completion, graduate, or doctorate degrees. In 2017, CSP expanded its nursing offerings with the addition of a prelicensure BSN. Like the university's existing RN-to-BSN program, the prelicensure BSN provides a curriculum that is relevant to the current healthcare arena. The prelicensure program is offered year-round in a traditional academic setting, allowing students to complete their degree in just three years. The RN-to-BSN program is conducted online and may be completed in two years or less.