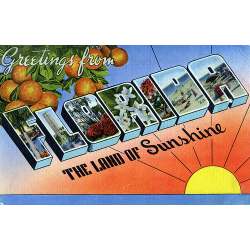 Licensed practical nurses play a vital role in medical care. They typically work under the supervision of a registered nurse or other healthcare professional to conduct frontline medical procedures. An LPN's responsibilities can include administering medication, changing dressings, taking vital signs, and monitoring patients. They work in a wide variety of healthcare settings including hospitals, short-term rehabilitation facilities, and long-term care facilities.
So what is required to work as a practical nurse in Florida? Aspiring LPNs must first complete a state-approved training program. The vast majority of LPN programs require 12 to 18 months of study, awarding a certificate or diploma upon completion. A few Florida schools instead offer a two-year associate's degree in practical nursing. Prelicensure LPN programs are offered at over 150 campuses across the state, including Pasco-Hernando State College, Mercy Hospital, and the Academy for Nursing and Health Occupations.
After graduating from an approved LPN program, students must successfully pass the National Council Licensure Examination for Practical Nurses (NCLEX-PN). Once they clear this hurdle, newly minted LPNs can seek employment at major healthcare providers across the state, including AdventHealth, Community Health Systems, and University of Florida Health. More than 45,000 practical nurses are employed in Florida, with an average annual salary of $45,580 according to recent data (May 2019) from the U.S. Bureau of Labor Statistics.
To help Florida's aspiring LPNs evaluate their options, the research team at Nursing Schools Almanac has compiled an extensive database of student performance on the NCLEX-PN licensure exam. We analyzed this data over a lengthy period of time -- the past decade when possible -- to calculate each program's NCLEX pass rate among first-time test-takers. We then used this metric to rank Florida's LPN programs, from the strongest NCLEX-PN performance (Treasure Coast Technical College) to the weakest (Ideal Professional Institute). You can find the detailed results of our analysis below.

#1: Treasure Coast Technical College
4680 28th Court | Vero Beach, FL 32967
https://tctc.indianriverschools.org
NCLEX-PN pass rate among first-time test-takers: 98.3%
Average number of LPN students graduating annually: 12
Data analyzed: Calendar years 2010 through 2019

#2: South Florida State College
600 West College Drive | Avon Park, FL 33825
https://www.southflorida.edu
NCLEX-PN pass rate among first-time test-takers: 98.3%
Average number of LPN students graduating annually: 23
Data analyzed: Calendar years 2010 through 2019

#3: Cape Coral Technical College
360 Santa Barbara Boulevard North | Cape Coral, FL 33993
https://www.capecoraltech.edu
NCLEX-PN pass rate among first-time test-takers: 98.2%
Average number of LPN students graduating annually: 28
Data analyzed: Calendar years 2010 through 2019

#4: Withlacoochee Technical College
1201 West Main Street | Inverness, FL 34450
https://www.wtcollege.org
NCLEX-PN pass rate among first-time test-takers: 97.7%
Average number of LPN students graduating annually: 17
Data analyzed: Calendar years 2010 through 2019

#5: Santa Fe College
3000 NW 83rd Street | Gainesville, FL 32606
https://www.sfcollege.edu
NCLEX-PN pass rate among first-time test-takers: 95.5%
Average number of LPN students graduating annually: 20
Data analyzed: Calendar years 2010 through 2019

#6: Gadsden Center for Health Education
201 Martin Luther King Jr. Boulevard | Quincy, FL 32351
http://www.gadsdentech.org
NCLEX-PN pass rate among first-time test-takers: 95.1%
Average number of LPN students graduating annually: 6
Data analyzed: Calendar years 2013 through 2019

#7: Pasco-Hernando State College
10230 Ridge Road | New Port Richey, FL 34654
https://www.phsc.edu
NCLEX-PN pass rate among first-time test-takers: 94.2%
Average number of LPN students graduating annually: 90
Data analyzed: Calendar years 2010 through 2019

#8: Palm Beach State College
4200 Congress Avenue | Lake Worth, FL 33461
https://www.palmbeachstate.edu
NCLEX-PN pass rate among first-time test-takers: 93.8%
Average number of LPN students graduating annually: 28
Data analyzed: Calendar years 2010 through 2019

#9: North Florida Technical College
609 North Orange Street | Starke, FL 32091
https://www.bradfordschools.org/nftc
NCLEX-PN pass rate among first-time test-takers: 93.7%
Average number of LPN students graduating annually: 24
Data analyzed: Calendar years 2010 through 2019

#10: Fort Myers Technical College
3800 Michigan Avenue | Fort Myers, FL 33916
https://www.fortmyerstech.edu
NCLEX-PN pass rate among first-time test-takers: 93.5%
Average number of LPN students graduating annually: 39
Data analyzed: Calendar years 2010 through 2019

#11: Jersey College
3625 Queen Palm Drive | Tampa, FL 33619
https://www.jerseycollege.edu
NCLEX-PN pass rate among first-time test-takers: 93.1%
Average number of LPN students graduating annually: 102
Data analyzed: Calendar years 2010 through 2019; includes both the Tampa and Jacksonville campuses

#12: Marion Technical College
1014 SW Seventh Road | Ocala, FL 34471
https://www.mariontc.edu
NCLEX-PN pass rate among first-time test-takers: 93.0%
Average number of LPN students graduating annually: 40
Data analyzed: Calendar years 2014 through 2019

#13: Daytona State College
1200 West International Speedway Boulevard | Daytona Beach, FL 32114
https://www.daytonastate.edu
NCLEX-PN pass rate among first-time test-takers: 92.1%
Average number of LPN students graduating annually: 52
Data analyzed: Calendar years 2010 through 2019

#14: Florida Gateway College
149 SE College Place | Lake City, FL 32025
https://www.fgc.edu
NCLEX-PN pass rate among first-time test-takers: 92.0%
Average number of LPN students graduating annually: 36
Data analyzed: Calendar years 2010 through 2019

#15: Traviss Technical College
3225 Winter Lake Road | Lakeland, FL 33803
http://www.polkedpathways.com/traviss-technical-college
NCLEX-PN pass rate among first-time test-takers: 91.9%
Average number of LPN students graduating annually: 60
Data analyzed: Calendar years 2010 through 2019

#16: Ridge Technical College
7700 State Road 544 | Winter Haven, FL 33881
http://www.polkedpathways.com/ridge-technical-college
NCLEX-PN pass rate among first-time test-takers: 91.8%
Average number of LPN students graduating annually: 40
Data analyzed: Calendar years 2010 through 2019

#17: Tom P. Haney Technical Center
3016 Highway 77 North | Panama City, FL 32405
http://www.bayschools.com/htc
NCLEX-PN pass rate among first-time test-takers: 91.5%
Average number of LPN students graduating annually: 36
Data analyzed: Calendar years 2010 through 2019

#18: Okaloosa Technical College
1976 Lewis Turner Boulevard | Fort Walton Beach, FL 32547
https://www.otcollege.net
NCLEX-PN pass rate among first-time test-takers: 91.0%
Average number of LPN students graduating annually: 39
Data analyzed: Calendar years 2010 through 2019

#19: Atlantic Technical College
1701 NW 23rd Avenue | Fort Lauderdale, FL 33311
https://www.atlantictechnicalcollege.edu
NCLEX-PN pass rate among first-time test-takers: 90.5%
Average number of LPN students graduating annually: 86
Data analyzed: Calendar years 2010 through 2019; includes both the daytime program on the Fort Lauderdale campus and the evening program on the Coconut Creek campus

#20: North Florida College
325 NW Turner Davis Drive | Madison, FL 32340
https://www.nfc.edu
NCLEX-PN pass rate among first-time test-takers: 89.3%
Average number of LPN students graduating annually: 21
Data analyzed: Calendar years 2010 through 2019

#21: Osceola Technical College
501 Simpson Road | Kissimmee, FL 34744
https://www.osceolaschools.net/otech
NCLEX-PN pass rate among first-time test-takers: 89.0%
Average number of LPN students graduating annually: 37
Data analyzed: Calendar years 2010 through 2019

#22: Lake Technical College
2001 Kurt Street | Eustis, FL 32726
https://www.laketech.org
NCLEX-PN pass rate among first-time test-takers: 88.8%
Average number of LPN students graduating annually: 56
Data analyzed: Calendar years 2010 through 2019

#23: Galen College of Nursing
10200 Dr. Martin Luther King Jr. Street North | Saint Petersburg, FL 33716
https://www.galencollege.edu
NCLEX-PN pass rate among first-time test-takers: 88.8%
Average number of LPN students graduating annually: 103
Data analyzed: Calendar years 2010 through 2019

#24: Pinellas Technical College
901 34th Street South | Saint Petersburg, FL 33711
https://www.pcsb.org/myptc
NCLEX-PN pass rate among first-time test-takers: 88.7%
Average number of LPN students graduating annually: 129
Data analyzed: Calendar years 2010 through 2019; includes both the St. Petersburg and Clearwater campuses

#25: Emerald Coast Technical College
761 North 20th Street | DeFuniak Springs, FL 32433
https://www.ectc.edu
NCLEX-PN pass rate among first-time test-takers: 88.6%
Average number of LPN students graduating annually: 37
Data analyzed: Calendar years 2010 through 2019

#26: Herzing University
1865 State Road 436 | Winter Park, FL 32792
https://www.herzing.edu
NCLEX-PN pass rate among first-time test-takers: 88.6%
Average number of LPN students graduating annually: 13
Data analyzed: Calendar years 2014 through 2019

#27: ATA Career Education
7351 Spring Hill Drive, Suite 11 | Spring Hill, FL 34606
https://www.atafl.edu
NCLEX-PN pass rate among first-time test-takers: 88.3%
Average number of LPN students graduating annually: 31
Data analyzed: Calendar years 2017 through 2019

#28: First Coast Technical College
2980 Collins Avenue | Saint Augustine, FL 32084
https://www.fctc.edu
NCLEX-PN pass rate among first-time test-takers: 88.0%
Average number of LPN students graduating annually: 51
Data analyzed: Calendar years 2010 through 2019

#29: Homestead Senior High School
2351 SE 12th Avenue | Homestead, FL 33034
https://www.homesteadshs.com
NCLEX-PN pass rate among first-time test-takers: 87.5%
Average number of LPN students graduating annually: 6
Data analyzed: Calendar years 2010 through 2017

#30: Suncoast Technical College
4748 Beneva Road | Sarasota, FL 34233
https://www.suncoast.edu
NCLEX-PN pass rate among first-time test-takers: 87.3%
Average number of LPN students graduating annually: 58
Data analyzed: Calendar years 2010 through 2019

#31: Antigua College International
14505 Commerce Way, Suite 522 | Miami Lakes, FL 33016
https://www.antigua.edu
NCLEX-PN pass rate among first-time test-takers: 87.0%
Average number of LPN students graduating annually: 8
Data analyzed: Calendar years 2017 through 2019

#32: McFatter Technical College
6500 Nova Drive | Davie, FL 33317
https://www.mcfattertechnicalcollege.edu
NCLEX-PN pass rate among first-time test-takers: 86.1%
Average number of LPN students graduating annually: 94
Data analyzed: Calendar years 2010 through 2019

#33: Rasmussen University
1227 SW 17th Avenue | Ocala, FL 34471
https://www.rasmussen.edu
NCLEX-PN pass rate among first-time test-takers: 85.9%
Average number of LPN students graduating annually: 92
Data analyzed: Calendar years 2012 through 2019; includes the Ocala, Land O' Lakes / East Pasco, Tampa / Brandon, and Fort Myers campuses

#34: Manatee Technical College
5520 Lakewood Ranch Boulevard | Bradenton, FL 34211
https://www.manateetech.edu
NCLEX-PN pass rate among first-time test-takers: 85.9%
Average number of LPN students graduating annually: 67
Data analyzed: Calendar years 2010 through 2019

#35: Mercy Hospital
3663 South Miami Avenue | Miami, FL 33133
https://www.mercymiami.com/professionals
NCLEX-PN pass rate among first-time test-takers: 85.8%
Average number of LPN students graduating annually: 63
Data analyzed: Calendar years 2010 through 2019

#36: Florida Panhandle Technical College
757 Hoyt Street | Chipley, FL 32428
https://www.fptc.edu
NCLEX-PN pass rate among first-time test-takers: 85.7%
Average number of LPN students graduating annually: 38
Data analyzed: Calendar years 2010 through 2019

#37: Pensacola State College
5555 West Highway 98 | Pensacola, FL 32507
https://www.pensacolastate.edu
NCLEX-PN pass rate among first-time test-takers: 85.6%
Average number of LPN students graduating annually: 25
Data analyzed: Calendar years 2010 through 2019

#38: Robert Morgan Educational Center & Technical College
18180 SW 122nd Avenue | Miami, FL 33177
https://www.robertmorgantech.net
NCLEX-PN pass rate among first-time test-takers: 85.5%
Average number of LPN students graduating annually: 69
Data analyzed: Calendar years 2010 through 2019

#39: Erwin Technical College
2010 East Hillsborough Avenue | Tampa, FL 33610
http://www.erwin.edu
NCLEX-PN pass rate among first-time test-takers: 84.2%
Average number of LPN students graduating annually: 118
Data analyzed: Calendar years 2010 through 2019

#40: Blanche Ely High School
1201 NW Sixth Avenue | Pompano Beach, FL 33060
https://www.browardschools.com/blancheely
NCLEX-PN pass rate among first-time test-takers: 84.2%
Average number of LPN students graduating annually: 10
Data analyzed: Calendar years 2010 through 2019
#41: Academy for Nursing and Health Occupations
5154 Okeechobee Boulevard, Suite 201 | West Palm Beach, FL 33417
https://www.anho.edu
NCLEX-PN pass rate among first-time test-takers: 84.0%
Average number of LPN students graduating annually: 74
Data analyzed: Calendar years 2010 through 2019

#42: Orange Technical College
301 West Amelia Street | Orlando, FL 32801
https://www.orangetechcollege.net
NCLEX-PN pass rate among first-time test-takers: 83.7%
Average number of LPN students graduating annually: 45
Data analyzed: Calendar years 2010 through 2019

#43: Indian River State College
3209 Virginia Avenue | Fort Pierce, FL 34981
https://www.irsc.edu
NCLEX-PN pass rate among first-time test-takers: 83.2%
Average number of LPN students graduating annually: 54
Data analyzed: Calendar years 2010 through 2019

#44: Taylor College
5190 SE 125th Street | Belleview, FL 34420
https://www.taylorcollege.edu
NCLEX-PN pass rate among first-time test-takers: 82.7%
Average number of LPN students graduating annually: 31
Data analyzed: Calendar years 2010 through 2019

#45: Lively Technical College
500 North Appleyard Drive | Tallahassee, FL 32304
https://www.livelytech.com
NCLEX-PN pass rate among first-time test-takers: 82.2%
Average number of LPN students graduating annually: 47
Data analyzed: Calendar years 2010 through 2019

#46: Gulf Coast State College
5230 West US Highway 98 | Panama City, FL 32401
https://www.gulfcoast.edu
NCLEX-PN pass rate among first-time test-takers: 82.2%
Average number of LPN students graduating annually: 27
Data analyzed: Calendar years 2010 through 2019; reflects the performance of students on the Gulf / Franklin campus

#47: Southeastern College
17395 NW 59th Avenue | Miami Lakes, FL 33015
https://www.sec.edu
NCLEX-PN pass rate among first-time test-takers: 82.2%
Average number of LPN students graduating annually: 47
Data analyzed: Calendar years 2010 through 2019; includes both the Miami Lakes and West Palm Beach campuses

#48: Lindsey Hopkins Technical College
750 NW 20th Street | Miami, FL 33127
https://www.lindseyhopkins.edu
NCLEX-PN pass rate among first-time test-takers: 81.9%
Average number of LPN students graduating annually: 55
Data analyzed: Calendar years 2010 through 2019

#49: Sheridan Technical College
5400 Sheridan Street | Hollywood, FL 33021
https://www.sheridantechnicalcollege.edu
NCLEX-PN pass rate among first-time test-takers: 81.6%
Average number of LPN students graduating annually: 100
Data analyzed: Calendar years 2010 through 2019

#50: Locklin Technical College
5330 Berryhill Road | Milton, FL 32570
https://www.locklintech.com
NCLEX-PN pass rate among first-time test-takers: 81.5%
Average number of LPN students graduating annually: 15
Data analyzed: Calendar years 2011 through 2019

#51: Charlotte Technical College
18150 Murdock Circle | Port Charlotte, FL 33948
https://www.yourcharlotteschools.net/ctc
NCLEX-PN pass rate among first-time test-takers: 81.4%
Average number of LPN students graduating annually: 56
Data analyzed: Calendar years 2010 through 2019

#52: RIVEROAK Technical College
415 Pinewood Drive SW | Live Oak, FL 32064
http://www.riveroakcollege.com
NCLEX-PN pass rate among first-time test-takers: 81.1%
Average number of LPN students graduating annually: 20
Data analyzed: Calendar years 2010 through 2019

#53: Eastern Florida State College
3865 North Wickham Road | Melbourne, FL 32935
https://www.easternflorida.edu
NCLEX-PN pass rate among first-time test-takers: 79.0%
Average number of LPN students graduating annually: 27
Data analyzed: Calendar years 2010 through 2019

#54: Concorde Career Institute
7259 Salisbury Road | Jacksonville, FL 32256
https://www.concorde.edu
NCLEX-PN pass rate among first-time test-takers: 78.2%
Average number of LPN students graduating annually: 38
Data analyzed: Calendar years 2010 through 2019

#55: Immokalee Technical College
508 North Ninth Street | Immokalee, FL 34142
http://www.itech.edu
NCLEX-PN pass rate among first-time test-takers: 78.0%
Average number of LPN students graduating annually: 22
Data analyzed: Calendar years 2010 through 2019

#56: St. Johns River State College
5001 St. Johns Avenue | Palatka, FL 32177
http://www.sjrstate.edu
NCLEX-PN pass rate among first-time test-takers: 77.1%
Average number of LPN students graduating annually: 18
Data analyzed: Calendar years 2018 through 2019

#57: SouthTech Academy
6161 West Woolbright Road | Boynton Beach, FL 33437
https://www.southtechschools.org/southtech-academy.html
NCLEX-PN pass rate among first-time test-takers: 77.0%
Average number of LPN students graduating annually: 7
Data analyzed: Calendar years 2010 through 2019

#58: Fortis Institute
9022 South US Highway 1 | Port Saint Lucie, FL 34952
https://www.fortis.edu
NCLEX-PN pass rate among first-time test-takers: 76.4%
Average number of LPN students graduating annually: 33
Data analyzed: Calendar years 2010 through 2019

#59: Miami Lakes Educational Center & Technical College
2349 NW 175th Street | Miami Gardens, FL 33055
https://www.miamilakes.edu
NCLEX-PN pass rate among first-time test-takers: 75.8%
Average number of LPN students graduating annually: 72
Data analyzed: Calendar years 2010 through 2019

#60: Brewster Technical College
2222 North Tampa Street | Tampa, FL 33602
https://www.brewster.edu
NCLEX-PN pass rate among first-time test-takers: 73.1%
Average number of LPN students graduating annually: 16
Data analyzed: Calendar years 2010 through 2019

#61: Florida State College at Jacksonville
4501 Capper Road | Jacksonville, FL 32218
https://www.fscj.edu
NCLEX-PN pass rate among first-time test-takers: 72.9%
Average number of LPN students graduating annually: 63
Data analyzed: Calendar years 2010 through 2019

#62: DeSoto County School of Practical Nursing
310 West Whidden Street | Arcadia, FL 34266
https://fsc.desotoschools.com
NCLEX-PN pass rate among first-time test-takers: 72.8%
Average number of LPN students graduating annually: 9
Data analyzed: Calendar years 2010 through 2019

#63: South Dade Technical College
109 NE Eighth Street | Homestead, FL 33030
https://www.southdadetech.edu
NCLEX-PN pass rate among first-time test-takers: 72.7%
Average number of LPN students graduating annually: 6
Data analyzed: Calendar years 2016 through 2019

#64: Lorenzo Walker Technical College
3702 Estey Avenue | Naples, FL 34104
https://www.lwtc.edu
NCLEX-PN pass rate among first-time test-takers: 72.4%
Average number of LPN students graduating annually: 43
Data analyzed: Calendar years 2010 through 2019

#65: Inlet Grove High School
600 West 28th Street | Riviera Beach, FL 33404
https://www.inletgrovehs.com
NCLEX-PN pass rate among first-time test-takers: 70.4%
Average number of LPN students graduating annually: 20
Data analyzed: Calendar years 2012 through 2019; includes both the daytime program for high school students and the evening program for adult learners

#66: Big Bend Technical College
3233 South Byron Butler Parkway | Perry, FL 32348
https://www.bbtc.edu
NCLEX-PN pass rate among first-time test-takers: 68.8%
Average number of LPN students graduating annually: 19
Data analyzed: Calendar years 2015 through 2019

#67: Cambridge College of Healthcare & Technology
5150 Linton Boulevard, Suite 340 | Delray Beach, FL 33484
https://www.cambridgehealth.edu
NCLEX-PN pass rate among first-time test-takers: 64.8%
Average number of LPN students graduating annually: 40
Data analyzed: Calendar years 2010 through 2019

#68: Medical Prep Institute
2304 East Busch Boulevard | Tampa, FL 33612
https://www.medicalprepinstitute.org
NCLEX-PN pass rate among first-time test-takers: 64.3%
Average number of LPN students graduating annually: 12
Data analyzed: Calendar years 2011 through 2019
#69: William H. Turner Technical Arts High School
10151 NW 19th Avenue | Miami, FL 33147
http://turnertech.dadeschools.net
NCLEX-PN pass rate among first-time test-takers: 64.0%
Average number of LPN students graduating annually: 13
Data analyzed: Calendar years 2018 through 2019

#70: Horizon Healthcare Institute
4048 Evans Avenue, Suite 301 | Fort Myers, FL 33901
https://www.hhi.education
NCLEX-PN pass rate among first-time test-takers: 57.9%
Average number of LPN students graduating annually: 16
Data analyzed: Calendar years 2013 through 2019; includes the Fort Myers, Melbourne, and Port Charlotte campuses

#71: Gwinnett Institute
1900 North Alafaya Trail, Suite 100 | Orlando, FL 32826
https://www.gwinnettcollege.edu
NCLEX-PN pass rate among first-time test-takers: 54.2%
Average number of LPN students graduating annually: 78
Data analyzed: Calendar years 2012 through 2019

#72: North Broward Technical Center
1871 West Hillsboro Boulevard | Deerfield Beach, FL 33442
http://www.nbtechcenter.com
NCLEX-PN pass rate among first-time test-takers: 51.2%
Average number of LPN students graduating annually: 6
Data analyzed: Calendar years 2013 through 2019

#73: Chancellor Institute
5648 West Atlantic Boulevard | Margate, FL 33063
https://www.ichancellor.org
NCLEX-PN pass rate among first-time test-takers: 50.0%
Average number of LPN students graduating annually: 5
Data analyzed: Calendar years 2016 through 2019

#74: Angel Technical Institute
453 Cortez Road West | Bradenton, FL 34207
https://www.angeltechnical.com
NCLEX-PN pass rate among first-time test-takers: 45.2%
Average number of LPN students graduating annually: 28
Data analyzed: Calendar years 2017 through 2019

#75: Suncoast College of Health
6513 14th Street West, Suite 103 | Bradenton, FL 34207
https://www.suncoastcollege.edu
NCLEX-PN pass rate among first-time test-takers: 42.5%
Average number of LPN students graduating annually: 32
Data analyzed: Calendar years 2012 through 2019

#76: Emiraza College
510 South US Highway 1 | Fort Pierce, FL 34950
http://www.emirazacollege.com
NCLEX-PN pass rate among first-time test-takers: 35.1%
Average number of LPN students graduating annually: 5
Data analyzed: Calendar years 2013 through 2019

#77: Burnett International College
2601 South Military Trail | West Palm Beach, FL 33415
https://www.burnett.edu
NCLEX-PN pass rate among first-time test-takers: 34.2%
Average number of LPN students graduating annually: 38
Data analyzed: Calendar years 2019 through 2019

#78: Sacred Heart International Institute
3601 West Commercial Boulevard, Suite 16 | North Lauderdale, FL 33309
https://www.sacredheartson.com
NCLEX-PN pass rate among first-time test-takers: 25.5%
Average number of LPN students graduating annually: 16
Data analyzed: Calendar years 2017 through 2019

#79: Med-Life Institute
4000 North State Road 7, Suite 301 | Lauderdale Lakes, FL 33319
NCLEX-PN pass rate among first-time test-takers: 25.3%
Average number of LPN students graduating annually: 43
Data analyzed: Calendar years 2013 through 2019; includes both the Lauderdale Lakes and Kissimmee campuses

#80: Sigma Institute of Health Careers
1260 East Oakland Park Boulevard | Oakland Park, FL 33334
https://www.sihc.net
NCLEX-PN pass rate among first-time test-takers: 23.7%
Average number of LPN students graduating annually: 41
Data analyzed: Calendar years 2010 through 2019

#81: Techni-Pro Institute
414 NW 35th Street | Boca Raton, FL 33431
https://www.techniproedu.com
NCLEX-PN pass rate among first-time test-takers: 18.9%
Average number of LPN students graduating annually: 18
Data analyzed: Calendar years 2011 through 2019

#82: Ideal Professional Institute
20295 NW Second Avenue, Suite 210 | Miami Gardens, FL 33169
http://idealprofessionalnursing.com
NCLEX-PN pass rate among first-time test-takers: 15.8%
Average number of LPN students graduating annually: 27
Data analyzed: Calendar years 2013 through 2019