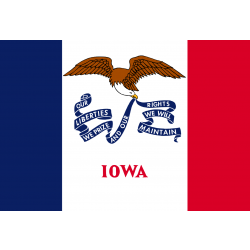 An emotionally fulfilling and rewarding career, nursing provides the backbone of the healthcare industry. A nurse makes important decisions, builds relationships, and helps patients recover from illness and injury, all through a unique blend of compassion and scientific knowledge.
Your decision to become a nurse is an important one, so it's helpful to know your options. There are several educational pathways to joining the nursing profession: a brief certificate program lasting 6-8 weeks, a lengthier certificate or diploma program of 12-18 months, a two-year associate degree in nursing (ADN), or a four-year bachelor of science in nursing (BSN). Each program results in a different type of nursing certification or licensure. In order of increasing seniority, the nursing profession includes certified nursing assistants (CNAs), licensed practical nurses (LPNs), and registered nurses (RNs).
CNAs are in school for the shortest time and consequently make the lowest wage. In Iowa, CNAs earn an annual mean salary of $25,310. Their responsibilities focus on patient care and include feeding, bathing, cleaning incontinent patients, and helping patients move around. The CNA also serves as an assistant to LPNs and RNs by taking care of administrative duties.
LPNs provide the next level of care. They are able to administer medications, take vital signs, give shots, start IVs, clean wounds, apply dressings, and administer paperwork. Licensure as an LPN requires completing a 12- to 18-month certificate or diploma program at an accredited school and passing the NCLEX-PN examination. Iowa's LPNs earn an average of $38,220 annually.
RNs have the highest level of education and are expected to do more critical thinking on the job. Their salary is significantly higher than LPNs or CNAs; in Iowa, RNs earn $53,520 per annum. RNs also possess a broader spectrum of future career prospects since they needn't work under the supervision of other nurses. Registered nurses must complete an ADN or BSN program and successfully pass the NCLEX-RN examination in order to earn licensure and commence practice.
2022 NURSING SCHOOL RANKINGS
For our 2022 rankings, the research team at Nursing Schools Almanac collected data on nearly 3,000 nursing schools and campuses throughout the United States. We evaluated each school on three dimensions:
The institution's academic prestige and perceived value
The breadth and depth of nursing programs offered
Student success, particularly on the NCLEX licensure examination
We then combined these assessments into an overall score and ranked the schools accordingly. For a detailed description of our assessment methodology and dimension weights, please see here.
#1:

University of Iowa

The College of Nursing at the University of Iowa is a Big Ten nursing school, hailed as a national leader in gerontology, nursing service administration, pediatric nursing practice, and nurse anesthesia. Indeed, the university frequently receives top-ten national rankings in all four of these specializations. UI College of Nursing offers a full slate of graduate programs including DNP and PhD degrees, seven different post-graduate certificates, and an MSN with clinical nurse leader focus. At the undergraduate level, the college produces approximately 130 BSN candidates annually. These students have passed the NCLEX licensure examination at a rate of 94-98% an amazing seven years in a row.

#2:

Allen College

Allen College graduated its first DNP class in 2013. The school also offers four nurse practitioner tracks in its MSN program, including adult-gerontology acute care, adult-gerontology primary care, family practice, and family psychiatric mental health. The school's baccalaureate program has three prelicensure tracks (traditional, accelerated, and LPN-to-BSN) and two postlicensure tracks (RN-to-BSN and public health). BSN students have the option to earn a minor in the pioneering area of population health. Allen College produces 100-125 prelicensure BSN graduates annually, and these students have passed the NCLEX exam at a stellar 94% rate over the past decade.

#3:

Clarke University

Clarke University's nursing department offers high-quality, hands-on education at the baccalaureate and doctoral levels. The school's prelicensure BSN program graduates a select cohort of 30-50 students annually. These BSN graduates have averaged an 80% first-time NCLEX pass rate over the past decade, and approximately 95% of students hold job offers before graduation. Clarke's DNP program offers three concentrations: family nurse practitioner, health leadership and practice, and psychiatric-mental health nurse practitioner. Graduate students may also add a specialization certificate in nursing education or psychiatric-mental health. DNP cohorts are limited to twenty students apiece, and the curriculum includes more than 1,000 clinical hours in the area of concentration. Clarke University's doctoral students have scored a 100% pass rate on national certification exams and a 100% job placement rate.

#4:

St. Ambrose University

St. Ambrose University's Department of Nursing is located in SAU's state-of-the-art Health Sciences Education Center at Genesis Medical Center, a member of the award-winning Genesis Health System. Two nursing degree options are available: a traditional four-year BSN program and an RN-to-BSN completion pathway. The traditional BSN program focuses heavily on nursing theory before the start of patient care experiences. SAU graduates 50-80 students annually from this program, with a solid 83% first-try pass rate on the NCLEX exam over the past decade. The RN-to-BSN pathway is offered in both standard and accelerated formats.

#5:

Northwestern College

The four-year BSN program at Northwestern College has several distinctive features, including healthcare-related mission trips, a state-of-the-art nursing laboratory with six human patient simulators, and a biennial study-abroad course in Africa. This selective prelicensure program graduates a cohort of just 20-25 students each year. Over the past decade, Northwestern graduates have passed the NCLEX licensure exam at an 87% rate on their first attempt. The nursing department also offers an online RN-to-BSN program with a seamless transfer policy for associate degree credits and work experience.

#6:

Morningside University

Morningside University focuses on cultivating a passion for lifelong learning, a dedication to ethical leadership, and a desire for civic responsibility in each student. The Nylen School of Nursing offers a prelicensure BSN program with three years of clinical experience, more than most other nursing schools. Each graduating cohort is small, typically 20-30 students, and outcomes are excellent: BSN students have averaged a 91% NCLEX pass rate over the past decade, including two years with a perfect 100% pass rate. Graduate students can pursue three MSN tracks: adult gerontology primary care nurse practitioner, clinical nurse leader, and family primary care nurse practitioner. The school also offers a post-master's certificate in each area. Finally, Morningside University recently launched the institution's first doctoral offering: a DNP program with nurse practitioner and transformative leadership tracks.

#7:

Luther College

Luther College's nursing graduates achieve some of the highest exam pass rates in the region. Since 2012, Luther's BSN students have passed the NCLEX-RN licensure examination at an exceptional 95% rate on their first attempt. In addition to superior preparation for the licensure exam, the nursing major provides important perspectives on both rural and urban healthcare, as well as a solid base for graduate nursing study. It also features highly coveted clinical experiences at Mayo Medical Center, Rochester Methodist Hospital, and Saint Mary's Hospital that begin as early as sophomore year.

#8:

Mount Mercy University

The Department of Nursing at Mount Mercy University produces 60-90 BSN graduates annually who are well-prepared for initial licensure. Indeed, Mount Mercy's past six BSN classes each passed the NCLEX-RN exam at a rate of 90% or higher, with an average 93% pass rate during that time span. The school also offers RN-to-BSN and MSN degree programs. Nursing students gain clinical experience in a broad array of healthcare settings, including free clinics and local hospitals such as Mercy Medical Center and St. Luke's. They can also care for patients during immersion experiences in the Philippines, the UK, Ireland, Italy, Belize, and Central America.

#9:

Dordt University

Dordt University has a mission to prepare nurses to enter the healthcare industry as Christians. Students in the school's BSN program learn to maneuver the unique challenges that Christian nurses face in the current healthcare climate. The program consists of 48 nursing credits and over 700 hours of clinical experience, with additional time in lab and simulation. Dordt University recently unveiled the new Carl and Gloria Zylstra Nursing Education Center, featuring a hospital-like nursing skills laboratory, two high-fidelity patient care simulation studios, and faculty office spaces. Clinical experiences are held in more than 25 local hospitals, clinics, schools, and community settings. Graduates of the program have become nurse anesthetists, physician assistants, nurse practitioners, and midwives. The BSN class of 2019 enjoyed a 100% career outcome rate.

#10:

St. Luke's College

St. Luke's College has educated compassionate healthcare professionals for over a century. Students gain a wealth of meaningful clinical experiences in the region's only medical-center-based health sciences college. Each year, St. Luke's College accepts an incoming ADN class of 100-120 students. Approximately 75% of students complete the program within three years. These graduates perform very strongly on the NCLEX licensure exam, achieving a 92% first-time pass rate over the past decade. An additional 25-35 students enroll in St. Luke's RN-to-BSN pathway each fall. This completion program features flexible full-time and part-time schedules, thanks to a combination of online courses, classroom learning, and convenient access to faculty.

#11:

Coe College

The BSN program at Coe College offers three full terms of clinical experiences at high-quality hospitals, specialty units, medical clinics, and penitentiaries. Students in this selective program enjoy small class sizes, face-to-face faculty meetings to discuss clinical experiences in real-time, and health-focused study abroad opportunities in England, Korea, and Tanzania. They also have the opportunity to participate in the Coe College Student Nurses Association, which organizes blood drives, student health fairs, and fundraising for community organizations. Since 2012, BSN graduates have averaged a phenomenal 97% first-time pass rate on the NCLEX-RN licensure exam.

#12:

Mercy College of Health Sciences

Mercy College of Health Sciences offers both an associate of science in nursing (ASN) and a bachelor of science in nursing (BSN). The ASN program is offered in a part-time format on evenings and weekends to cater to working professionals. Over the past decade, Mercy College's ASN graduates have maintained a solid 85% pass rate on the NCLEX licensure exam. The BSN program offers five distinct pathways: a generic three-year BSN, an accelerated BSN (ABSN) for students with a non-nursing baccalaureate degree, a unique ABSN partnership with Drake University, an RN-to-BSN program offered 100% online, and Iowa's first and only Paramedic-to-BSN program. Mercy College's RN-to-BSN students can select three specialty seminars from seven topics to create a program that fits their interests.

#13:

Briar Cliff University

In 1930, Briar Cliff University opened with just one building and 25 female students. Today, the school serves 1,100 students from all backgrounds. The Department of Nursing offers the most complete selection of nursing programs in western Iowa, including two BSN pathways (traditional and degree completion), an MSN program, and the terminal DNP degree. Briar Cliff students gain hands-on experience through clinical practice in hospitals, community health agencies, long-term care facilities, and other community-based settings. They also learn in state-of-the-art laboratories, including the region's only educational cadaver labs. The past two graduating BSN classes have averaged an 80% first-time pass rate on the NCLEX-RN licensure exam.

#14:

Northwest Iowa Community College

Although Northwest Iowa Community College is the smallest and most rural of the state's community colleges, the school has distinguished itself with a track record of innovation over the past fifty years. The college offers a diploma in practical nursing and an AAS degree in registered nursing, both with full-time (two-semester) and part-time (three-semester) course schedules. The part-time curriculum employs a hybrid delivery model, offering a flexible option for those with significant family and work responsibilities. Students enroll sequentially in the LPN and RN programs, following a career ladder progression. Graduates of Northwest Iowa Community College are well-prepared for licensure: the LPN program boasts a phenomenal 95% NCLEX-PN pass rate over the past decade, while RN students have earned a solid 84% NCLEX-RN pass rate during the same time period.

#15:

Grand View University

Grand View University was founded in 1896 by members of the Danish Evangelical Lutheran Church in America. The university serves 1,800 students through more than forty programs of study. Grand View offers two undergraduate nursing pathways: a traditional prelicensure BSN and an online RN-to-BSN. The traditional BSN program features small class sizes, state-of-the-art instruction including a simulation center, and the unique opportunity to add an undergraduate minor. Popular options include family studies, psychology, and foreign languages. Over the past decade, graduates of the BSN program have averaged a 77% first-time pass rate on the NCLEX-RN licensure exam.