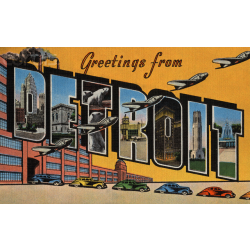 Aspiring nurses can target one of three nursing roles. Certified nursing assistants (CNAs) take a short eight- to ten-week certificate course, typically offered at a local community college. Licensed practical nurses (LPNs) complete a longer certificate program of 12-18 months; they must also pass the NCLEX-PN national examination to gain licensure. CNAs and LPNs are usually supervised by the most senior type of nurse, a registered nurse (RN). RNs must hold either an associate or bachelor's degree in professional nursing; they must also pass the NCLEX-RN national examination to gain licensure.
A significant number of nurses are employed in the Detroit metropolitan area. Approximately 20,000 CNAs and 6,000 LPNs work in the area, in addition to over 40,000 RNs. These nurses earn very competitive pay. The median annual salary for a Detroit-area CNA is $27,000, while that of an LPN is $47,000. Detroit's registered nurses earn roughly $68,000 per year. Highly qualified advanced practice registered nurses, who hold graduate degrees, can command average salaries of up to $170,000.
Tenet Healthcare, which operates a large network of hospitals and clinics, is one of the largest nursing employers in the Detroit metropolitan area. The Barbara Ann Karmanos Cancer Institute, which specializes in cancer treatment services, is a notable local employer for nurses who wish to focus on oncology.
2022 NURSING SCHOOL RANKINGS
For our 2022 rankings, the research team at Nursing Schools Almanac collected data on nearly 3,000 nursing schools and campuses throughout the United States. We evaluated each school on three dimensions:
The institution's academic prestige and perceived value
The breadth and depth of nursing programs offered
Student success, particularly on the NCLEX licensure examination
We then combined these assessments into an overall score and ranked the schools accordingly. For a detailed description of our assessment methodology and dimension weights, please see here.
#1:

Oakland University

Oakland University's School of Nursing is the largest state-supported nursing program in Michigan, with more than 1,600 undergraduates and 200 graduate students. Greater than 95% of alumni find employment in the tri-county area, contributing substantially to the region's economy. The school has approximately 270 clinical partners including some of Detroit's top hospitals and facilities, and it boasts 360 one-on-one preceptor experiences. Nursing students can apply to a broad range of undergraduate and graduate programs, including a unique MSN in forensic nursing.

#2:

Wayne State University

Wayne State University is the third-largest public educational institution in Michigan and one of the nation's fifty largest public schools. The university serves over 27,000 students across thirteen distinct colleges and schools. The College of Nursing offers a breadth of BSN options for undergraduates including traditional, freshman direct-admit, honors, second degree, veterans, and RN-to-BSN pathways. Prelicensure BSN students consistently perform well on the NCLEX-RN licensure exam, with a 94% first-time pass rate in 2016 and a perfect 100% first-time pass rate in 2015. Graduate students can pursue six different tracks in the MSN program and eight distinct clinical specialties in the DNP curriculum. Wayne State also conducts a nursing PhD program that offers full-time and part-time pathways to both BSN- and MSN-prepared entrants.

#3:

University of Detroit Mercy

The McAuley School of Nursing at the University of Detroit Mercy offers a broad range of nursing programs. Options include a traditional BSN, a second degree BSN, an RN-to-BSN completion pathway, and a DNP with post-BSN and post-MSN entry points. The DNP program has several popular majors including adult-gerontology clinical nurse specialist, clinical nurse leader, health systems management, family nurse practitioner, and nursing education. Detroit Mercy also offers a nurse anesthesia DNP degree that has been ranked among the top ten in the country by U.S. News & World Report. An impressive 100% of nurse anesthesia graduates find employment within six months of graduation.

#4:

Madonna University

Madonna University's College of Nursing and Health offers a breadth of undergraduate and graduate nursing programs. Undergraduates can pursue a prelicensure BSN or RN-to-BSN degree completion. Graduate students have five MSN specialty tracks, a joint MSN/MBA dual degree option, four graduate certificates, and a post-master's DNP degree. These nursing programs embody the university's Catholic and Franciscan commitment to serving the community. Twenty-six nursing faculty members guide students through lab experiences, high-fidelity simulation, and clinical practice in a variety of healthcare settings. The college's Nursing Simulation Lab has four mock hospital rooms, a home health community room, and a ten-bed skills laboratory.

#5:

Chamberlain University

Chamberlain University's Troy campus offers a prelicensure BSN program with no prerequisites, designed to be completed in just three years of fulltime study. This provides students the opportunity to earn their degree one year faster than at a traditional four-year institution. Students in the program receive hands-on experience through both the Chamberlain SIMCARE Center and onsite clinical settings, allowing them to work side-by-side with faculty, mentors, peers, and experienced professional nurses as they refine their patient care skills. Graduates of the BSN program are prepared to take the NCLEX-RN national licensure examination. The 2017 graduating class from Chamberlain's Troy campus earned an outstanding 95% first-time pass rate on the exam.

#6:

Lawrence Technological University

Named one of America's top colleges by Forbes, Lawrence Technological University provides more than 100 academic programs to over 4,000 students. The university's BSN program is administered by the Department of Natural Sciences, part of the College of Arts and Sciences. The program was made possible through an innovative partnership with Ascension Michigan. Students begin rotating though the six Ascension Michigan hospital locations from day one, with nursing classes integrated across the curriculum. They also gain extensive hands-on learning through co-op and internship opportunities, as well as access to state-of-the-art laboratories.

#7:

Rochester University

Rochester University provides undergraduate and accelerated learning programs to around 1,100 students annually. The School of Nursing offers both a traditional prelicensure BSN and an RN-to-BSN pathway. The program's curriculum is grounded in the six primary concepts of spirituality, caring, critical thinking, communication, cultural understanding, and community orientation. The traditional BSN requires four years of fulltime study, while the RN-to-BSN can be completed in just 12 months. Graduates of the traditional BSN program have scored an 81% NCLEX pass rate over the past three years. The most recent cohort achieved a 90% pass rate.

#8:

Schoolcraft College

Schoolcraft College serves more than 36,000 students across a diverse breadth of credit courses, continuing education, and professional development courses. The college offers three distinct levels of education for aspiring nurses. Entry-level candidates can quickly complete a six-credit nursing assistant course for eligibility to take the Michigan Nurse Aide Exam. With ten additional general education credits, these students will complete their nursing assistant training program skills certificate. Aspiring LPNs can complete a practical nursing certificate in one full year of study, while aspiring RNs can pursue either the traditional five-semester pathway or a bridge program that grants advanced standing to LPNs. Over the past three years, Schoolcraft graduates have scored an 89% first-time pass rate on the NCLEX-RN licensure exam and a perfect 100% first-time pass rate on the NCLEX-PN licensure exam.

#9:

Macomb Community College

Macomb Community College provides learning experiences to 48,000 students annually through more than 200 degree and certificate programs. The college's ADN program boasts outstanding student outcomes, including an 85% completion rate within a three-year period and a 95% employment rate within six months of graduation. Over the past eight years, nursing graduates have also achieved a 92% first-time pass rate on the NCLEX-RN licensure examination, far exceeding the state and national averages. Students learn and work in Macomb's human patient simulator lab, which includes a state-of-the-art computer-controlled mannequin.

#10:

St. Clair County Community College

St. Clair County Community College is one of just seven community colleges in Michigan with student housing. It is also one of the few colleges that offer free or reduced tuition for students 25 and older. The nursing program at SC4 is housed in the Health Sciences Division, which offers dozens of in-demand degree and certificate programs. Nursing students have access to a newly renovated facility that features a hospital simulation wing, a simulated home setting, an ambulance bay, and cutting-edge manikins and equipment. SC4 offers three specific nursing pathways: a practical nursing certificate, a traditional ADN program, and an ADN transition program with an accelerated course of study for practical nurses, paramedics, and other healthcare providers. LPN students are prepared to sit for the NCLEX-PN licensure exam, while ADN students are prepared to sit for the NCLEX-RN licensure exam.