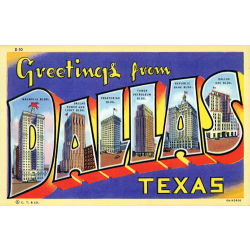 The Dallas-Fort Worth metroplex is home to a noteworthy 54,170 registered nurses (RNs), 21,990 certified nursing assistants (CNAs), and 16,840 licensed vocational nurses (LVNs). While opportunities for nursing professionals are thus plentiful in the Dallas-Fort Worth metroplex, the area's top employers are quite selective. This means you'll need the right type of education, training, experience, and licensure in order to land a position.
Registered nurses perform a variety of demanding duties. They conduct diagnostic tests and analyze results, administer medication, monitor medical equipment, and educate patients about medical conditions – just to name a few responsibilities. To ensure that RNs have the requisite skills to meet these demands, the Texas Board of Nursing requires that all nurses hold a hospital diploma, associate degree, bachelor's degree, or master's degree in professional nursing.
Licensed vocational nurses care for the sick, injured, convalescent, or disabled under the supervision of more senior medical and nursing staff. LVNs must complete an accredited and state-approved certificate or diploma program, a course of study that typically requires 12 to 24 months. Certified nursing assistants provide hands-on care and perform routine patient care tasks. Aspiring CNAs must complete a much briefer certificate program, typically several weeks to a few months in length.
Graduates of these programs are prepared to seek employment at top hospitals and healthcare centers throughout the Dallas-Fort Worth metropolitan area. Some of the most selective employers include Texas Health Harris Hospital, Baylor All Saints Medical Center at Fort Worth, Texas Health Presbyterian Hospital, and JPS Health Network. Local salaries are competitive. For example, RNs in the Dallas-Fort Worth metroplex earn almost $70,000 per year on average. The area's LVNs earn $45,000 annually, and its CNAs receive $24,000 in annual compensation.
2022 NURSING SCHOOL RANKINGS
For our 2022 rankings, the research team at Nursing Schools Almanac collected data on nearly 3,000 nursing schools and campuses throughout the United States. We evaluated each school on three dimensions:
The institution's academic prestige and perceived value
The breadth and depth of nursing programs offered
Student success, particularly on the NCLEX licensure examination
We then combined these assessments into an overall score and ranked the schools accordingly. For a detailed description of our assessment methodology and dimension weights, please see here.
#1:

University of Texas at Arlington

UT Arlington's College of Nursing and Health Innovation is the largest producer of baccalaureate-educated nurses in the state. The school has approximately 17,000 online and on-campus students, and it holds three simultaneous NLN Center of Excellence designations. Undergraduates can pursue a traditional four-year BSN, a Veterans BSN for former military healthcare specialists, or an RN-to-BSN completion program for existing nurses. UT Arlington graduates over 600 prelicensure BSN students annually, who have achieved a 91% first-time NCLEX pass rate over the past decade. At the graduate level, nurses can pursue a number of MSN specializations including administration, education, and seven distinct nurse practitioner roles. The college also offers DNP and PhD programs.

#2:

Texas Woman's University

Texas Woman's University (TWU) College of Nursing has a primary campus in Denton and satellite locations in Dallas and Houston. The school offers online, on-campus, and hybrid programs across a wide breadth of nursing pathways. Undergraduates may pursue traditional, second-degree, weekend / evening, and RN-to-BSN programs. TWU's prelicensure BSN students have maintained a stellar 94% NCLEX pass rate over the past decade. Graduate students have two RN-to-MSN pathways (post-ADN and post-baccalaureate) and four choices of MSN degree or certificate (NP, CNL, NED, health systems management). Doctoral offerings include DNP, PhD, and a DNP-to-PhD bridge program. TWU's Center for Global Nursing Scholarship provides the opportunity to study in places such as Vietnam, Peru, Turkey, and Tanzania.

#3:

Baylor University

Baylor University's Louise Herrington School of Nursing was established in 1909 and later became one of the earliest baccalaureate nursing programs in Texas. Through its belief that nursing is a calling, the school prepares nurses by integrating faith and excellent academics. LHSON offers several baccalaureate pathways including a traditional program, a FastBacc® (one-year accelerated) program, and an online Distance Accelerated BSN. The university graduates between 250 and 300 BSN students annually, with an excellent 95% NCLEX-RN pass rate over the past decade. At the graduate level, Baylor offers an online DNP program with six tracks: executive nurse leadership, family nurse practitioner, neonatal nurse practitioner, nurse midwifery, pediatric nurse practitioner, and the U.S. Army Graduate Program in Anesthesia Nursing (USAGPAN).

#4:

Texas Christian University

TCU's Harris College of Nursing & Health Sciences offers both a traditional BSN and a 16-month accelerated BSN pathway. The school graduates approximately 200 students annually across the two programs, and collectively they have achieved NCLEX exam pass rates as high as 97% in recent years. TCU's online MSN program offers two clinical nurse specialist areas of focus, in addition to clinical nurse leader and nurse educator options. The university also leads a post-master's DNP program for advanced practice registered nurses and nurse administrators, as well as a BSN-to-DNP family nurse practitioner track.

#5:

West Coast University

In 2008, West Coast University became the first privately held university in California approved to offer a BSN degree. The school now offers nursing and allied health programs across five cities including Dallas, Los Angeles, Miami, Ontario, and Orange County. WCU Dallas is dedicated entirely to higher education for nurses. It offers two campus-based programs: a traditional BSN and an LVN-to-BSN bridge program. Students can join global study trips to a range of international locations such as England, Belize, Costa Rica, Panama, and Moldova. WCU also offers a full complement of online degrees, including RN-to-BSN / RN-to-MSN completion programs and MSN tracks in family nurse practitioner, nursing education, and nursing informatics.

#6:

Texas Wesleyan University

Texas Wesleyan University's School of Health Professions conducts the largest nurse anesthesia program in the country, with twenty primary clinical sites across nine states. The school's nurse anesthesia graduates have achieved a 91% first-time pass rate on the NBCRNA certification exam over the past five years, with a stellar 99.6% pass rate within six months of graduation. In addition to the entry-level DNAP pathway for baccalaureate-prepared nurses, the university offers a 100% online completion program for CRNAs. Texas Wesleyan also recently launched a program for aspiring family nurse practitioners, with a unique curriculum that emphasizes both holistic patient care and self-care to prevent burnout and stress. FNP candidates can pursue an MSN degree, a DNP degree, or a post-master's certificate.

#7:

Texas A&M University - Commerce

A&M-Commerce is the second-largest institution in the prestigious Texas A&M University System, with satellite campuses in six Texas cities and a robust online presence. The university offers both a traditional prelicensure BSN and an RN-to-BSN completion pathway. The traditional BSN program is select, with just 30-50 students in each graduating cohort. These students have achieved a strong 93% first-time NCLEX pass rate since the program's recent launch. The Nursing Department also offers an MSN curriculum with family nurse practitioner emphasis that students can complete in two years fulltime or three years part-time. The program's hybrid delivery model combines online courses with web-enhanced on-campus modules.

#8:

Weatherford College

Established in March 1869, Weatherford College is the oldest continuing community college in the southwestern United States. The college offers a vocational nursing certificate, two pathways to an associate of applied science (AAS) degree in nursing, and an online RN-to-BSN degree completion program. The LVN certificate prepares students for entry-level positions in clinics, doctor's offices, and hospitals. Approximately 40-60 students graduate from the LVN program each year, with a stellar 93% first-time NCLEX-PN pass rate over the past decade. The AAS program prepares students for more advanced positions in a range of healthcare environments. Weatherford College offers both a traditional four-semester track and an LVN-to-RN transition track. Across the two tracks, the college graduates approximately 150 students annually, with a strong 90% first-time NCLEX-RN pass rate over the past decade. The RN-to-BSN program provides a 12-month pathway for registered nurses with an associate degree or diploma to earn a baccalaureate degree. The curriculum is delivered 100% online; courses that require clinical components are completed through class and preceptor projects.

#9:

Southwestern Adventist University

Southwestern Adventist University has a Nursing Department renowned for its small class sizes and personalized mentoring. The school's BSN program offers two prelicensure pathways: a traditional four-year curriculum and an accelerated five-semester LVN-to-BSN bridge. Over the past decade, students in these two pathways have scored an 86% first-time pass rate on the NCLEX-RN licensure exam, including an impressive 90% pass rate since 2016. Southwestern also offers a postlicensure RN-to-BSN pathway that qualified nurses may complete in just one year of full-time study. The Nursing Department recently received a grant from the Ardmore Institute of Health to expand its health and lifestyle education efforts within the local community.

#10:

Collin College

The Collin College Nursing Department offers three ADN pathways for aspiring nurses: a traditional program, an LVN-to-RN bridge, and a medic / paramedic fast-track program. The traditional program requires four semesters of study, while the LVN and medic advanced placement pathways may be completed in just three semesters. Coursework includes psychology, growth and development, professional nursing concepts, and healthcare concepts. Across all pathways, Collin College graduates 100-150 ADN students annually. These individuals have achieved an excellent 90% pass rate on the NCLEX-RN licensure exam over the past decade.