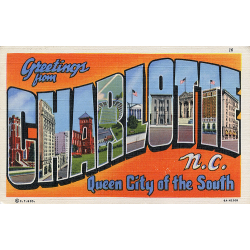 Charlotte's aspiring nurses can achieve licensure through a variety of education pathways. Each pathway is specific to one of the four major nursing roles.
Certified nursing assistants (CNAs) attain licensure through a brief certificate program. CNA certificates are most frequently offered at community colleges, although several private schools also offer these programs. The CNA role is very popular in Charlotte; over 7,000 CNAs are currently employed in the metropolitan area. This is primarily due to the relatively small time and financial investment required to become a CNA.
Licensed practical nurses (LPNs) must also complete a certificate program. The LPN certificate requires significantly longer study (12-18 months) than a CNA program. LPNs must pass the NCLEX-PN national licensure examination before beginning work. Charlotte's 2,400 licensed practical nurses earn a median annual salary of $42,000.
Aspiring registered nurses (RNs) can pursue one of three education pathways: hospital diploma, associate degree in nursing (ADN), or bachelor of science in nursing (BSN). Charlotte sees high demand for RNs from local healthcare providers like Carolinas Medical Center and Novant Health. The metro area's 18,000+ RNs are well compensated for their work, earning a median annual salary of almost $60,000.
Advanced practice registered nurses (APRNs) must hold a graduate degree in addition to years of work experience. Approximately 1,200 APRNs are employed in Charlotte, commanding impressive salaries that frequently exceed $100,000 per annum.
2022 NURSING SCHOOL RANKINGS
For our 2022 rankings, the research team at Nursing Schools Almanac collected data on nearly 3,000 nursing schools and campuses throughout the United States. We evaluated each school on three dimensions:
The institution's academic prestige and perceived value
The breadth and depth of nursing programs offered
Student success, particularly on the NCLEX licensure examination
We then combined these assessments into an overall score and ranked the schools accordingly. For a detailed description of our assessment methodology and dimension weights, please see here.
#1:

University of North Carolina at Charlotte

The UNC Charlotte School of Nursing has posted a 92% NCLEX pass rate among BSN graduates over the past seven years. Just as impressively, recent MSN cohorts – including the adult-gerontology acute care nurse practitioner track – have achieved a 100% pass rate on their certification exams. In addition to traditional BSN, MSN, and DNP degrees, UNC Charlotte leads an interdisciplinary collaborative PhD program in the College of Health and Human Services. The school also offers an online RN-to-BSN completion program, a Regionally Increasing Baccalaureate Nurses (RIBN) option in partnership with local community colleges, and several post-master's and graduate certificates.

#2:

Queens University of Charlotte

The Presbyterian School of Nursing at Queens University of Charlotte offers both BSN and MSN degree programs. The BSN has three pathways: a traditional track, an accelerated second degree option, and an online RN-to-BSN degree completion program. The traditional and accelerated tracks are designed for students without a nursing license. These prelicensure programs graduate 70-90 students in total each year, with a stellar 96% first-time NCLEX pass rate over the past five years. The online RN-to-BSN program just recently launched in the fall of 2018. Queens University's online MSN program has three specializations: clinical nurse leader, nurse administrator, and nurse educator.

#3:

Cabarrus College of Health Sciences

Cabarrus College of Health Sciences is home to the Louise Harkey School of Nursing. The school offers a pre-nursing track, an ADN program, and an RN-to-BSN program. The pre-nursing track includes two semesters of general coursework, and admitted students are guaranteed a space in the ADN program. The ADN prepares students to take the NCLEX licensure examination and assume entry-level employment as registered nurses. Cabarrus typically graduates 60-80 ADN students annually, with an excellent 94% first-time NCLEX pass rate over the past seven years. The RN-to-BSN is an online program designed for registered nurses who are seeking to expand their skills or prepare for graduate-level nursing education.

#4:

Carolinas College of Health Sciences

In just over a quarter of a century, Carolinas College of Health Sciences has become one of the most highly regarded nursing schools in North Carolina. The college offers three nursing programs: a brief 150-hour nurse aide certification, a five- to six-semester associate degree in nursing, and an online RN-to-BSN completion pathway. Students enjoy a small-school academic environment, with access to world-class clinical experiences at Atrium Health's Carolinas Medical Center and its multidisciplinary Carolinas Simulation Center. Every nursing faculty member has at least a master's degree in the field, and many hold specialty certifications. Not surprisingly, the college's ADN graduates have passed the NCLEX licensure exam at a 95% first-try rate over the past eight years, one of the strongest pass rates in the state. Several recent cohorts have achieved an NCLEX pass rate of 98% or higher. Approximately 90% of ADN students take a position with Atrium Health upon graduation; all ADN students also receive conditional admission to the RN-to-BSN program.

#5:

Chamberlain University

Chamberlain University's Charlotte campus is one of the newest additions to the Chamberlain family. The school's first campus in North Carolina offers a three-year prelicensure BSN program that consists of 129 credit hours, including 69 credit hours in nursing and 60 credit hours in the liberal arts and sciences. Students will obtain hands-on experience in both the Chamberlain SIMCARE Center and on-site clinical settings. These experiences allow students to work side-by-side with faculty, mentors, peers, and experienced professional nurses as they refine their skills in nursing and direct patient care. Since the BSN program's recent launch in Charlotte, graduates have achieved a 92% first-time pass rate on the NCLEX licensure examination.

#6:

Northeastern University - Charlotte

Northeastern University's Charlotte campus offers a range of executive-level degree programs, including an education doctorate and master's degrees in several business and technology fields. One of the campus's newest offerings is an accelerated BSN program. Offered by Northeastern's Bouvé College of Health Sciences, the accelerated BSN is a fulltime 67-credit program that provides three convenient start dates per year. The program blends online courses, hands-on learning at the school's state-of-the-art nursing center in uptown Charlotte, and clinical practice at premier healthcare facilities in the metropolitan area. Coursework covers topics like cultural diversity, nursing informatics, and evidence-based practice that are critical to success in today's healthcare environment. Since the BSN program's recent launch in Charlotte, graduates have achieved an 86% first-time pass rate on the NCLEX-RN licensure exam.

#7:

Wingate University

Wingate University offers a prelicensure BSN that features small class sizes, close relationships with area hospitals, and the opportunity to gain real-world experience in a clinical setting. Students in the program can add a minor, such as sociology, which prepares them for success as a public health nurse. Alternatively, students who hone their science skills and have an interest in the law could pursue a career as a forensics nurse. The curriculum also prepares students for potential graduate study in an advanced degree program. BSN graduates from Wingate University have achieved an impressive 98% first-time pass rate on the NCLEX-RN licensure exam over the past four years.

#8:

Gaston College

Gaston College's Health and Human Services Department offers an LPN diploma, a traditional ADN pathway, and an LPN-to-RN bridge program. The LPN diploma and LPN-to-RN bridge program each take three semesters to complete, while the traditional ADN program requires five semesters of continuous study. Student outcomes are strong across all nursing programs. associate degree candidates have averaged a 95% NCLEX-RN pass rate over the past seven years, while LPN students have earned a stellar 99% NCLEX-PN pass rate during that timeframe. Gaston College also partners with Lenoir-Rhyne University to offer the Regionally Increasing Baccalaureate Nurses program. This four-year cooperative allows students to receive an associate degree from Gaston College in year three and a bachelor's degree from Lenoir-Rhyne University in year four.

#9:

Catawba College

The Department of Nursing at Catawba College offers two options: a daytime prelicensure BSN program and an evening RN-to-BSN program. The prelicensure BSN is designed for individuals with no prior nursing education or experience. Applicants must be high school graduates and complete prerequisite courses like anatomy, physiology, microbiology, and chemistry before gaining admission to the program. The RN-to-BSN is designed for registered nurses looking to broaden their career options or prepare for graduate study. Students complete coursework on a broad range of baccalaureate topics including nursing practice, holistic health assessment, nursing leadership, and nursing management.

#10:

ECPI University

ECPI University's College of Nursing offers year-round programs that allow students to complete their LPN diploma or RN associate degree in just 15 or 18 months, respectively. ECPI offers the LPN diploma at all three of its North Carolina campuses. Collectively, LPN students have averaged an 87% first-time pass rate on the NCLEX-PN licensure examination over the past seven years. ECPI also offers the associate degree at its Charlotte and Raleigh campuses. The ADN curriculum prepares students for entry-level registered nurse positions at hospitals, primary care clinics, and private practices. Comprehensive coursework includes topics like acute care, medical-surgical nursing, pharmacology, and a breadth of other subjects. ADN graduates have scored a strong 90% NCLEX-RN pass rate since the program's inception.