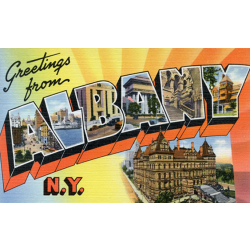 Healthcare is one of the top three industries by employment in the Albany, New York, metropolitan area. The region is home to more than 40,000 healthcare professionals in total. Registered nurses (RNs) lead the pack with approximately 9,260 professionals, followed by licensed practical nurses (LPNs) with 2,740 professionals. The metro area is also home to 630 nurse practitioners (NPs) and 180 certified registered nurse anesthetists (CRNAs).
Though thriving, jobs in the healthcare industry here are competitive. Earning a degree or certificate from a top nursing school will get your foot in the door. The city's best nursing schools include Russell Sage College, Albany Medical College, Maria College, and Siena College. Collectively, these schools offer nursing degrees and certificates at all levels. The type of program required will depend on your chosen nursing role.
CRNAs are among the highest-paid advanced practice registered nurses (APRNs). They must earn a master's degree in their specialty role. Some CRNAs choose to earn a doctor of nursing practice (DNP). In addition to earning an advanced degree, CRNAs must be licensed RNs in their state and pass a national certification exam. Before entering an accredited program, they must have one year of clinical experience, typically in an acute care or critical care setting.
NPs are advance practice registered nurses with specialized graduate education. After passing the National Council Licensure Examination for Registered Nurses (NCLEX-RN), NPs will earn an MSN, DNP, or doctor of philosophy (PhD) while specializing in a certain area of nursing. Common nurse practitioner focal areas include gerontology, family practice, and cardiology.
RNs must earn a diploma in nursing, an associate degree in nursing (ADN), or a bachelor of science in nursing (BSN), and they must pass the NCLEX-RN licensure examination. LPNs must complete an accredited, state-approved certificate or diploma program and pass the NCLEX-PN licensure examination. A valid license is required to practice either role in all fifty states, including New York.
Graduates are prepared to seek lucrative positions at major hospitals and healthcare centers such as Albany Memorial Hospital, St. Peter's Hospital, and Albany Medical Center. APRNs in the Albany metropolitan area frequently earn over $100,000 annually, with CRNAs leading the pack at $147,250 per year. The average local salary is $62,080 for RNs and $41,430 for LPNs.
2022 NURSING SCHOOL RANKINGS
For our 2022 rankings, the research team at Nursing Schools Almanac collected data on nearly 3,000 nursing schools and campuses throughout the United States. We evaluated each school on three dimensions:
The institution's academic prestige and perceived value
The breadth and depth of nursing programs offered
Student success, particularly on the NCLEX licensure examination
We then combined these assessments into an overall score and ranked the schools accordingly. For a detailed description of our assessment methodology and dimension weights, please see here.
#1:

Excelsior College

The School of Nursing at Excelsior College has been designated a Center of Excellence in Nursing Education by the National League for Nursing four consecutive times. The college's online nursing degree programs include ADN, BSN, and MSN pathways. The ADN program is a prelicensure curriculum designed for practical nurses, vocational nurses, paramedics, and certain classifications of active duty military, National Guard, and Reserves personnel. This bridge program graduates more than 1,000 students annually, with approximately an 80% first-time NCLEX pass rate over the past decade. Excelsior's RN-to-BSN program is a 121-credit-hour offering that can award students up to 61 credits for prior coursework and licensure examination completion. The college's MSN students may pursue a specialization in education, informatics, or leadership and administration of healthcare systems.

#2:

Russell Sage College

The Department of Nursing at Russell Sage College will soon celebrate 100 years of educational excellence. Sage offers baccalaurreate, master's, and doctoral degree programs in nursing. The BSN curriculum has two pathways: a prelicensure program for students new to nursing, and an RN-to-BSN completion program for nurses who hold an associate degree. Students in the prelicensure program take 60 credits in the arts and sciences, including 36 credits of general education requirements. The nursing major then includes 54 nursing credits and 27 credits of required support courses. Russell Sage College's undergraduates have averaged a solid 82% first-time pass rate on the NCLEX exam over the past decade. Graduate students may pursue an MSN degree in three nurse practitioner fields (adult-gerontology, family, psychiatric-mental health), nurse education, or nurse administration. The college also leads a cohort-based doctor of nursing science (DNS) program that complements an online learning format with three weekend campus visits per semester.

#3:

Albany Medical College

Albany Medical College's Center for Nurse Anesthesiology offers a doctor of nursing practice degree that prepares graduates to begin work immediately at hospitals and other healthcare facilities. During the first year of the program, students complete coursework in basic sciences, research, nurse anesthesia practice, and clinical practicum laboratories. In the second and third years, students continue the clinical practicum laboratories and nurse anesthesia courses; they also complete board preparation coursework and a clinical residency. Albany Medical College's most recent graduating class of 27 students enjoyed an 81% second-time pass rate on the national certification examination and a perfect 100% employment rate within six months of graduation.

#4:

SUNY Empire State College

SUNY Empire State College employs 165 fulltime faculty members that serve more than 10,000 adult learners, both through a robust online platform and at 35 onsite locations across New York State. Associate and bachelor's degrees are offered in twelve areas of study, while graduate programs are available in eleven areas. The School of Nursing and Allied Health has both undergraduate and graduate pathways for nurses seeking career advancement. Specific options include an RN-to-BSN degree completion program, an MSN degree with nursing administration and nursing education tracks, and an advanced certificate in nursing education. SUNY Empire State College has also partnered with Nassau Community College to provide an ADN/BSN dual degree pathway for the residents of Nassau County. The baccalaureate and master's degree nursing programs at SUNY Empire State College are fully accredited by the Commission on Collegiate Nursing Education.

#5:

Siena College

Siena College's Baldwin Nursing Department and Ellis Medicine's Belanger School of Nursing offer two pathways for aspiring nurses: the dual ADN/BSN and the RN-to-BSN. The dual ADN/BSN allows students to earn two degrees through one seamless program. Students have the opportunity to learn on both campuses while spending all four years living at Siena. The RN-to-BSN features small class sizes, a caring science curriculum, state-of-the-art health assessment and simulation labs, and a convenient cohort approach to learning. This program can be completed in as little as 24 months, or in just 16 months for students who already have a bachelor's degree in another field.

#6:

Samaritan Hospital School of Nursing

Samaritan Hospital School of Nursing offers both a certificate in practical nursing and an associate degree in professional nursing. Samaritan's facilities include state-of-the-art classrooms, library, and skills labs. Every nursing course has a clinical component, so students have continuous opportunities to apply their classroom learning under the guidance of expert nurse educators. The school also offers a breadth of clinical experience settings including acute care, rehabilitation, and outpatient surgery. The LPN program graduates a small cohort of 10-20 students annually, while the ADN program graduates approximately sixty students each year. Graduates of both programs have a strong track record on their respective licensure exams. LPN students posted a 92% first-time pass rate on the NCLEX-PN exam over the past decade, while ADN students achieved a 93% first-time pass rate on the NCLEX-RN exam during that timeframe.

#7:

Belanger School of Nursing

The Belanger School of Nursing, formerly known as the Ellis School of Nursing, was one of the first schools in the state to receive a permanent charter in 1917. This hospital-based school offers an associate degree in professional nursing conferred by the Ellis Medicine Board of Trustees. The 64-credit-hour curriculum focuses primarily on care for hospitalized patients, with an emphasis on clinical practice. Students typically complete the program in four semesters of fulltime study. The Belanger School of Nursing graduates approximately 50 students annually. These graduates have achieved an impressive 87% NCLEX pass rate over the past decade. They can also take advantage of the school's BSN articulation agreements with ten highly regarded colleges and universities, which include a mix of Capital District campuses and online programs.

#8:

St. Peter's Hospital College of Nursing

St. Peter's Hospital College of Nursing is located on the campus of Maria College and affiliated with St. Peter's Health Partners. Students have access to clinical experiences in a variety of settings including daycare centers, hospitals, nursing homes, physicians' offices, and rehabilitation centers. The college's ADN program is offered fulltime or part-time with both fall and spring start dates. Graduates of the program are prepared for immediate employment in the field. They can also take advantage of the college's BSN articulation agreements with several area colleges including Maria College, Russell Sage College, SUNY Delhi, SUNY Plattsburgh, and SUNY Polytechnic Institute. St. Peter's Hospital College of Nursing graduates 40-60 ADN students annually. Over the past decade, these graduates have averaged a strong 93% first-time pass rate on the NCLEX-RN licensure exam.

#9:

Maria College

Maria College has prepared students for careers in healthcare and service for over sixty years. The college's nursing programs include a practical nursing certificate, a prelicensure associate degree in registered nursing, and an RN-to-BSN degree completion pathway. The LPN program graduates a small cohort of 15-30 students annually, with a stellar 95% NCLEX-PN pass rate over the past decade. The associate degree program graduates well over 100 students annually, but with similarly strong outcomes. ADN graduates averaged a 90% NCLEX-RN pass rate over the past decade, including an impressive 96% pass rate in 2018. The college's RN-to-BSN program is conducted on-campus and offered on both a fulltime and part-time basis. Maria College nursing graduates are routinely hired at healthcare facilities throughout the Capital District.

#10:

Hudson Valley Community College

Hudson Valley Community College was founded in 1953 as Hudson Valley Technical Institute. The school is part of the 30-member State University of New York community college system. HVCC offers more than eighty degree and certificate programs, including an associate degree in nursing that prepares students to sit for the NCLEX-RN licensure examination. The ADN program graduates 70-80 students in a typical year. These graduates have averaged an impressive 92% first-time NCLEX pass rate over the past decade. Admission to the program is highly selective. The curriculum features classroom instruction, laboratory work, simulation exercises, and hands-on experience at major local healthcare centers. Clinical partners include Albany Memorial Hospital, Albany Stratton VA Medical Center, Capital District Psychiatric Center, and Van Rensselaer Manor Nursing and Rehabilitation. Hudson Valley Community College's ADN program may be completed in just two years fulltime or four years parttime.