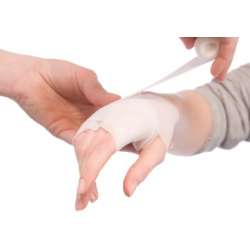 Wound, ostomy, and continence (WOC) nurses specialize in three patient afflictions: (1) wounds resulting from injury, disease, or medical treatment; (2) ostomies, which are artificial openings created during operations like a colostomy, ileostomy, or gastrostomy; and (3) urinary and fecal incontinence, including any associated skin conditions. Nurses in this tri-specialty area are often members of acute care teams in hospitals. Some also work in long-term care facilities or home healthcare settings. All WOC nurses collaborate with healthcare teams on the best approach to providing an effective treatment plan.
Because wound, ostomy, and continence nurses are often advanced practice registered nurses (APRNs) – such as nurse practitioners or clinical nurse specialists – they earn more than other types of registered nurses (RNs). WOC nurses typically receive annual pay of $80,500 to $93,000. Strong performers can earn more than $110,000 per year. Employment growth is solid as well. RN employment will increase 19 percent over the next ten years, while APRN employment will increase 31 percent.
Aspiring WOC nurses must start by gaining RN licensure. Prospective RNs can complete a hospital diploma, associate's degree in nursing (ADN), bachelor of science in nursing (BSN), or direct-entry master of science in nursing (MSN) program. Most students pursue the ADN or BSN pathway. Collectively, there are over 2,000 such accredited programs nationwide.
Upon completion of any pathway, graduates must pass the National Council Licensure Examination (NCLEX) before practicing as an RN. Many WOC nurses also hold an advanced degree, frequently an MSN. A number of colleges and universities offer WOC training within their master's degree programs or a post-master's certificate in WOC.
Finally, many employers prefer WOC nurses with not only an advanced degree, but also certification. The Wound, Ostomy, and Continence Nursing Certification Board (WOCNCB) offers WOC certification for BSN-educated RNs and WOC specialty certifications for APRNs. The American Board of Nursing Specialties (ABNS) accredits the WOCNCB examination programs.
A prestigious career as a WOC nurse starts with a high-quality registered nursing program. Browse our directory to find accredited nursing schools in your local area.