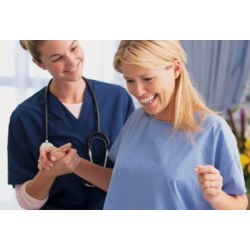 The U.S. is home to more than 150,000 advanced practice registered nurses (APRNs). These professionals comprise the upper echelon of the nursing industry; all have graduate-level education, and many hold a doctorate. Approximately 110,000 of these APRNs are nurse practitioners. According to the International Council of Nurses, a nurse practitioner demonstrates the expert knowledge, complex decision-making skills, and clinical competencies for expanded nursing practice. Not surprisingly, nurse practitioners are very well compensated. They receive a median annual salary of $92,670; the top 25% of nurse practitioners earns more than $110,000 per year.
Women's health nurse practitioner (WHNP) is one of six recognized specialties within the nurse practitioner field. WHNPs provide care independently or in collaboration with a physician. They work across a broad range of healthcare settings, including women's health clinics, private practices, ambulatory OB-GYN clinics, family planning clinics, prenatal practices, infertility clinics, and uro-gynecology practices. WHNPs conduct physical examinations, interpret medical histories, diagnose and treat chronic illnesses, conduct diagnostic tests, provide prenatal care, and perform minor surgeries and procedures. All WHNPs counsel and educate patients about preventative measures to avoid health issues. Depending on the state, they may also prescribe medications.
To conduct these responsibilities safely and effectively, women's health nurse practitioners must have advanced education and training. Many choose to pursue a master of science in nursing (MSN) degree with a women's health focus. This program requires two to three years of fulltime study, and it includes significant clinical experience. Upon completion, graduates must pass a certification exam offered by the National Certification Corporation to earn the Women's Healthcare Nurse Practitioner-Board Certified (WHNP-BC) credential.
The vast majority of MSN programs require that applicants hold a bachelor of science in nursing (BSN) degree and a valid registered nursing (RN) license upon entry. Prospective RNs can pursue a hospital diploma, associate's degree in nursing (ADN), or BSN degree for their initial licensure. All three pathways prepare students for the NCLEX national licensure examination, a mandatory requirement for practice. Diploma or ADN nurses can then complete an RN-to-BSN program while working fulltime in order to meet the MSN entry requirements. In addition, a small group of ~50 MSN programs nationwide will admit applicants with a non-nursing bachelor's degree. These programs prepare students for the NCLEX exam during the first year, before shifting focus to the specialty practice area.
A rewarding career as a women's health nurse practitioner will require graduate-level education. Browse our directory to find the best MSN programs in your local area.