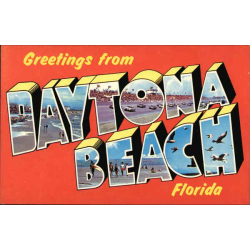 With a population of 66,645, Daytona Beach is one of the top 50 largest cities in Florida. Part of the Deltona–Daytona Beach–Ormond Beach, metropolitan area, Daytona Beach provides easy access to the more than 623,000 people living in the area. The population in this growing metro area has increased 56 percent since 2000, with those 55 and over accounting for nearly 40 percent of the population. With an increasing aging population, the metro area is a great place for aspiring registered nurses (RNs), particularly adult gerontology nurse practitioners (AGPN).
AGNP is an in-demand specialty within the advanced practice registered nursing (APRNs) field. As nurse practitioners (NPs), AGNPs serve as primary and specialty care providers, delivering advanced nursing services to patients and their families. They assess patients, determine the best way to improve or manage a patient's health, and discuss ways to integrate health promotion strategies into a patient's life.
Their work with the aging population involves performing physical exams, evaluating well-being and creating care plans specifically for these individuals. They also educate senior clients and their caregivers on matters regarding geriatric well-being and consult with senior patients and their caregivers.
To become an adult gerontology nurse practitioner, you must earn a bachelor of science in nursing (BSN), associate's degree in nursing (ADN), or a nursing diploma in order to sit for the National Council Licensure Examination for registered nurses (NCLEX-RN). After obtaining your license, you can begin working as an RN while earning a master of science in nursing (MSN) with a focus on senior patient care. Upon completion of the program, you must obtain certification via the American Nurses Credentialing Center (ANCC) or the American Association of Nurse Practitioners (AANP).
Once all requirements have been met, you may seek positions in hospitals (state, local and private), outpatient care centers, long-term care, and private homes practices. Depending on the environment, AGNPs can expect to earn $100,910 (average). High performing AGNPs earn $175,170 or more.
If Daytona Beach, Florida, sounds like a great place for a nursing career, below is a list of top schools for nursing in the metro area to help you get started.