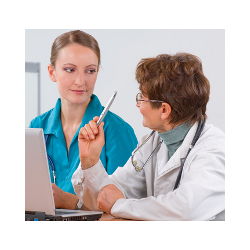 Nurse administrators are registered nurses (RNs) that hold a graduate degree in nursing or health services administration. Also called healthcare executives or healthcare administrators, nurse administrators are responsible for planning, directing, coordinating and supervising the delivery of healthcare. Key capabilities for this role have been outlined by the American Association of Colleges of Nursing (AACN) and American Organization of Nurse Executives (AONE). They include:
Advocate for consumers and community partners
Assume risk-taking behavior for the purpose of enhancing quality healthcare
Demonstrate creativity in problem definitions and solutions
Demonstrate effective public speaking
Develop and articulate a vision for nursing practice in an organization in the context of complex healthcare delivery systems
Effectively market the nursing practice enterprise
Embrace change and manage it effectively
Employ management skills that facilitate collaborative relationships
Establish relationships with community groups around the issue of health
Foster and implement team-building strategies that create partnerships and collaboration within nursing and across healthcare disciplines
Make sound decisions that value effectiveness and prudent use of resources
Negotiate and resolve conflict
Select and use advanced analytic, problem solving and communication skills
Think globally using information and communication technology
Nurse administrators are well compensated for their capabilities and service. They averaged $96,540 in 2016. Those working in state, local, and private hospitals averaged $104,340 and government healthcare administrators earned $104,110. High performers earned more than $172,240.
In top markets for nurse administrators such as New York and Boston, earnings were even higher than the national average. For example, nurse administrators in the Nassau County-Suffolk County and New York-Jersey City-White Plains metro areas averaged $147,640 and $138,470, respectively. Those working in the Boston-Cambridge-Newton, Massachusetts area earned $135,660.
If nursing administration sounds like the career for you, enroll in a top master of science in nursing (MSN) program today. Baker College, California Southern University and Colorado Technical University are just a few possibilities. For more options, we've compiled below a list of top online schools for an MSN in nursing administration.