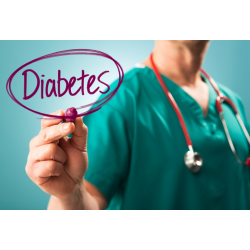 More than 100 million U.S. adults are now living with diabetes or prediabetes, according to a report released this year by the Centers for Disease Control and Prevention (CDC). This means the demand for healthcare providers that specialize in diabetes is higher than ever before, with diabetes nurses leading the way.
Diabetes nurses spend their days helping patients monitor their blood sugar and minimize diabetic nerve damage, providing nutritional therapy, and teaching proper diet, exercise, and lifestyle. They spend a significant amount of time relaying important information between doctors, patients, and family members, and many go on to become advocates for diabetes awareness or diabetes educators.
To qualify for most positons, aspiring diabetes nurses must be excellent communicators, structured, research-oriented, patient-facing, and organized. They must also meet certain education requirements. The first step in the education process is to earn an associate's degree in nursing (ADN) or a bachelor of science nursing (BSN) in order to sit for the National Council Licensure Examination for Registered Nurses (NCLEX-RN).
The next step is to begin working as a registered nurse and enroll in a master of science in nursing (MSN) program with a diabetes nursing specialization. MSN programs typically take a minimum of two years to complete, and they often require at least 100 practicum hours. Specialization courses might include Diabetes Pathophysiology and Assessment, Evidence-Based Education, Planning, and Outcomes for Diabetes Care, Nonpharmacologic Interventions for Diabetes Care, Pharmacologic Interventions for Diabetes Care, and Data Evaluation and Program Development in Diabetes Care.
The next step is to obtain at least 500 hours of work experience in diabetic medicine. Advanced Diabetes Management Certification (BC-ADM) through the American Association of Diabetes Educators (AADE) is also recommended. This qualification will open the door to coveted positions such as advanced diabetes nurse specialist at major hospitals and other healthcare centers. 
A rewarding career in diabetes nursing awaits! Enroll in an MSN program today. We've compiled below a list of top online schools for an MSN in diabetes nursing to help you get started.