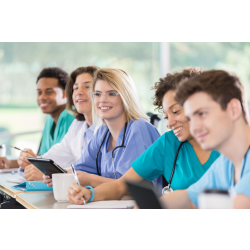 The post-master's doctor of philosophy (PhD) equips masters-prepared nurses to become "global and national leaders, scientists and scholars who make significant contributions in theory generation and knowledge development," explains the School of Nursing at University at Buffalo. Programs accomplish this through curriculums that cover advanced areas of nursing such as healthcare research, health care policy, information technology, and designing and testing interventions.
Some programs offer an optional advanced certificate in nursing education, while others offer a range of research areas that are in high demand today. Examples include health systems and data science, health services and workforce, healthy weight, promoting health and reducing risk in psychiatric mental health and addictions, and executive leadership.
Post-master's PhD programs in nursing may be completed on campus, online, or a combination of the two (hybrid). One of the most popular options is the distance format. Because coursework for these programs may be completed entirely online, students can continue working full-time and meeting other obligations without interruption.
Besides a master of science in nursing, the post-master's PhD program requires an active registered nursing (RN) license and a minimum GPA of 3.00 to 3.25. References, a resume, and official GRE or MAT scores are also required by most programs.
If you have what it takes to enter a post-master's PhD program, why wait any longer to apply? We've compiled below a list of top online nursing schools with a post-master's PhD program in nursing to help you get started. Advance your nursing career today!