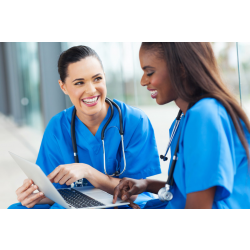 If you are a registered nurse (RN), and have earned a bachelor of science in nursing (BSN), you are eligible to apply for a post-bachelor's doctor of nursing practice (DNP) program. Post bachelor's DNP programs are known as the BSN-to-DNP pathway. These programs are designed for BSN-prepared RNs who desire to complete their master of science in nursing (MSN) and DNP degrees in a specialty area. Options are plentiful and include areas such as adult-gerontological acute care nurse practitioner (AGACNP), clinical nurse specialist (CNS), executive nurse administrator, pediatric nurse practitioner – primary care (PNP-PC), and psychiatric-mental health nurse practitioner (PMHNP).
Students in all specialty areas will take specific courses such as quantitative methods for evaluating health care practices, health systems transformation, and effective leadership. Many programs require a DNP project, which is a scholarly project, four semesters in length, and designed to address a practice issue affecting groups of patients, health care organizations or health care systems.
DNP programs may be completed on-campus, online or a combination of both (hybrid). Online programs offer the most flexibility, making it easier for students to continue working and meeting family obligations. Some top online schools with a post-bachelor's DNP program include Capella University and Kaplan University.
Though program lengths vary, the actual number of credits required for graduation may range from 35 to 60 credits, depending on the number of supervised practice hours students bring into the program at the time of enrollment.
If you are ready to advance your career, enroll in a DNP program today. We've compiled below a list of top online nursing schools with a post-bachelor's DNP program to help you get started.