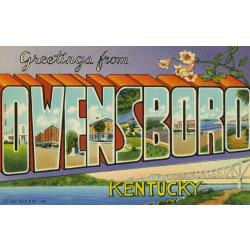 Owensboro is the county seat of Daviess County, Kentucky, where healthcare is the fourth-largest employer. The industry brings in 6% ($243 million) of the county's gross product, and the workforce is nearly 5,000 strong. Nurses lead the way. The Owensboro metro area is home to 60 nurse practitioners (NPs), 890 registered nurses (RNs), 290 licensed practical nurses (LPNs), and 570 certified nursing assistants (CNAs).
Many nurses in the area earned their degree or certificate at a local school. The city's top nursing schools are the University of Louisville, Daymar College, and Owensboro Community & Technical College. Collectively, these schools offer nursing programs for all potential career paths. A good example is the School of Nursing at the University of Louisville. UofL offers nine nursing programs, from a bachelor of science in nursing (BSN) to a doctor of philosophy (PhD) in nursing. The type of program required will depend on your chosen field.
For example, because nurse practitioner is an advanced role, these professionals must have specialized graduate education. After passing the National Council Licensure Examination for Registered Nurses (NCLEX-RN), NPs will earn a master of science in nursing (MSN), doctor of nursing practice (DNP), or nursing PhD while specializing in a certain area of nursing. Common NP focal areas include cardiology, family practice, and gerontology.
Registered nurses must earn a hospital diploma, associate's degree in nursing (ADN), BSN, or direct-entry MSN. All RNs must pass the NCLEX-RN national licensure exam before practicing. LPNs must complete a state-approved certificate or associate's degree program and pass the NCLEX-PN national licensure exam. CNAs must finish a short training program and obtain state certification by passing a skills and competency exam.
Graduates of these programs are prepared to seek positions at local healthcare centers like Owensboro Health Regional Hospital, Methodist Hospital, and St. Mary's Warrick Hospital. Nursing salaries in Owensboro are attractive. The average local salary for nurse practitioners is almost $90,000 per year; the top quartile of NPs earns $100,000 and above. Local RNs earn $55,000 on average and $65,000-$75,000 in managerial and administrative posts. LPNs take home $42,000 per year, while CNAs average about $22,000 in annual pay.
Whichever nursing role you choose, be sure to select a top nursing school to help you reach your goals. We've compiled below a detailed list of accredited nursing schools in Owensboro, Kentucky, to help you get started.