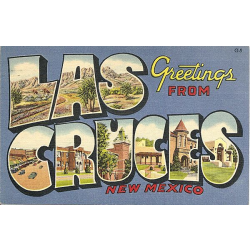 Las Cruces, New Mexico, is home to more than 2,000 nursing professionals. Some of the most common roles are registered nurse (RN), licensed practical nurse (LPN), and certified nursing assistant (CNA). Most Las Cruces-based nurses earned their degree or certificate at a local college or university. The region's top nursing schools include New Mexico State University, Doña Ana Community College, and Computer Career Center. Collectively, these institutions offer nursing programs at all levels.
For example, the School of Nursing at New Mexico State University offers three bachelor of science in nursing (BSN) options, including a traditional four-year prelicensure program, an online RN-to-BSN bridge program, and a second-degree pathway. The school also has master of science in nursing (MSN), doctor of nursing practice (DNP), and doctor of philosophy (PhD) in nursing programs.
Aspiring RNs in Las Cruces can follow several pathways to licensure, including an associate's degree in nursing (ADN) or a BSN degree. In addition to a degree from an accredited nursing school, RNs must pass the National Council Licensure Examination for Registered Nurses (NCLEX-RN) before commencing practice. Las Cruces-based RNs earn an average of $60,250 annually. Strong performers can earn $74,000-$92,000 per year.
The minimum education requirement for LPNs is a diploma or certificate from a state-approved prelicensure program. Some LPNs choose to earn an associate's degree in practical nursing. In addition to a diploma, certificate, or degree, LPNs must pass the NCLEX for Practical Nurses (NCLEX-PN) in order to obtain a license. The average salary for LPNs in Las Cruces is $45,970, with the top quartile earning $53,300 and above.
CNAs must complete a state-approved education program and pass the state competency exam. After passing the exam, CNAs are placed on the state registry. CNAs in Las Cruces earn $24,700 per year on average and over $30,000 on the high end. In some states, CNAs can earn additional credentials such as certified medication assistant (CMA). This may help them qualify for higher-level positions.
Graduates of top nursing schools in Las Cruces, New Mexico, are prepared to seek positions at major area hospitals and healthcare centers. The region has a host of large healthcare employers, including MountainView Regional Medical Center, Memorial Medical Center, Advanced Care Hospital of New Mexico, and Hillrise Medical Center.
Let us help you launch your nursing career in Las Cruces, New Mexico. We've compiled below a list of the top nursing schools in the metro area to start your search.