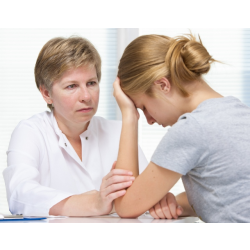 Nurse practitioners are the largest group of advanced practice registered nurses (APRNs), and their population is growing rapidly. Employment of nurse practitioners will increase 34 percent over the next ten years, driving the number of nurse practitioners from the current 110,000 to almost 150,000. They earn some of the highest salaries in the healthcare industry as well. The typical nurse practitioner earns approximately $93,000 per year, and the top quartile receives over $110,000 in annual pay.
Psychiatric-mental health nurse practitioner (PMHNP) is one of the key nurse practitioner specialties. PMHNPs provide mental healthcare by assessing, diagnosing, and managing psychiatric illnesses and mental health issues. They perform these duties in a variety of settings such as hospitals, primary care clinics, community mental health services, recovery programs, substance abuse centers, and schools.
Psychiatric-mental health nurse practitioners work at a more advanced level than psychiatric-mental health nurses (PMHNs), so they must complete graduate-level education and training. The minimum degree required for PMHNP certification is a master of science in nursing (MSN). Most states also require certification by the American Nurses Credentialing Center, which offers a Psychiatric-Mental Health Nurse Practitioner-Board Certified (PMHNP-BC) exam.
Aspiring PMHNPs must first earn licensure as a registered nurse (RN). Prospective RNs can start their journey with a nursing diploma, associate's degree in nursing (ADN), or bachelor of science in nursing (BSN). Several universities also offer a direct-entry MSN program for applicants with a baccalaureate degree in a non-nursing field. Collectively, there are over 2,000 prelicensure programs available at hospitals, community colleges, technical schools, four-year colleges, and universities nationwide. All programs prepare students to pass the National Council Licensure Examination (NCLEX), which is mandatory for RN licensure throughout the country.
After obtaining licensure, students can enter an MSN program with a psychiatric-mental health nurse practitioner track. These MSN programs typically take two years to complete full-time, or three to four years to complete part-time. The specialty focus on psychiatric-mental health includes substantial clinical experience to prepare candidates for their PMHNP certification.
A challenging and rewarding career as a psychiatric-mental health nurse practitioner requires extensive nursing education. Browse our directory to find the best MSN programs in your local area.