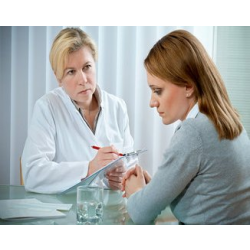 A psychiatric-mental health nurse (PMHN) fills a specialist role within the practice of registered nursing (RN). These focused RNs work with patients, families, and communities to assess their mental health needs. PMHNs diagnose mental illness, develop treatment plans, and educate a patient's family about the illness and the best approaches for coping. They also implement the nursing process and frequently evaluate it for efficacy. PMHNs work in mental health clinics, university health centers, correctional facilities, rescue missions, and substance abuse centers. Some psychiatric-mental health nurses even have their own practice.
An aspiring psychiatric-mental health nurse must first gain licensure as a registered nurse. RNs typically pursue one of three education pathways to licensure: a three-year hospital diploma, two-year associate's degree in nursing (ADN), or four-year bachelor of science in nursing (BSN). All pathways prepare students to take the National Council Licensure Examination (NCLEX), a mandatory requirement for RN licensure in any state. Ambitious nurses choose the BSN track in order to stay ahead of the competition and prepare for graduate study.
Many psychiatric-mental health nurses pursue further licensure as an advanced practice registered nurse (APRN). The PMH-APRN role requires at least a master of science in nursing (MSN). Some PMH-APRNs hold a doctor of nursing practice (DNP) or doctor of philosophy (PhD) in nursing. In addition to a degree and licensure, some states require certification and most employers prefer it. Certification for PMHNs at all levels is provided by the American Nurses Credentialing Center (ANCC). You can contact your state nursing board to find out if certification is required in your state.
While the path to becoming a psychiatric-mental health nurse is long and challenging, the hard work will pay off. Registered nurses are among the highest-paid professionals in the healthcare industry. They earn an average annual salary of $65,000, and high-performing RNs in specialty practice can receive $80,000 per year. APRNs often earn in excess of $100,000 annually. Employment growth is high as well. According to the Bureau of Labor Statistics, employment of registered nurses is projected to grow 19 percent over the next ten years.
A successful career as a psychiatric-mental health nurse can start with a bachelor of science in nursing program. Browse our directory to find the best BSN programs in your local area.