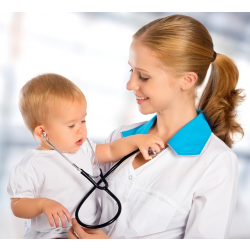 Nurse practitioners are the nation's largest group of advanced practice registered nurses (APRNs), with more than 110,000 licensed professionals. According to the Bureau of Labor Statistics, nurse practitioner employment will increase by 34 percent over the coming decade, a growth rate much faster than average. Pay is very attractive as well. With a median annual salary of $93,000, nurse practitioners are among the highest-paid nurses in the healthcare field. Top performers can earn more than $110,000 per year.
Pediatric nurse practitioner (PNP) is one of the six critical nurse practitioner specialties. PNPs work side-by-side with pediatricians in hospitals and outpatient facilities, caring for patients from infancy into their teens. They conduct exams, diagnose illnesses, and perform developmental screenings; they also administer medications, treatments, and immunizations. PNPs often care for children that have chronic, critical, or acute illness. In addition, they may perform advanced physical assessments, interpret diagnostic results, and counsel families about preventative care.
Pediatric nurse practitioners work at a more advanced level than pediatric nurses, so they must possess higher education and training. The minimum degree required for PNP certification is a master of science in nursing (MSN). Many pediatric nurse practitioners hold a doctor of nursing practice (DNP) or a doctor of philosophy (PhD) in nursing.
The journey to any of these advanced degrees begins with licensure as a registered nurse (RN). Most prospective RNs choose one of two education pathways: either an associate's degree in nursing (ADN) or a bachelor of science in nursing (BSN). The vast majority of MSN programs require applicants to hold a BSN degree upon entry. However, either pathway prepares students to take the National Council Licensure Examination for Registered Nurses (NCLEX-RN). A passing NCLEX score is mandatory for an RN to practice in all states, the District of Columbia, and U.S. territories.
After graduating from a BSN program and obtaining licensure, an aspiring PNP can enter a graduate nursing program with a pediatric nurse practitioner specialty. MSN programs typically take two years to complete full-time, or three to four years to complete part-time. They include significant clinical experience to help students meet the requirements for PNP certification.
The final step in the process is the PNP certification exam. Candidates have three exam options. The American Nurses Credentialing Center offers a Pediatric Primary Care Nurse Practitioner-Board Certified (PPCNP-BC) credential. The Pediatric Nursing Certification Board awards two different titles: Certified Pediatric Nurse Practitioner-Primary Care (CPNP-PC) and Certified Pediatric Nurse Practitioner-Acute Care (CPNP-AC). Aspiring PNPs should confirm which of these credentials are honored by their state's board of nursing.
A rewarding career as a pediatric nurse practitioner requires graduate education in the field. Browse our directory to find the best MSN programs in your local area.