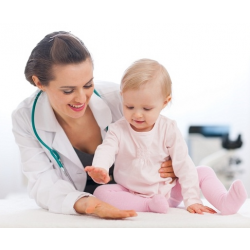 Pediatric nurses are registered nurses (RNs) that address the unique medical needs of children. They work in a variety of healthcare settings such as hospitals, critical care facilities, doctors' offices, and community-based settings. Also called "certified pediatric nurses" or "CPNs," pediatric nurses provide primary care services like examinations, health screenings, immunizations, school physicals, and treatment of childhood conditions. They also perform advanced services like administering medication and treatments, assessing test results, conducting comprehensive physicals, and caring for children with acute or chronic conditions.
According to the Pediatric Nursing Certification Board (PNCB), certified pediatric nurses frequently conduct independent research about patient outcomes and professional issues. CPNs have the added responsibility of evaluating, analyzing, planning, and implementing nursing interventions and patient outcomes.
Nationwide, RNs earn a median annual salary of $66,000. However, CPNs that specialize in high-demand areas like pediatric cardiology, oncology, dermatology, and gastroenterology can earn more than $80,000 per year. The employment outlook for pediatric nurses is impressive as well. Overall RN employment growth of 19 percent is projected for the next decade, much higher than the overall rate of employment growth.
The path to becoming a pediatric nurse begins with licensure as a registered nurse. Aspiring RNs typically follow one of three education pathways: hospital diploma, associate's degree in nursing (ADN), or bachelor of science in nursing (BSN). Each pathway prepares students to pass the National Council Licensure Examination for Registered Nurses (NCLEX-RN); however, most CPNs hold a BSN degree. After RN licensure, prospective CPNs must meet one of two requirements to sit for the CPN exam: either (1) 1,800 hours of pediatric clinical practice in a pediatric nursing specialty over the past 24 months or (2) 3,000 hours of pediatric nursing over the past five years with at least 1,000 hours over the past 24 months. Option one is preferred.
A challenging and rewarding career as a pediatric nurse begins with a high-quality RN training program. Browse our directory to find the best nursing schools in your local area.