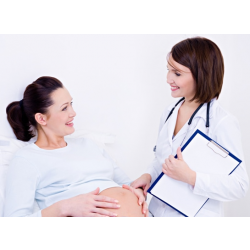 Obstetrical nurses, also known as OB/GYN nurses or gynecology/obstetrics nurses, are registered nurses (RNs) who care for women during their reproductive years. Because the reproductive years begin during puberty, obstetrical nurses also care for tweens and teens. These skilled nurses perform annual gynecological exams, assist with labor and delivery, administer vaccinations, conduct diagnostic tests like mammograms, and educate women about birth control and sexual health. Some obstetrical nurses specialize in labor and delivery. These nurses care for expectant mothers throughout pregnancy to prevent health issues for both mother and child, and they continue to care for new mothers after childbirth as well.
Obstetrical nurses work in hospitals, physicians' offices, and community clinics. They earn approximately $65,000 per year on average. High-performing nurses can take home over $80,000 annually. Employment growth is promising as well: the Bureau of Labor Statistics expects the number of RNs to grow by 19 percent over the coming decade, well above average.
Aspiring RNs can pursue one of four pathways to licensure: hospital diploma, associate's degree in nursing (ADN), bachelor of science in nursing (BSN), or direct-entry master of science in nursing (MSN). There are well over 2,000 accredited RN training programs across the country. Diploma and ADN programs are offered at technical schools, community colleges, and hospitals, while four-year colleges and universities provide the more rigorous BSN and MSN programs. All pathways prepare students to pass the National Council Licensure Examination (NCLEX), a mandatory requirement for licensure in all states, the District of Columbia, and U.S. territories.
After RN licensure, the next step is obstetrical nursing certification. Before taking the National Certification Corporation (NCC) exam, an aspiring obstetrical nurse must complete 24 months of specialty experience comprising at least 2,000 hours. "Specialty experience" includes direct patient care, education, administration, and research. The certification exam must be taken within two years of employment in the specialty field. Applicants who successfully pass the exam receive the NCC Credential in Inpatient Obstetric Nursing (RNC-OB).
An obstetrical nursing career begins with a high-quality registered nursing program. Browse our directory to find the best RN schools in your local area.