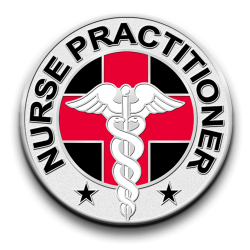 With a population of more than 110,000, nurse practitioners (NPs) are the largest group of advanced practice registered nurses (APRNs) in the United States. They work primarily in physicians' offices and hospitals, where they collaborate with other health professionals to provide the best primary and specialty advanced nursing care to patients. Because they are registered nurses (RNs), nurse practitioners can perform the full range of RN responsibilities. They also conduct specialist NP duties like assessing patient health, constructing a patient care plan, and discussing this plan with patient and family. Nurse practitioners typically choose a focal patient population, such as pediatric health, family health, or psychiatric-mental health.
Due to the unique nature of the position, nurse practitioners are in high demand. The Bureau of Labor Statistics expects NP employment to grow by 34 percent over the next ten years, creating 37,000 new jobs. Salaries are impressive as well. Nurse practitioners earn close to $93,000 per year on average, and high-performing NPs can earn more than $110,000 per year. Some venues pay their nurse practitioners above-average wages, including hospitals and health practitioner offices. Hospitals lead the pack with an average NP salary above $100,000 per year, followed by health practitioner offices at $98,000 per year.
A successful career as a nurse practitioner starts with licensure as a registered nurse. Prospective RNs must earn a hospital diploma, associate's degree in nursing (ADN), bachelor of science in nursing (BSN), or direct-entry master of science in nursing (MSN). Graduates of any pathway must pass the NCLEX-RN national licensure examination before practicing as an RN. Aspiring NPs must then complete an MSN or doctor of nursing practice (DNP) program in their desired specialty area. They must also pass a relevant certification examination. Several national bodies offer nurse practitioner credentials, including the American Academy of Nurse Practitioners, American Nurses Credentialing Center (ANCC), National Certification Corporation, and Pediatric Nursing Certification Board. ANCC administers a dozen NP certification exams in focal areas like acute care, adult-gerontology primary care, psychiatric-mental health, school nursing, and diabetes management.
The journey from registered nurse to nurse practitioner can start with a high-quality master's degree program. Browse our directory to find the best MSN programs in your local area.