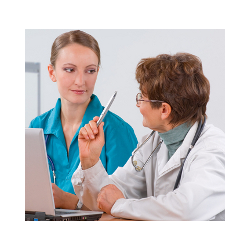 Nurse executives are registered nurses (RNs) that work on senior leadership teams at hospitals, health systems, home health agencies, nursing care facilities, ambulatory healthcare services, and schools of nursing. They design and direct processes for delivering care, developing the healthcare system, managing / educating staff, and handling the organization's finances. Some nurse executives have clinical experience in a specific area. This makes them ideal candidates for nurse administrator positions – for example, at a children's hospital or an adult rehabilitation center. Other nurse executives focus on medically underserved populations, priming them for leadership positions at a clinic or community hospital.
The path to a nurse executive career starts with a bachelor of science in nursing (BSN) degree. Aspiring nurse executives should consider a minor in business, or even a double major. Taking business electives is also useful, but a more structured curriculum is the most effective route. Upon completion of the BSN program, graduates must pass the National Council Licensure Examination for Registered Nurses (NCLEX-RN) to obtain state licensure.
While an associate's degree in nursing (ADN) or hospital diploma will also prepare graduates for the NCLEX-RN exam, BSN programs offer advanced study in nursing administration, health services, long-term care administration, public health nursing, and public administration. In fact, many top hospitals and healthcare systems prefer to hire nurse executives who hold a master of science in nursing (MSN) degree, with a specialization in one of these areas. Nurses with a master of business administration (MBA) degree are also atop the wish list for many healthcare employers. In addition, the American Organization of Nurse Executives (AONE) offers a nurse executive certification that can help RNs stand out from the crowd.
The journey from student to certified nurse executive can take more than seven years to complete. Fortunately, the commitment and hard work will pay off. Nurse executives earn an average annual salary of $88,850. However, compensation grows as the facility size and level of responsibility increases. For example, according to the Medical Group Management Association, administrators in practices with six or fewer physicians earn a median annual salary of $88,000. This compensation grows to $126,000 in practices with seven to 25 physicians, and to $148,000 in practices with 26 or more physicians.
Aspiring nurse executives should consider earning a master of science in nursing with a focus in management or business. You can start your search by browsing our directory to find the best MSN programs in your local area.