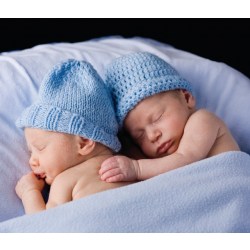 The U.S. is home to more than 110,000 nurse practitioners (NPs). They represent the nation's largest group of advanced practice registered nurses (APRNs), and the population is growing. According to the Bureau of Labor Statistics, NP employment will increase 34 percent during the next decade, much faster than the average for all occupations. Salaries are impressive as well. Nurse practitioners earn a median annual salary of $92,670, with top-quartile pay in excess of $110,000 per year.
Neonatal nurse practitioner (NNP) is one of the critical NP specialty roles. These nurses care for newborns that are premature, sick, or critically ill. NNPs provide care in neonatal intensive care units (NICUs), delivery rooms, emergency rooms, and developmental pediatric clinics. Their duties include monitoring specialized equipment, performing advanced diagnostic tests, administering medications and treatments, and educating families on home treatment options.
Because NNPs must have advanced training, a master of science in nursing (MSN) degree is required for certification. Many NNPs hold a doctor of nursing practice (DNP) or doctor of philosophy (PhD) in nursing as well. The journey to any of these advanced degrees begins with licensure as a registered nurse (RN). Aspiring RNs can pursue several education pathways; however, most traditional MSN programs will require a bachelor of science in nursing (BSN) degree from an accredited school. RN candidates must also pass the National Council Licensure Examination for Registered Nurses (NCLEX-RN) before they may begin practice.
After obtaining RN licensure, an aspiring NNP can enter an MSN program with a neonatal nurse practitioner specialty. The MSN requires two years to complete full-time, or three to four years to complete part-time. Programs with a neonatal specialty offer extensive clinical experience in the field. Graduates can pursue the Neonatal Nurse Practitioner-Board Certified (NNP-BC) credential by successfully passing the relevant National Certification Corporation exam. Neonatal nurse practitioners must also fulfill continuing education requirements, provided through resources like the National Association of Neonatal Nurses.
A rewarding career as a neonatal nurse practitioner requires graduate nursing education. Browse our directory to find the best MSN programs in your local area.