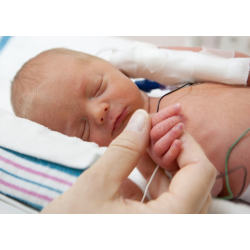 Neonatal nurses are registered nurses (RNs) that care for newborn babies. The neonatal period is defined as the first month of life, and neonatal nurses typically work with infants from birth until they are discharged from the hospital. However, neonatal care can last for months if the infant faces birth defects, malformations, infections, prematurity, or cardiac and surgical problems. In extreme cases, neonatal nurses will care for infants until two years of age. Neonatal nurses provide care at hospitals, nursing and residential care facilities, physicians' offices, and through home healthcare services.
Most neonatal nurses gain their first work experience as staff nurses or in pediatrics. Staff nurse duties may include administering a ventilator, providing IV medications, attending a premature delivery, taking vital signs, assisting a new mom with breastfeeding, and educating new parents. Pediatric service provides training in care for sick infants, toddlers, and older children.
After several years of newborn or pediatric experience, aspiring neonatal nurses can sit for a national certification examination. A passing score demonstrates competence in the neonatal subspecialty. Indeed, many employers prioritize the hiring of neonatal nurses with one or more subspecialty certifications. The American Nurses Credentialing Council (ANCC) offers a pediatric nursing certification. However, the National Certification Corporation (NCC) offers most neonatal certifications, including low-risk neonatal nursing, electronic fetal monitoring, pediatric transport, and intensive care.
Besides certification, aspiring neonatal nurses will need a bachelor of science in nursing (BSN) to qualify for most positions. An associate's degree in nursing (ADN) or hospital diploma will also prepare students for the National Council Licensure Examination, but most employers prefer RNs with the more rigorous BSN degree. Fortunately, over 800 prelicensure BSN programs are available at colleges and universities across the U.S., so aspiring nurses can find a program well-suited to their career goals.
Registered nurses earn some of the highest salaries in the healthcare industry. The average RN salary is just over $66,000 per year. High-performing RNs, including those who hold a BSN degree, can earn more than $80,000 annually. Besides competitive salaries, the nursing field offers stability and tremendous employment growth. The U.S. is home to 2.7 million registered nurses, and RN employment is projected to grow 19 percent over the coming decade.
The road to a successful neonatal nursing career begins with a high-quality BSN program. Browse our directory to find the best bachelor's degree programs in your local area.