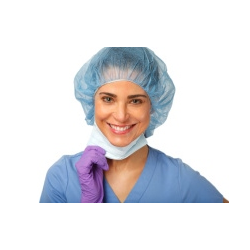 Medical-surgical nurses care for patients with multiple surgical, medical, and/or psychiatric diagnoses. They work in a broad range of environments including hospitals, clinics, surgical centers, urgent care centers, ambulatory care units, nursing homes, and physicians' offices. According to the Academy of Medical-Surgical Nurses (AMSN), this specialized area of nursing requires stellar skills in assessment, technical knowledge, organization, prioritization, and communication.
Roughly 60 percent of the 2.7 million registered nurses (RNs) in the U.S. work in hospitals. Medical-surgical nurses are a core part of this large group. Nationwide, the median RN salary is approximately $66,000 per year. High-performing RNs can earn more than $80,000 per year; so too can nurses that specialize in high-demand areas like medical-surgical nursing.
Aspiring medical-surgical nurses must first gain licensure as registered nurses. RNs can pursue one of three popular education pathways: hospital diploma, associate's degree in nursing (ADN), or bachelor of science in nursing (BSN). Each pathway prepares students to pass the National Council Licensure Examination (NCLEX), a mandatory requirement for state licensure. Once licensed, an aspiring medical-surgical nurse must work as an RN for two years fulltime.
A medical-surgical nurse can then pursue one of two certifications. The American Nurses Credentialing Center (ANCC) offers a Registered Nurse - Board Certified (RN-BC) credential that requires 2,000 hours of clinical practice and 30 hours of continuing education in medical-surgical nursing over the past three years. As an alternative, the Medical-Surgical Nursing Certification Board (MSNCB) offers a Certified Medical-Surgical Registered Nurse (CMSRN) credential that does not require 30 hours of continuing education in medical-surgical nursing.
Regardless of the credential, medical-surgical nurses are in high demand. The Bureau of Labor Statistics projects RN employment growth of 19 percent over the coming decade. The increased demand for healthcare is driven by an aging population, the needs of patients with chronic conditions, and increased healthcare coverage due to passage of the Affordable Care Act.
A rewarding career as a medical-surgical nurse begins with a high-quality RN training program. Browse our directory to find the best ADN, BSN, and diploma programs in your local area.