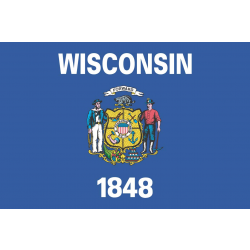 Wisconsin's healthcare industry is growing at a blistering pace, with many exciting job opportunities for nursing graduates. The state has a breadth of nursing employers, including large networks like Maxim Healthcare and ProHealth Care. Prospective students must select one of three nursing career paths: certified nursing assistant (CNA), licensed practical nurse (LPN), or registered nurse (RN).

Nursing assistant
CNAs perform basic nursing procedures for chronically sick, elderly, and infirm patients. Prospective CNAs can complete a short 10- to 12-week certificate program at well over a dozen technical colleges across the state of Wisconsin. According to the Bureau of Labor Statistics, the state's 37,000 CNAs earn a median annual salary of $25,770.

Licensed practical nurse
LPNs provide hands-on nursing care by collecting samples, monitoring vital signs, and dressing wounds. Wisconsin LPNs must complete a one- to 1.5-year certificate program before sitting for the NCLEX-PN national licensure examination. There are 10,000 LPNs employed in Wisconsin, with salaries averaging $42,000 per year.
Registered nurse
RNs independently direct critical care in consultation with the patient's physician. Wisconsin's aspiring RNs may pursue either a two-year associate's degree in nursing (ADN) or a four-year bachelor of science in nursing (BSN). Either prelicensure program is followed by the NCLEX-RN national licensure examination. Wisconsin employs 56,000 RNs with a median annual salary of $63,260; BSN-educated nurses typically earn an additional $10,000 or more annually.
To guide prospective students, we have organized below a detailed list of the accredited nursing schools and programs throughout the state of Wisconsin.