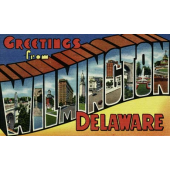 In Delaware, there are opportunities for nurses at every level in the healthcare system. In Wilmington alone, there are numerous positions available for certified nursing assistants (CNAs), licensed practical nurses (LPNs), and registered nurses (RNs).

Certified nursing assistants (CNAs)
Becoming a CNA is the quickest and easiest way to enter the field of nursing. Most CNA programs take as little as several weeks to a few months to complete. Nursing assistants provide much-needed services for patients every day, helping them to eat, get dressed, and with basic mobility. They can also be responsible for checking basic symptoms and taking vital signs. In Wilmington, there are approximately 3,520 nursing assistant jobs, which generally pay between $25,380 and $32,670 per year.

Licensed practical nurses (LPNs)
LPN programs usually take from 12- to 18-months to complete, and prepare nurses for more advanced levels of patient care, including administering medications and injections, providing first aid, and performing CPR. There are opportunities for LPNs in hospitals, doctors' offices, extended care facilities, and private homes. In the Wilmington area, there are approximately 1,380 LPN jobs, which generally pay between $43,370 and $56,570 per year.

Registered nurses (RNs)
The preferred pre-licensure program for RNs in Delaware today is the bachelor of science in nursing (BSN), which is a four-year degree program. Other RN programs include the diploma nurse program, which has been rare since the 1970s, and the associate of applied science in nursing (AASN) degree, which is a two-year program. In the Wilmington area, there are approximately 7,910 RN jobs, which generally pay between $63,990 and $83,950 per year.

Major employers for nurses in Delaware include Nanticoke Memorial Hospital, Saint Francis Hospital, Christiana Hospital, Kent General Hospital, and Milford Memorial Hospital.

Below, for the convenience of aspiring nurses, you can find a comprehensive list of accredited nursing schools in the Wilmington area.