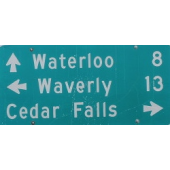 The state of Iowa has more than 100,000 nursing professionals. Approximately 4,000 of the state's nurses live and work in the Waterloo-Cedar Falls metropolitan area. This number includes 2,100 registered nurses (RNs), 1,200 certified nursing assistants (CNAs), and 500 licensed practical nurses (LPNs). Many of these nurses earned their certificate, diploma, or degree at a local school.
For example, Kaplan University offers five nursing programs between its Cedar Falls campus and its online division. Options include an associate of science in nursing (ASN), a bachelor of science in nursing (BSN), a master of science in nursing (MSN), and two doctor of nursing practice (DNP) pathways. Allen College is another highly regarded local nursing school with BSN, MSN, and DNP programs.
Graduates of these schools are well-prepared to compete for positions at major area hospitals. The Waterloo-Cedar Falls area has several large healthcare providers including Sartori Memorial Hospital, Covenant Medical Center, and UnityPoint Health. The type of degree, diploma, or certificate required will depend on the exact nursing role.
Registered nurse is an advanced role that coordinates patient care, administers medications, and supervises teams of junior nursing personnel. RNs also operate and maintain medical equipment, instruct patients and families on home care, and educate the public about medical conditions. To undertake these numerous responsibilities, RNs must hold a hospital diploma, associate's degree, BSN, or MSN. A license is also required to practice, so aspiring RNs must pass the National Council Licensure Examination for Registered Nurses (NCLEX-RN).
Practical nurses perform a broad range of frontline healthcare tasks. They frequently check vital signs, change bandages, dress wounds, record medical histories, and listen to patients' health concerns. Aspiring LPNs must complete a state-approved associate's degree or certificate program and pass the NCLEX-PN national licensure examination.
Nursing assistants help patients with basic tasks such as bathing, eating, and getting dressed. They may also serve meals, clean and sanitize patient areas, reposition immobile patients, and transfer them from wheelchair to bed. Aspiring CNAs must complete an approved training program, typically 100 hours in length, and pass a state certification test.
In return for their education, training, and hard work, nurses in the Waterloo-Cedar Falls area can expect competitive pay. Salaries for entry-level roles like CNA are approximately $26,000 on average. The region's LPNs earn approximately $38,000 per year. Advanced roles like RN receive approximately $54,000 in annual pay. High-performing RNs, particularly those with administrative responsibilities and graduate education, can earn $64,000-$74,000 or more per year.
If nursing sounds like the perfect profession for you, why wait to get started? You can enroll in a nursing program today. We've compiled below a comprehensive list of accredited nursing schools in the Waterloo-Cedar Falls area as a helpful starting point.