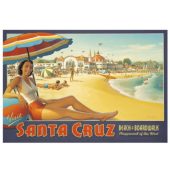 Home to a small population of 1,380 registered nurses (RNs), 220 licensed vocational nurses (LVNs), and dozens of nursing assistants (CNAs), Santa Cruz is a great place for aspiring nurses looking for a less hectic pace. While the demand for nurses isn't as high in Santa Cruz as it is in larger metropolitan areas, this doesn't mean nursing is any less demanding in this beach city.

On any given day, RNs will treat dozens of patients; administer medications; start, maintain, and discontinue intravenous (IV) lines; operate various pieces of medical equipment; and perform diagnostic tests. For their service, Santa Cruz-based RNs earn an impressive average salary of $93,810 per year. To become an RN, you must hold an associate's degree in nursing (ADN), bachelor of science in nursing (BSN), or master of science in nursing (MSN). It is important to note that employers increasingly prefer a BSN or MSN degree. Some of the top employers of RNs in the Santa Cruz area include Dominican Hospital, Sutter Maternity and Surgery Center of Santa Cruz, and Watsonville Community Hospital.

Besides the RN role, aspiring nurses can pursue two other career paths. Aspiring LVNs must complete a certificate or associate's degree program and obtain a license. These professionals earn an average salary of $53,990 in the Santa Cruz area, and they perform a variety of duties including recording vital signs, cleaning and monitoring equipment, dressing wounds, and preparing and giving injections. Aspiring CNAs must complete an accredited training program and earn state certification. They earn an average salary of $27,240 for performing essential healthcare tasks like serving meals, assisting with eating, checking vital signs, and bathing patients.
The following is a list of accredited Santa Cruz nursing schools that offer some of best education and training programs in this exciting career field.