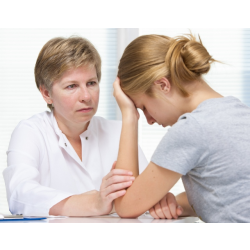 Psychiatric mental health nursing is a specialty within nursing that focuses on providing care services to the psychiatric-mental health population. Per the American Psychiatric Nurses Association (APNA), the psychiatric-mental health nurse practitioner (PMHNP) is responsible for assessing, diagnosing, and treating individuals and families with psychiatric disorders or the potential for such disorders, using their full scope of therapeutic skills including the prescription of medication and administration of psychotherapy. PMHNPs often own private practices and corporations as well as consult with groups, communities, legislators, and companies.
To become a PMHNP, you will need a master of science in nursing (MSN) degree in psychiatric-mental health nursing or a doctor of nursing practice (DNP). Some PMHNPs also earn additional degrees (doctor of philosophy, PhD or doctor of education, EdD), which prepares them to work as administrators, researchers, or professors.
Because the demand for skilled PMHNPs is high, a number of accredited nursing schools offer competitive programs. Some even offer online or hybrid options that allow students to continue meeting work and family obligations while earning their degree. Two options include Walden University's online MSN with a PMHNP specialization and the University of Illinois, College of Nursing's hybrid MSN-PMHNP program. Graduates of both programs will meet requirements to sit for the national certification examination for PMHNPs offered by the American Nurses Credentialing Center (ANCC).
With a degree and certification, graduates will qualify for positions that often start at six figures. In 2016, the average salary for PMHNPs was $100,910. High performers earned more than $140,930. In major markets such as the San Francisco-Redwood City-South San Francisco, California metro area and Peabody-Salem-Beverly, Massachusetts, average earnings were even higher—$158,050 and $155,320, respectively.
Did you know that many online MSN in PMHNP programs can be completed in as few 24 months? This means that you can start earning more sooner! Below, we've compiled a list of accredited nursing schools with an online MSN in psychiatric-mental health nurse practitioner to help you get started on your search today.