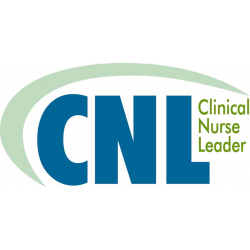 Clinical nurse leader (CNL) is a specialty area within the nursing field. Nurses in this advanced practice role focus on care coordination, transitions of care, risk assessment, outcomes measurement, implementation of best practices based on evidence, interprofessional communication & team leadership, and quality improvement. CNLs manage teams, which can include licensed nurses, technicians, and other health care professionals, and in certain, complex cases, they might be responsible for direct patient care.
Because CNL is an advanced practice role, employers require a tremendous amount of experience, education, and certification. The most common degree path for aspiring CNLs is a master of science in nursing (MSN) in clinical nurse leader (MSN: CNL). Students in the program will take advanced practice courses in clinical assessment, statistics, pathophysiology, and pharmacology. The degree also requires 400-500 clinical hours. Note that to enter the MSN: CNL program you must be a licensed registered nurse (RN).
Accredited MSN: CNL programs typically take two years to complete, full-time, and some offer fully online or hybrid courses (combination online and on-campus). Examples of accredited nursing schools with an online MSN in clinical nurse leader include American National University, West Coast University, and American Public University System.
Upon completion of a master's or post-master's program, accredited by a nursing accrediting agency recognized by the U.S. Secretary of Education, graduates will be eligible to sit for the CNL Certification Exam. Certification is awarded by the Commission on Nurse Certification (CNC).
If you want to become a clinical nurse leader, enroll in an accredited MSN program today. We've compiled below a list of accredited nursing schools with an online MSN in clinical nurse leader to help you get started.