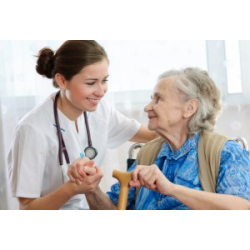 The Bureau of Labor Statistics (BLS) defines nurse practitioners (NPs) as registered nurses (RNs) that serve as primary and specialty care providers, delivering advanced nursing services to patients and their families. They assess patients, determine the best way to improve or manage a patient's health, and discuss ways to integrate health promotion strategies into a patient's life. Nurse practitioners typically care for a certain population of people. For instance, NPs may work in adult and geriatric health, pediatric health, or psychiatric and mental health.
NPs that work in adult and geriatric health are known as adult-gerontology nurse practitioners (AGNPs). These advanced practice nurses focus on patients from adolescence to adulthood to old age. Although some AGNPs may have their own practice, many work in hospitals, healthcare clinics, rehabilitation centers, nursing homes, personal care services, long-term care and assisted living facilities, correctional centers, and other settings with primary care services.
Nurse practitioners such as AGNPs are in such high demand, that the Bureau says employment of NPs is projected to grow 36 percent from 2016 to 2026. This is much faster than the average for all occupations. Salaries are on the rise as well. In 2014, NPs averaged $95,350. High performers earned more than $131,050. In 2016, NPs averaged $100,910, with high performers earning $140,930.
Salaries in special industries and certain markets are often even higher AGNPs. For example, personal care services NPs averaged $136,280 in 2016, while those living in the Altoona, Pennsylvania metro area averaged $180,520. Northern California is another top market, with average salaries ranging from $132,380 to $158,050.
If you're ready to advance your nursing career and start earning more, enroll in an accredited MSN program today. We've compiled below a list of MSN in adult-gerontology nurse practitioner programs to help you get started.