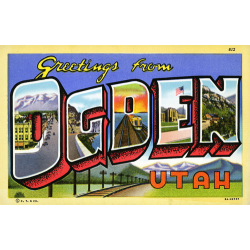 Ogden's aspiring nurses can choose from several different nursing career paths. Each nursing role carries a distinct set of responsibilities, educational requirements, and compensation.

Certified nursing assistant (CNA)
Nursing assistants fill the most junior nursing role. They help their sick, injured, and elderly patients with essential daily tasks like eating, bathing, and using the restroom. Utah's CNAs need only complete a brief eight- to ten-week certificate program and pass a state-administered examination. Ogden's nursing assistants earn a median annual salary of approximately $22,500.

Licensed practical nurse (LPN)
Licensed practical nurses carry out a more robust set of medical procedures, such as dressing wounds, recording vital signs, and monitoring equipment. Utah's LPNs must complete a 12- to 18-month certificate program and successfully pass the NCLEX-PN national licensure examination. Practical nurses in Ogden, Utah, earn a median annual salary of $38,800.
Registered nurse (RN)
Registered nurses conduct a broad range of independent healthcare activities, such as administering medications and drafting a patient care plan. They also frequently lead teams of LPNs and CNAs. Utah's RNs can pursue one of two educational pathways: the two-year associate's degree in nursing (ADN) or the four-year bachelor of science in nursing (BSN). All candidates must pass the NCLEX-RN national examination to attain licensure. Ogden's RNs earn a median salary of $58,200 per year.
Advanced practice registered nurse (APRN)
Advanced practice registered nurses fill specialized roles like nurse practitioner, nurse midwife, or nurse anesthetist. These roles typically require at least a master of science in nursing (MSN) from one of Utah's accredited universities. APRNs receive very attractive pay; for example, Ogden's nurse practitioners earn almost $90,000 annually.
To help aspiring nurses understand their options, we've organized below a detailed list of the nursing schools and programs in Ogden, Utah.