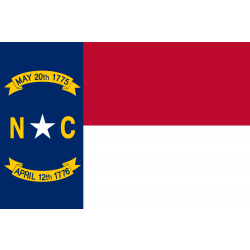 Several distinct nursing career options are available in North Carolina. Each nursing role carries a unique set of educational training and licensure requirements.

Registered nurse
Registered nurses (RNs) constitute the majority of nurses registered in North Carolina, numbering over 88,000 across the state. RNs are given decision-making powers for the care of their patients. They are also often responsible for supervising a team of licensed practical nurses (LPNs) and certified nursing assistants (CNAs). Aspiring RNs must earn a hospital diploma, two-year associate's degree, or four-year bachelor's degree in professional nursing. RNs must also pass the NCLEX-RN national licensure examination before beginning practice.

Licensed practical nurse
LPNs must complete a 12- to 18-month certificate program, typically offered at a local community college. They must also successfully pass the NCLEX-PN national licensure examination before practicing. North Carolina's 15,000 LPNs are primarily employed by the state's major healthcare providers, including large networks like Genesis Healthcare.
Certified nursing assistant
Approximately 50,000 CNAs are employed throughout North Carolina. Nursing assistants attend to the basic quality-of-life needs of their patients, including bathing, eating, and using the restroom. Aspiring CNAs may enter the field very quickly, since the role requires only a brief course of several weeks to a few months in length.
Regardless of role, North Carolina's employment outlook is very promising. The state's largest nursing employers, including Tenet Health and the Department of Veterans Affairs, are actively seeking out new healthcare professionals to join their teams. Staffing agencies like MedPro Staffing also play an active role in matching newly minted nurses with smaller healthcare practices.
To help North Carolina's aspiring nurses, we've compiled a list of the state's accredited nursing schools. You'll find them organized below by major city.