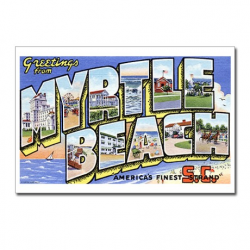 As baby boomers age and technology expands the reaches of healthcare, nursing is one of the country's fastest-growing occupations. According to the Bureau of Labor Statistics, South Carolina will experience a 24% nursing staff shortage in the near future. This shortage will be strongly felt in the Myrtle Beach / Conway area, which already employs nearly 3,000 nurses at local facilities like Grand Strand Regional Medical Center and the Department of Veterans Affairs. We describe below the nursing roles and educational routes available in Myrtle Beach, Conway, and the surrounding area.

Certified nursing assistant
The primary role of a certified nursing assistant (CNA) is providing basic care in daily living activities, such as bathing, grooming, and feeding. In a nursing home or long-term care facility, CNAs typically act as a patient's primary caregiver. To be listed on South Carolina's Nurse Aide Registry, a prospective CNA must complete a 100-hour state-approved nurse aide training program and pass the National Nurse Aide Assessment Program (NNAAP) examination. The Myrtle Beach / Conway area employs 720 CNAs with an average salary of $22,130.

Licensed practical nurse
In addition to providing basic care, licensed practical nurses (LPNs) perform additional duties such as administering medications, starting intravenous drips, and giving injections under the supervision of a registered nurse (RN). To gain licensure, aspiring LPNs must complete a 12- to 18-month accredited certificate program and pass the NCLEX-PN national licensure exam. The Myrtle Beach / Conway area employs 420 LPNs with a median annual salary of $37,160.
Registered nurse
RNs work relatively independently to provide quality patient care. The responsibilities of an RN include administering medications, charting patient progress, supervising a team of LPNs and CNAs, coordinating care with doctors, and providing emotional support to patients and families. The minimum education required for RN licensure is a two-year associate's degree; however, four-year bachelor's degrees are gaining increasing favor among employers and prospective nurses. All aspiring RNs must pass the NCLEX-RN national licensure exam. The Myrtle Beach / Conway area is home to 1,680 RNs who earn $56,950 per year on average.
If you're looking for a high-paced and rewarding work environment, a career in nursing may be for you. To get you started, we've listed below the top nursing schools in the Myrtle Beach / Conway area.