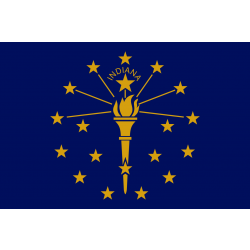 Nursing is increasingly becoming one of the world's most popular professions, and with good reason – the jobs pay well. Aspiring nurses can choose from several distinct career tracks and specializations; we've profiled these in ascending order by salary.

Licensed practical nurses serve on the frontlines of the healthcare industry. These caregivers require a relatively brief education: a high school diploma or GED, followed by a 12- to 18-month vocational course and a passing score on the NCLEX-PN licensure examination. They serve as assistants to registered nurses, who typically hold more extensive experience and education. LPNs in Indiana earn a mean annual salary of $40,000.

Registered nurses
are a step up from LVNs. They receive two to four years of training at a collegiate level and are usually tasked with handling the more medically intensive nursing activities. Their pay reflects this increased level of responsibility; Indiana's RNs earn roughly $58,000 per year.
There are also several specialist options that can expand earnings potential and allow a nurse to focus on select aspects of the role.
Nurse midwives
assist OB/GYNs with birthing and all associated tasks. In Indiana, nurse midwives receive an annual salary of $82,000.
Nurse practitioners
earn an additional $10,000 per year because they're qualified to treat certain medical conditions without consulting a doctor (as entry-level RNs are required to do). Lastly,
nurse anesthetists
learn the specific physiological requirements to accurately administer anesthesia during surgery. For this particularly sensitive and intensive work, they earn upwards of $171,000 per year.
All of these nursing roles require a solid educational background that specializes in covering the subjects involved. To help Indiana's aspiring nurses find the best education for their chosen field, we've compiled below a comprehensive list of the state's accredited nursing schools.