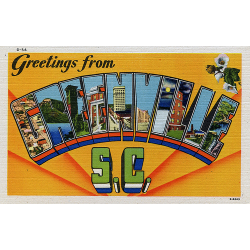 With an estimated 24% staff shortage in the near future, South Carolina's job market for prospective nurses looks promising. This is particularly true for the city of Greenville. Ranked as one of the "Top 10 Fastest-Growing Cities in the U.S.," Greenville has also been recognized as the "Third-Strongest Job Market" and one of the best cities for young professionals by national publications like CNN Money, Bloomberg, and Forbes. Greenville employs over 11,000 nurses, a number expected to grow rapidly. The city's major nursing employers include the Department of Veterans Affairs and Greenville Memorial Hospital. We've profiled below a bit more about the three major nursing roles in the city.

Certified nursing assistant
Working under the supervision of a licensed practical nurse (LPN) or registered nurse (RN), a certified nursing assistant (CNA) helps patients with basic needs. Key tasks include helping patients bathe, dress, and feed themselves; taking vital signs; serving meals; and observing and relaying changes in a patient's condition, both physical and emotional. Becoming a CNA is the quickest route to a nursing career. After completion of a 100-hour accredited training program, prospective CNAs must pass the National Nurse Aide Assessment Program (NNAAP) examination to gain certification. According to the Bureau of Labor Statistics, Greenville employs 3,100 CNAs with a median annual salary of $22,010.

Licensed practical nurse
An LPN is qualified to perform all tasks in the CNA's job scope. Under the supervision of a registered nurse or doctor, an LPN may also administer medications and injections, begin an intravenous drip, change dressings, handle catheters, and hang blood. Following completion of a 12- to 18-month accredited training program, aspiring LPNs must pass the NCLEX-PN national licensure exam. Greenville employs 1,270 LPNs with an average salary of $36,370 per year.
Registered nurse
Compared to a CNA or LPN, a registered nurse functions relatively autonomously. An RN has diverse healthcare responsibilities including monitoring patients, updating charts, administering medications, educating patients and family, supervising CNAs and LPNs, and consulting with doctors to coordinate care. The fastest pathway to RN licensure is a two-year associate's degree; however, a four-year bachelor of science in nursing (BSN) is becoming increasingly popular. As technology and an aging population revolutionize healthcare, a BSN can open doors to employment, career advancement, and higher pay. Greenville employs 6,810 RNs who earn an average of $58,630 in annual compensation.
Interested in a fast-paced and fulfilling career in nursing? We've listed below all of the accredited nursing schools and programs in Greenville, South Carolina.