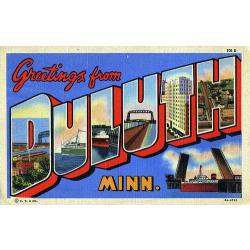 The so-called "Twin Ports" of Duluth, Minnesota, and Superior, Wisconsin, are located along the western shores of Lake Superior. Together, they form a large metropolitan area of approximately 280,000 inhabitants. Aspiring nurses in the Twin Ports area can start their careers with a certificate, diploma, or degree from an accredited local nursing school.
Fortunately, the metropolitan area is home to several nursing schools that collectively offer a broad range of nursing programs. For example, the School of Nursing at The College of Saint Scholastica offers a bachelor of science in nursing (BSN) and a doctor of nursing practice (DNP). Lake Superior College has a professional nursing associate of science (AS) degree program.
The three most popular nursing career paths in this region are registered nurse (RN), certified nursing assistant (CNA), and licensed practical nurse (LPN). The Duluth area is home to approximately 3,800 RNs, 1,800 CNAs, and over 1,100 LPNs, respectively.
Duluth RNs earn an average annual salary of $62,420. Highly qualified RNs, like those with a BSN or DNP degree, can earn $74,000-$91,000 or more annually. The area's CNAs average $28,280 per year, with annual salaries ranging as high as $32,000-$38,000. Local LPNs earn an average salary of $40,660, with the pay of top performers frequently hitting $46,000-$50,000.
In addition to competitive salaries, nursing graduates in the Twin Ports area can take advantage of numerous local employment options. Major hospitals and healthcare centers in the area include St. Luke's Hospital, Essentia Health-St. Mary's Medical Center, and Twin Ports VA Clinic.
Below is a list of nursing schools in Duluth, Minnesota, and the Twin Ports metropolitan area. These institutions offer accredited nursing programs in all areas of this rapidly growing career path.