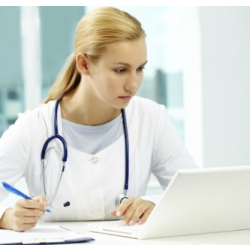 Graduate nursing certificate programs are designed for experienced registered nurses (RNs) who already hold a master of science in nursing (MSN) degree. These programs enable RNs to develop knowledge and skills in an additional practice area. Graduate certificates span a broad spectrum of specialized practice areas including nursing administration, nursing education, nursing informatics, adult health / gerontology, nursing midwifery, pediatric nursing, women's health nursing, nursing management, palliative care, and psychiatric-mental health nursing. In addition to preparing students for national certification exams, nursing certificate programs provide formal acknowledgement of graduates' expertise in an advanced practice area.
Graduate nursing certificates are offered at hundreds of four-year colleges and universities. Many programs are offered online. Admissions requirements vary by school, but in general, students must submit an updated resume, copies of any national nursing certifications, and an official transcript documenting conferral of a prior master's degree in nursing. Some programs take only two semesters to complete, while others require 1.5 to two years of study. Some certificate programs may be completed simultaneously with the MSN program.
Tuition costs vary greatly by type of school (public vs. private), region of the country, and type of program (e.g., traditional, online, or accelerated). In addition, financial aid may not be available for non-degree-seeking students, and state residents may pay the same tuition as non-residents. We researched tuition rates for graduate nursing certificates and found that costs typically average between $300 and $700 per credit hour.
There are dozens of specialty areas in the field of nursing that require an advanced certificate or degree. These senior positions typically pay substantially more than entry-level nursing roles. For example, RNs earn a median annual salary of $66,000, with high performers averaging around $80,000 per year. By comparison, nurse practitioners earn an average of $92,000 annually, with high performers averaging around $110,000 per year. Administrators, managers, and executives may earn well over $100,000 per year.
Besides impressive salaries, advanced practice nursing is one of the fastest growing areas in healthcare. According to the Bureau of Labor Statistics, employment of advanced practice registered nurses (APRNs) is expected to grow 31 percent during the upcoming decade. This is much faster than the average for all occupations. Growth for medical and health services managers is 23 percent over the coming decade, also well above average.
Enhance your employability and earnings potential by enrolling in a graduate nursing certificate program. Browse our directory to find the best graduate nursing certificate programs in your local area.