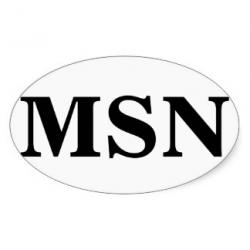 A direct-entry master of science in nursing (MSN) program is designed for students who hold a non-nursing bachelor's degree and wish to pursue an advanced degree in nursing. The program takes two years of full-time study to complete, and it prepares students to sit for the National Council Licensure Examination (NCLEX), a licensure requirement for aspiring registered nurses (RNs). Graduates are prepared to assume leadership roles in hospitals, clinics, residential care facilities, physicians' offices, and other healthcare environments. Direct-entry MSN programs also prepare students to pursue more advanced graduate degrees, such as a doctor of nursing practice (DNP) or a doctor of philosophy in nursing (PhD).
The direct-entry MSN program provides an immersive, accelerated, and focused nursing curriculum to meet the student's individual career goals. Early core courses include human anatomy and physiology, biochemistry, behavioral sciences, and nutrition. Students then advance to graduate-level nursing courses like health assessment, nursing research, pathophysiology, pharmacology, pharmacotherapeutics, nursing interventions, informatics, care for patients with chronic conditions, and organizational and systems leadership.
Besides a bachelor's degree, many direct-entry MSN programs require an undergraduate GPA of 3.0 or higher, an acceptable score on the Graduate Record Examination (GRE), a resume, recommendation letters, and a written statement of the applicant's nursing goals. Tuition costs vary substantially across the ~50 schools that offer a direct-entry MSN program. For example, the program at University of San Francisco's School of Nursing and Health Professions will cost around $85,000 to complete. The direct-entry MSN program at Rush University's College of Nursing carries a price tag of roughly $68,000. In general, direct-entry MSN programs cost more than traditional MSN programs.
Fortunately, the investment will pay off in enhanced job stability, responsibility, and pay. According to the Bureau of Labor Statistics, the unemployment rate among professionals with a master's degree was a mere 2.8 percent last year. Advanced practice registered nurses (APRNs) with an MSN degree typically hold higher-level positions, so they earn more. While the typical registered nurse earns between $54,000 and $80,000 per year, an APRN can earn $90,000 to $150,000 annually depending upon her area of specialization. Finally, advanced practice nurses will experience tremendous employment growth of 31 percent over the coming decade, much higher than the overall employment growth of 11 percent.
A rewarding and lucrative nursing career can begin with a master of science in nursing degree. Browse our website to find the best direct-entry MSN programs in your local area.