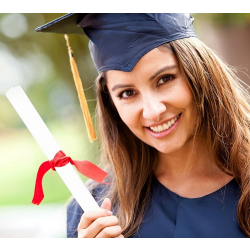 Registered nurses (RNs) make up the largest group of healthcare professionals in the United States. More than 1.5 million RNs work in general medical and surgical hospitals, while another 1.2 million RNs are employed by home healthcare services, nursing care facilities, offices of physicians, and outpatient care centers. Registered nurses administer medications and treatments, perform diagnostic tests, monitor and operate medical equipment, establish care plans, record medical histories, and teach patients and caregivers how to manage illnesses at home.
While the RN population is large and employer demand is high, breaking into the field requires significant preparation. An aspiring RN can pursue one of four distinct educational pathways to licensure. One such pathway is the registered nursing diploma – the oldest type of nursing education program in the United States. This traditional education path does not lead to a degree. However, it does prepare students to pass the National Council Licensure Examination for Registered Nursing (NCLEX-RN), which is a mandatory requirement for state licensure.
State-approved RN diploma programs are offered primarily at hospitals and medical centers. A few are affiliated with local colleges and universities. An RN diploma program takes two to three years to complete, and it includes the same core coursework as a bachelor of science in nursing (BSN) or an associate degree in nursing (ADN) program. According to the Bureau of Labor Statistics (BLS), the curriculum for all registered nursing programs includes anatomy, physiology, microbiology, chemistry, nutrition, psychology, other social and behavioral sciences, and liberal arts courses. All programs also include supervised clinical experience.
Applicants to an RN diploma program must take an assessment test, complete an admissions examination, and meet minimum GPA and health requirements. Most programs require a criminal background check and proof of citizenship. Tuition costs vary significantly, ranging from $10,000 to $30,000 or more. However, tuition for an RN diploma program is usually much lower than tuition for a BSN program due to the shorter program length.
Although an RN diploma program can be expensive, the investment will pay off. RNs earn significantly more than certified nursing assistants (CNAs), licensed practical nurses (LPNs), and many other healthcare professionals. Nationwide, registered nurses earn a median annual salary of $66,000; high-performing RNs can earn more than $80,000 per year. To enhance their pay, diploma RNs can earn a bachelor's degree through an RN-to-BSN program. They may also earn certifications in specialized fields like pediatrics, gerontology, and ambulatory care.
The road to becoming a successful registered nurse begins with a high-quality education. Browse our directory to find the best registered nursing diploma programs in your local area.