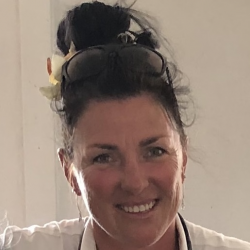 Nursing Schools Almanac is excited to announce that Shawna Stephens is the second annual recipient of the $2,500 RN-to-BSN Scholarship. Shawna has worked for several years to improve nutrition, lifestyle, and health outcomes among patients diagnosed with type 2 diabetes. In 2016, she completed the ADN program at Excelsior College and earned her RN license. Shawna is now enrolled in the online RN-to-BSN degree program at Colorado Mesa University.
The scholarship committee selected Shawna from a field of over 700 applicants. We were very impressed with her academic achievements in several nursing programs, as well as her track record of leadership in the healthcare services sector. We also enjoyed her well-crafted essay that illustrated a personal passion for the nursing profession. You can find her winning essay reproduced below.
We'd like to congratulate Shawna on her accomplishments, and we wish her well in her future endeavors!
********************
My name is Shawna and I am an enthusiastic student of nursing!
My passions reside in assisting people to gain intimate nutritional and lifestyle information such that they may actualize health goals. I am a Type 1 diabetic and have had such profound pleasure (and sometimes frustration) in working with myriad Type 2 diabetics (T2DM). In my passage from being an Emergency Medical Technician (2010), through my Licensed Practical Nursing studies (2014) and onto completing my Associates Degree in Nursing (2016), I have been fortunate to work with several complicated diabetic cases. My perspectives on nutrition, lifestyle and holism, combined with incredible mentoring from wound care experts and internists afforded me my first opportunity to work with a U.S. Air Force retired Lieutenant Colonel who was slated for bilateral "below the knee" amputations due to diabetic ulcers. Not only did our collective interventions result in a 76-pound weight loss, but his wounds completely healed!
I am excited to complete my Bachelor's of Science in Nursing with the end goal of becoming a Nurse Practitioner (perhaps even a Doctor of Nursing Practice). This journey, along with my own health trek, have impressed upon me the incredible lack of preventative measures in use today. Of course, this chasm requires some dedicated bridge building; I am excited to navigate this seemingly insurmountable rift!
I am also very pleased to volunteer for one month a year in a small hospital on the island of Kiribati (Oceana's poorest country), where the Gross National Product was just $1,420 (U.S) in 2010! This small island, with a population of 7,000 people, has an incredible burden where T2DM is concerned. Unfortunately, a majority of the population have abandoned their ancestral diet and have instead sought to export their meager supplies of coconut. Their access to fish is much reduced due to international fishing fleets and their harvest. Said people have adopted a western diet of rice, noodles, sodas and sweets. Last May, I was able to coach many diabetics with regard to reducing refined carbohydrates and increasing what fish and coconut they could obtain. We saw tremendous results with my younger patients, again seeing similar wound healing (to my very first diabetic patient back in 2010) and significantly lowered blood glucose levels. Of course, the need for supplies and dedicated coaching are enormous! I have been blessed to receive many donations and support to obtain much needed equipment. I am preparing to arrange shipment of a donated ECG machine this month. Additionally, my mentor in wound care is planning to visit the island with me during our next visit!
With the global and national projections for the increased incidence of diabesity, we need an educated and impassioned army of nurse educators. I am such a zealot! I would be honored to be considered for the Nursing Schools Almanac scholarship and delighted to apply this towards furthering my academic pursuits.