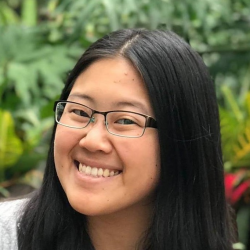 Nursing Schools Almanac is excited to announce that Lilian Chen is the fourth annual recipient of the $1,000 Aspiring Nurse Scholarship. Lilian recently graduated from Lynbrook High School in San Jose, California. She is currently enrolled in the Nursing and Healthcare Management dual degree program at the University of Pennsylvania, where she will pursue both a bachelor of science in nursing (BSN) from Penn Nursing and a bachelor of science in economics (BSE) from The Wharton School.
The scholarship committee selected Lilian from a field of over 3,800 applicants. We were very impressed with her track record of academic excellence, including a 4.0 high school GPA and AP-level coursework in biology, calculus, chemistry, and statistics. We also enjoyed her well-written essay that illustrated a personal passion for the nursing profession. You can find her winning essay reproduced below.
We'd like to congratulate Lilian on her accomplishments, and we wish her well in her future endeavors!
********************
My Saturday nights are spent visiting my friends at the local spinal cord injury group home. These weekly visits began from a desire to gain hands-on experience in nursing, yet have transformed into the best, most enjoyable part of my week.
Every Saturday is different — sometimes I am teaching Doug to play Wii Sports, cooking Lee homemade brownies, or playing music for Adam. No matter what I do however, it brings a smile to my face, an unexplainable form of joy and serenity. It's the simple action of spending time with people and loving those who need it most, that brings me the most meaning and fulfillment.
As I have formed personal relationships with these patients throughout the past two years, I have seen the impact of disease and sickness, as well as the fragility of life. When I first began volunteering, I left each week crying, unable to comprehend how anyone could live life like this — restricted to a wheelchair with limited mobility, unable to do the simplest things in life I took for granted. Today, my sadness is still there, yet I have seen these patients beyond their circumstances. They impart stories and life lessons to me, sharing their joy for music and comics and competitiveness (in Wii sports) with me. I have recognized that I also have a capability to bring excitement and something new into their lives as well — whether it's a bright smile, a plate of freshly baked cookies or playing modern pop songs on my guitar.
I leave the group home each week, with a new perspective of life and a mindset of gratitude. My heart races with anticipation as I envision the future, wondering what it will look like as I attain these skills and medical knowledge in nursing school. It's a future and a profession where I have the privilege of medically improving the lives of others, while learning each and every day.
As an incoming college freshman pursuing a degree in both nursing and business, I hope to further my understanding of medical knowledge and global health to become the best nurse I can be. Partnering the caring, empathetic career of a nurse with the logistical, efficiency-oriented understanding of business will allow me to maximize my impact on both the individual patient, general hospital and healthcare industry.
Most importantly however, I plan on never forgetting the true reason I chose to pursue a career in nursing. Behind all the medical knowledge and clinical rotations, there's compassion — a desire to serve and improve the lives of others.
As I prepare to embark on the unforgettable journey of my college experience, I hope that the next four years in nursing school will allow me to experience and apply the intersection between science, compassion, and action.