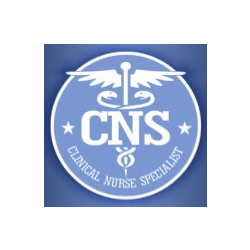 Clinical nurse specialist (CNS) is a type of advanced practice registered nurse (APRN). The CNS provides direct patient care within a population-specific practice such as pediatrics, geriatrics, oncology, or orthopedics. Clinical nurse specialists partner with individual healthcare teams to improve their patient care. They also work at the system or organizational level to improve the quality of nursing care throughout a facility related to their specialty. Some CNSs have a doctorate degree, which allows them to conduct research.
Clinical nurse specialists work primarily in physicians' offices and hospitals. Some are employed by outpatient care centers, postsecondary schools, and the offices of other health practitioners. As members of the APRN group, clinical nurse specialists earn attractive wages. APRNs receive an average annual salary of $96,460. Those who work in hospitals earn significantly more ($102,000 per year), as do those employed by health practitioners ($98,000 per year).
Besides the potential to earn six figures, clinical nurse specialists can expect robust employment growth. The Bureau of Labor Statistics expects APRN employment to grow by 31 percent over the next decade. Several forces are driving this increased demand for healthcare services, including newly insured patients under the Affordable Care Act, an increased emphasis on preventative care, and a large and aging population of Baby Boomers.
An aspiring CNS must first earn licensure as a registered nurse (RN). This is typically achieved through one of three pathways: hospital diploma, associate's degree in nursing (ADN), or bachelor of science in nursing (BSN). Graduates of any registered nursing program must pass the National Council Licensure Examination (NCLEX) to earn state licensure. The next step is work experience as an RN. After several years of practice, the RN can enroll in a master of science in nursing (MSN) program with a clinical nurse specialty. Most MSN programs require that applicants hold a BSN, although some RN-to-MSN programs will accept nurses with a diploma or ADN. There are also a handful of direct-entry MSN programs that accept non-nurses and train them concurrently for RN licensure and CNS practice.
Once the graduate has completed the MSN program, she must pass a certification examination in her CNS specialty area. The American Nurses Credentialing Center offers a core CNS exam and nine CNS specialties, including adult health, diabetes management, gerontology, and pediatrics. The American Association of Critical-Care Nurses provides CNS certification as well, with focuses on the adult-gerontology, pediatric, and neonatal patient populations.
If you would like to take your nursing career to the next level, consider enrolling in graduate nursing school. Browse our directory to find the best MSN programs in your local area.